Seattle Young Alumni Committee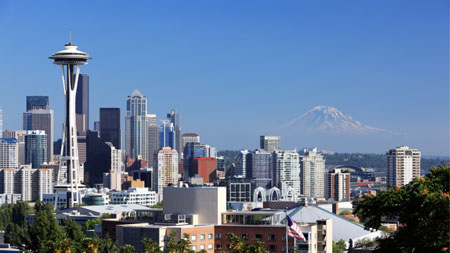 Welcome to the Seattle Young Alumni Committee! Did you know that there are more than 100 young alumni in the Seattle area?
Why Seattle ROCKS:
Seattle is a nature-oriented city and everything Seattlites do or enjoy is usually centered around nature and the outdoors. Our city is one of the most bike friendly cities around, as most arterials have dedicated bike lanes which provide a fun and rewarding way to commute. Seattle has a very artisan personality; from coffee to cheese and beer to chocolate, there are unique craft shops for everything (even SOCKS!). Seattlites love their sports and some of the major sports teams in Seattle include: Mariners (MLB), Seahawks (NFL), Sounders (MLS), UW Huskies (NCAA), Storm (WNBA), Washington Stealth (MLL), and additional local minor league and small collegiate teams
Seattle's YAC
The JHU Young Alumni Committee of Seattle aims to provide opportunities to network, socialize, learn and reminisce with other JHU young alumni (0-10 years) in the local area.  If you want to stay engaged with Hopkins, this is a great place to start. We are constantly exploring new activities, finding new ways to have a great time, and working with our alma mater to promote the university any way we can.
Past events have included Bowling at the Garage, happy hours, and sporting events.
Young Alumni in Seattle
Top 10 Employers
Microsoft
University of Washington
Amazon
Boeing
Fred Hutch
Seattle Children's
United States Army
Bill & Melinda Gates Foundation
PATH
Google
Top 3 Areas of Study
Computer Science
Computer & Information Sciences
Engineering
Not receiving e-mail from Hopkins?
All alumni in the area should receive notices of events, but we can't send them to you if we don't know where you are! Be sure to update your contact information and stay connected.