Alumni Weekend
Select your milestone reunion class below:
UPDATE: Homewood's Alumni Weekend 2020 has been Postponed

<03.13.2020 at 2:32 pm eastern>

Dear alumni and friends,
Johns Hopkins University continues to actively monitor the global COVID-19 outbreak, with particular focus on the health and well-being of the university community, as well as on the continuity of university operations.  We also are fortunate to have some of the world's best experts in public health, infectious disease and emergency management not only to guide our university response, but to contribute to the national and global response effort.  
 
This afternoon, we have decided to postpone Homewood's Alumni Weekend 2020. This decision was not easy to make, but we think that it is in the best interest of our Hopkins alumni, staff, students, and community as a whole.
 
The Office of Alumni Relations will be exploring options to celebrate a reunion with you at a later date and hope to provide those details in the coming weeks. In the meantime, if you have made travel plans, we encourage you to look into cancellation policies. If you have already registered for Alumni Weekend events, we will contact you regarding refunds. 
 
For any questions, please contact the Reunion & Homecoming office at reunion@jhu.edu  or 410-516-5185. We will be sending out an email to our entire alumni community this afternoon regarding the change.
During this difficult and unprecedented moment, we extend our best wishes for your family's health and safety.  We know that many of you may not only be personally impacted, but may also be engaged in mitigation, planning, and response efforts around the world.  We are grateful.    
While we are disappointed about this postponement, we are thankful for your patience and understanding as we adapt as a community to these new circumstances.  As this global pandemic evolves, we invite you to turn to the Johns Hopkins Coronavirus Resource Center for the most up to date information and insights from Hopkins experts.  


 <03/12/2020 at 3:45 pm eastern>
The Reunion and Homecoming Office is closely monitoring announcements from government and public health authorities as it relates to Novel coronavirus (COVID-19).
At this point, there is no CDC guidance, or even precautions, about limiting travel within the United States or limiting public gatherings anywhere in the country. Should conditions and guidance change, we will take the necessary precautions and make decisions based on guidance as well as in the best interests of attendees, meeting speakers, and staff.

The Reunion & Homecoming Office will be back in touch promptly if and when developments occur that require further updates. 
The safety of our attendees is our top priority. Please direct any inquiries to reunion@jhu.edu. We look forward to seeing you very soon.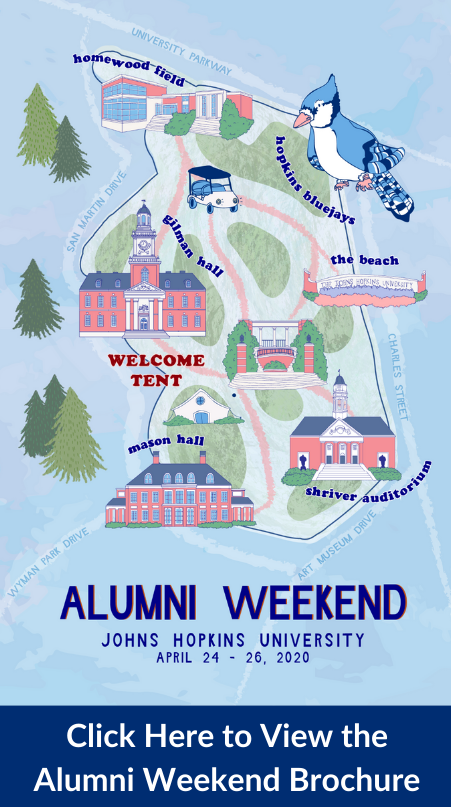 Got Questions?
We've got answers. We want to make attending Alumni Weekend 2020 as easy as possible. Let us know if you have any questions. Send an email to reunion@jhu.edu or call 410-516-5185.
Get ahead with GoHopOnline
Quickly connect with fellow Hopkins alumni to grow and refine your personal and professional networks with GoHopOnline.com. Social media feeds keep you updated on Hopkins news, chapters, resources, programs, and more.
Become a Hopkins Promoter
Stay connected. Share. Win rewards.
Become a Hopkins Promoter and help spread the word about the latest news and events going on at Hopkins to your friends, followers, and colleagues on Facebook, Twitter, and LinkedIn. Each time you share content, you'll earn points for more chances to win prizes. Learn more and sign up at alumnijhu.socialtoaster.com.
We are pleased to recognize our sponsors who contributed to your fun and learning during Alumni Weekend 2019.