Alumni Weekend
Select your milestone reunion class below:
April 24-26, 2020
---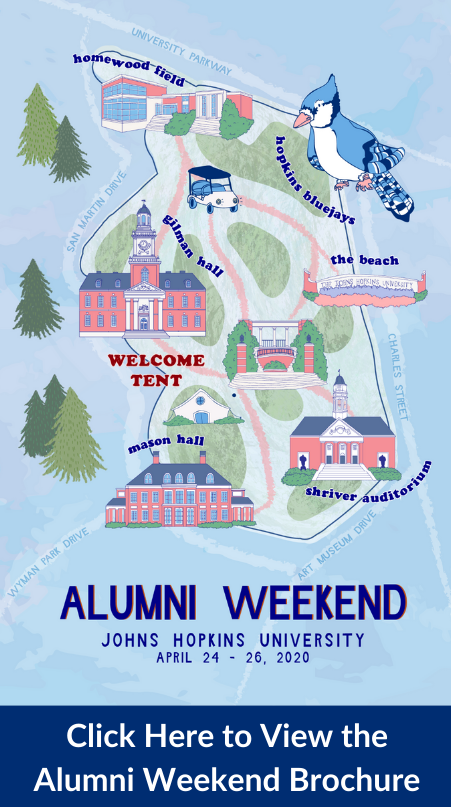 How to Attend AW2020 in 5 Easy Steps
Or, if you're special, only four!
Step 1: Graduate from The Johns Hopkins University
Depending on the degree you want, this can take up to seven or so years. Alumni Weekend 2020 may come a bit too soon for you. If you've completed Step 1, proceed to Step 2.
Step 2: Submit Your Reunion Profile
Simply complete your profile and return it by email, fax, or mail. Not only does this help us plan, it lets your classmates know you're coming. Complete your profile in about 3 minutes.

Check back with us after the New Year to find out who's coming back to Baltimore in April!
Step 3: Register for Events
Class parties. Hop Talks. Maryland Untapped. Lacrosse and the pre-game crab cake lunch. Online registration is now open! 
Step 4: Make Travel Arrangements
Find out everything you need to know about accommodations, parking and getting around campus. Enjoy discounted rates from area ins and hotels. 
Step 5: Show Up to Alumni Weekend, April 24-26, 2020! 
Laugh, learn, meet with friends and let the good times roll!
Got Questions?
We've got answers. We want to make attending Alumni Weekend 2020 as easy as possible. Let us know if you have any questions. Send an email to reunion@jhu.edu or call 410-516-5185.
Get ahead with GoHopOnline
Quickly connect with fellow Hopkins alumni to grow and refine your personal and professional networks with GoHopOnline.com. Social media feeds keep you updated on Hopkins news, chapters, resources, programs, and more.
Become a Hopkins Promoter
Stay connected. Share. Win rewards.
Become a Hopkins Promoter and help spread the word about the latest news and events going on at Hopkins to your friends, followers, and colleagues on Facebook, Twitter, and LinkedIn. Each time you share content, you'll earn points for more chances to win prizes. Learn more and sign up at alumnijhu.socialtoaster.com.
We are pleased to recognize our sponsors who contributed to your fun and learning during Alumni Weekend 2019.