Get Involved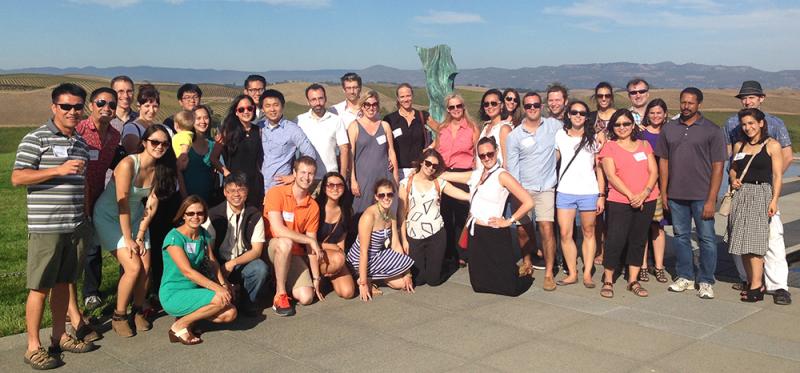 The Bay Area alumni community enjoys a Napa Valley Wine Country tour.
Attend Events
There are almost 70 regional alumni communities worldwide, all of which are dedicated to planning fun events that promote alumni interaction. Learn more about your community here, and join us for an event in your city.
Blue Jays athletic teams love your support! Get together with alumni and friends to watch the Blue Jays play live or on TV. Check out ESPNU and the Big Ten Network for programming.
Got interests? Of course you do! The Alumni Association has 27 affinity groups for you, based on your career or your hobbies.
Did you know that SAIS and Carey have regional clubs around the world? If you represent either of these divisions, be on the lookout for specialized events!
Volunteer on a Committee
Regional events can't happen without a dedicated planning committee. Are you fun-loving and social? Regional or international alumni leadership might be for you.
Are you an Alumni Weekend regular? Consider joining your class committee, and reconnect with colleagues and friends.
Join the Conversation
Join our many LinkedIn and Facebook groups to link with fellow Hopkins grads.
Follow and share our social media channels. Don't forget to #JHUAlumni to join the conversation!
Lend your expertise by hosting a career-focused webinar.
Share Your Love For Hopkins
Become a Hopkins Promoter and help spread the word about the latest news and events going on at Hopkins to your friends and followers.
Honor rising talent in your community – submit a Book Award on behalf of the JHAA.
Reunite with Friends
Attend Alumni Weekend at Homewood or your individual division.
Connect with other recent Homewood grads at Young Alumni Weekend.
We can't send you information about any of these opportunities unless we know how to reach you! Update your contact information to receive Hopkins news and event invitations.