Federal Government

MISSION STATEMENT

The Federal Government Affinity Group was created by alumni working in or for the federal government for the purpose of connecting with, learning from, and advancing their careers through other federally employed Hopkins alumni, students and friends of the university. The group's aim is to be a community that facilitates the sharing of connections, opportunities, best practices, ideas and resources relevant to working successfully within the federal government sector.

The group offers professionally valuable activities and programs, affords its members the strength of the Hopkins Federal Government network, enhances connections to local leaders and experts and ultimately provides a venue for bringing about change in our workplaces, communities and the world. Group activities include regional networking events, lunch-and-learn seminars, one-to-one mentoring and group-wide meetings.

Upcoming Events
 

Stay Tuned for More Upcoming Events!
 

Past Events
 
Arlington, VA: Federal Government Affinity Fall Networking Night (In-Person)
Wednesday, October 6, 2021
How to Use Federal Government Programs to Accelerate Your Innovation
Wednesday, February 3rd, 2021 
D.C. Federal Science Networking Event
Thursday, October 24th, 2019
Affinity| DMV Federal Science Networking Event
Wednesday, July 31st, 2019
JHU White House Tour and Lunch 
Saturday, March 9th, 2019
Tour of the US Capitol
Washington, DC
November 11th, 2017
Why is Big Data such a Huge Buzzword in the Beltway?
Tyson's Corner Mall, McLean, VA

Click here to see more past events!

JHU Alumni in Government and Contracting Networking Event
Washington, DC
December 1st, 2016

Three Part Series on Digital Health: Part #3
The Impact of Wearable Devices on Healthcare
May 24, 2016

Part #2:
Digital Health Infrastructure:The challenges of Electronic Health Record Interoperability
March 22, 2016

Part #1:
Digital Health Communications: If You Build it, Will They Come?
December 8, 2015
View panel discussion - click here

Confronting National Security Challenges with Diverse Tools
June 10, 2015
Click here to view photos from event.
If you want to know more: DNI/NIC Global Trends

Experience from the Field: U.S. Government's Response to Ebola in West Africa
March 18, 2015

Evidence Based Government: How Big Data Drives 21st Century Policy
June 4, 2014
Click here to see photos of the event

The Carrot or the Stick? The Challenges, Questions and Unintended Consequences of Digital/M-Health
March 10, 2014
Click here to see photos of the event
Click here to see an interview with Sachin Shah (Carey Business School '10) at the event
Click here to see the full video of the event

Managing Global and Domestic Epidemics: A Look at Systems for Prevention, Detection and Response
June 27, 2013

Related Article:
How to Stop a Plague in 4 easy steps
It's not the mosquito's fault. Malaria is actually caused by the Plasmodium family of parasites, which is carried unwittingly by mosquitoes. And these parasites are tricky foes. Come up with a treatment or vaccine and the few that survive will still breed. But Johns Hopkins biologist Rhoel Dinglasan thinks he may have a way around that: vaccinating mosquitoes instead.

The Impact of Electronic Health Records on Healthcare
November 8, 2012

Export Now: How Businesses Should Think About New Markets
October 2, 2012

Risky Business: The future of Risk Management in the Federal Environment
Watch the video here
June 11, 2012

The Cloud's Silver Lining
Watch the video here
March 21, 2012

Meet Our Alumni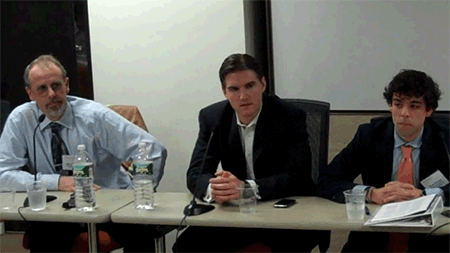 Interview with Andy Tiedeman
Johns Hopkins University's Federal Government and Healthcare Affinity group member Andy Tiedeman ('12) speaks about his career and involvement in the Affinity Groups and Communities.
Interview with Herb Strauss.
Not long ago, we called up Herb Strauss, a member of the DC-based Johns Hopkins Federal Government Affinity Group and spoke with him about his career, his involvement in the group, and his thoughts about the group in general. Read more
Interview with Sachin Shah, Bus'10

Sachin Shah (Carey Business School, '2010) discusses the reasons to join Johns Hopkins University's Federal Government Affinity group at one of the group's events in Arlington (VA)