Student Grants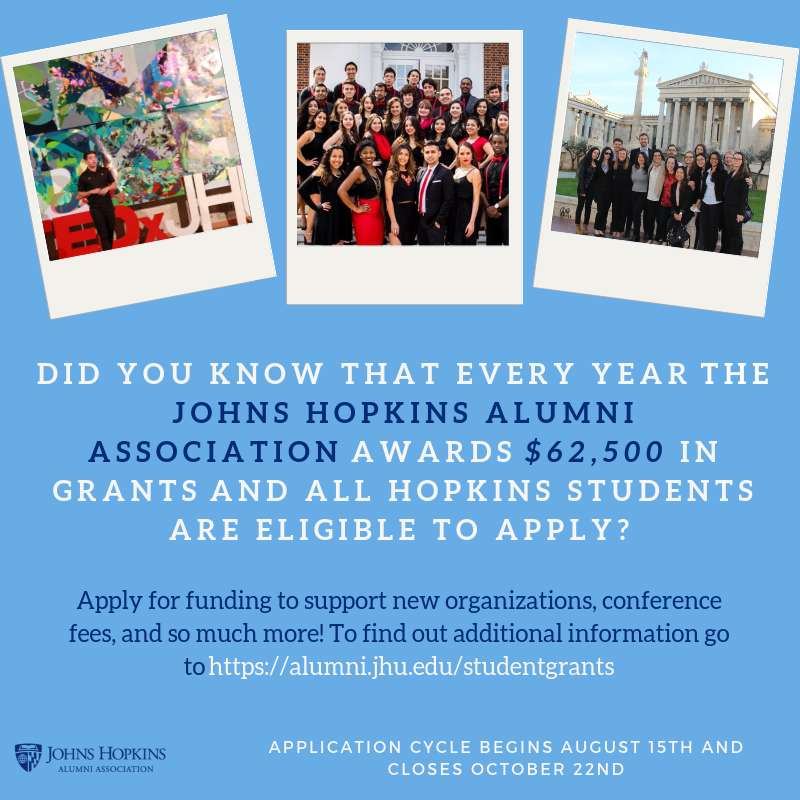 The Alumni Association Student Grants program 2020 - 2021 cycle will open in August 2020.
Alumni: Help us fund even more students this year - your gift to the Alumni Association Annual Fund makes it possible. Thank you for your support!
What do you do when:
Your student group is trying to create a new event at Hopkins, but you are low on cash?
Your team wants to help build houses in Baltimore County, but the cost is too high?
You've formed a new student group, but need funding to jump start your event planning?

The Alumni Association's Student Grants Program provides funding opportunities for student groups and programs that enhance student experiences. The grant program aims to enhance student life and foster positive relationships between the university and the local community by encouraging students to create volunteer community service projects or to design ventures within existing organizations.
Who can apply for a Student Grant?
To apply for a grant from the Alumni Association you must:
Be organizing a project, event, volunteer effort, etc. that promotes student involvement
Be part of a group. Projects that involve only one student are not eligible to receive funding. (You do not have to be part of an official student organization to apply for a grant).
Be a Hopkins student. Students from any of the nine schools may apply. Seniors are eligible for grants during the summer immediately following graduation.
Have a faculty/staff monitor with a Hopkins affiliation
Requirements for a successful Student Grant application:
The submitting group must be an Organized Student Group, that is, it must have a faculty/staff member willing to serve as a project monitor.
The Organized Student Group's proposed program must link to one or more Alumni Association goals:

Enhance academics
Enhance extracurricular activities
Enhance student life
Enhance community service

Applicants may not request more than $1,500.
The Organized Student Group's proposed project must be a volunteer activity. A project that is a required part of the curriculum and/or is receiving academic credit is NOT eligible for funding. Likewise, a project for which participating students will receive wages, salaries, or a stipend is NOT eligible for funding.
The submitting group must agree to acknowledge the Alumni Association on all material at the proposed event (please see application for specific recognition guidelines) .
The submitting group must agree to provide a final progress report late in the Spring semester (please see application for specific deadline requirements).
Grant applications are reviewed based on the following 5 criteria:
Number of participants:

Proposed projects affecting and/or involving higher numbers of student participants will be given preference.
While the Alumni Association prefers to fund project proposals aimed at student participants, if the proposed project is able to provide positive community impact and/or enhance the reputation of the university, these factors will be fully considered.
Preference will be given to proposed projects that affect more than one campus school/division.

Publicity for the Alumni Association:

The Organized Student Group must commit to recognize the Alumni Association and to foster Alumni Association membership and active participation.

Efficient use of resources:

While the Alumni Association does not ban the use of Student Grants funds for refreshments, reviewers will consider the proportion of the overall event budget that would be spent on refreshments, and whether the event would be equally successful without refreshments.
Organized Student Groups that seek and/or receive funding from multiple sources will be given preference.
Only the best proposals will be funded. Organized Student Groups that submit proposals that are not funded will be given suggestions for improving them in an effort to educate students about developing quality proposals.

Maximization of yield to the Alumni Association:

Proposed projects must allow the Alumni Association to gain from their investment by positively impacting the lives of students and the JHU community.
The Application Process
The Grant Application Portal will open in August 2020.