Student Grants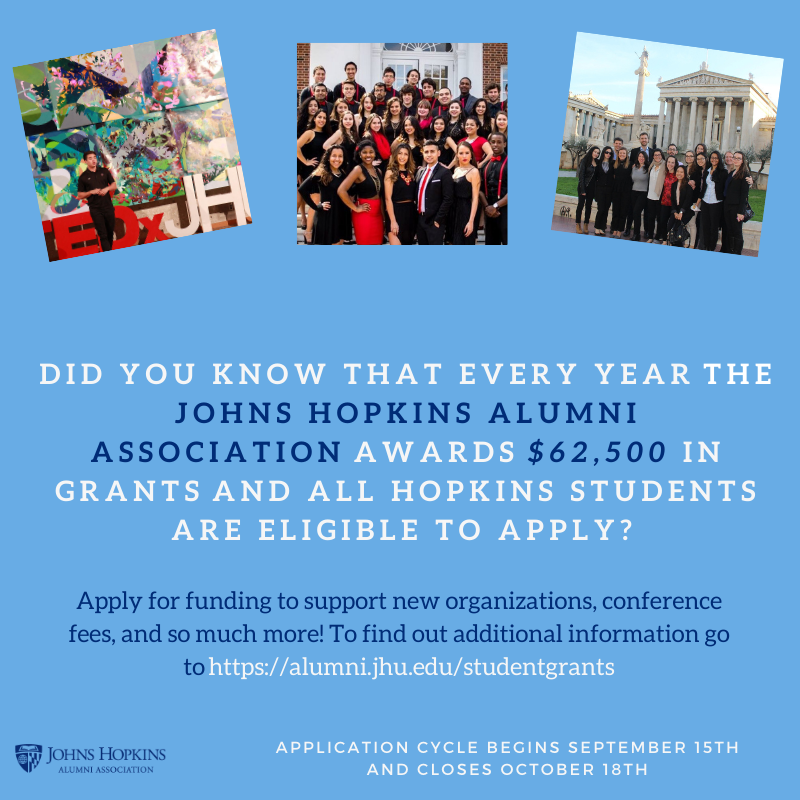 The Alumni Association Student Grants program for 2021-2022 will open September 15, 2021.  
The Alumni Association's Student Grants Program provides funding opportunities for student groups and programs that enhance student experiences. The grant program aims to enhance student life and foster positive relationships between the university and the local community by encouraging students to create volunteer community service projects or to design ventures within existing organizations.
Who can apply for a Student Grant?
To apply for a grant from the Alumni Association you must:
Be organizing a project, event, volunteer effort, etc. that promotes student involvement
Be part of a group. Projects that involve only one student are not eligible to receive funding. (You do not have to be part of an official student organization to apply for a grant).
Be a Hopkins student. Students from any of the nine schools may apply. Seniors can apply on behalf of their group. A non-graduating member of the group will need to fill out the final report.
Projects, events, or volunteer efforts held during the summer are eligible for grants.
Have a faculty/staff monitor with a Hopkins affiliation
Requirements for a successful Student Grant application:
The submitting group must be an Organized Student Group, that is, it must have a faculty/staff member willing to serve as a project monitor.
The Organized Student Group's proposed program must link to one or more Alumni Association goals:

Enhance academics
Enhance extracurricular activities
Enhance student life
Enhance community service

Applicants may not request more than $1,500.
The Organized Student Group's proposed project must be a volunteer activity. A project that is a required part of the curriculum and/or is receiving academic credit is NOT eligible for funding. Likewise, a project for which participating students will receive wages, salaries, or a stipend is NOT eligible for funding.
The submitting group must agree to acknowledge the Alumni Association on all material at the proposed event (please see application for specific recognition guidelines) .
The submitting group must agree to provide a final progress report late in the Spring semester (please see application for specific deadline requirements).
*For student groups who received an Alumni Student Grant during the 2019-2020 or 2020-2021 grant cycle and whose project was rescheduled to the 2021 academic year due to COVID, you are still able to apply for a grant that would deepen your project's impact, but not for the same items that were funded previously.
The Application Process
APPLY HERE TODAY!
The last day to submit your application is Monday, October 18th 11:59pm
To help you through the application process, below are some resources:
Recorded Information Session with FAQs
Student Grants Information Session Power Point
Download Budget Template below: