Four key takeaways from Gov. John Kasich's talk at Johns Hopkins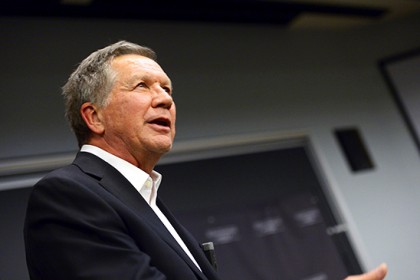 Two-term Ohio Gov. John Kasich, a Republican who ran for president in 2016, attracted a large, bipartisan crowd made up mostly of students for a talk at Johns Hopkins University on Monday night as part of the Milton S. Eisenhower Symposium.
Kasich mentioned President Donald Trump by name just once, but he was up-front and firm about his politics and values, stating that he is pro-life, supports the death penalty, and defines himself as a conservative. He also focused broadly on mental health, kindness, and faith in a divine Creator. It wasn't a typical political stump speech.