*SOLD OUT* NY Affinities | What's Next? The Future of Media in Uncertain Times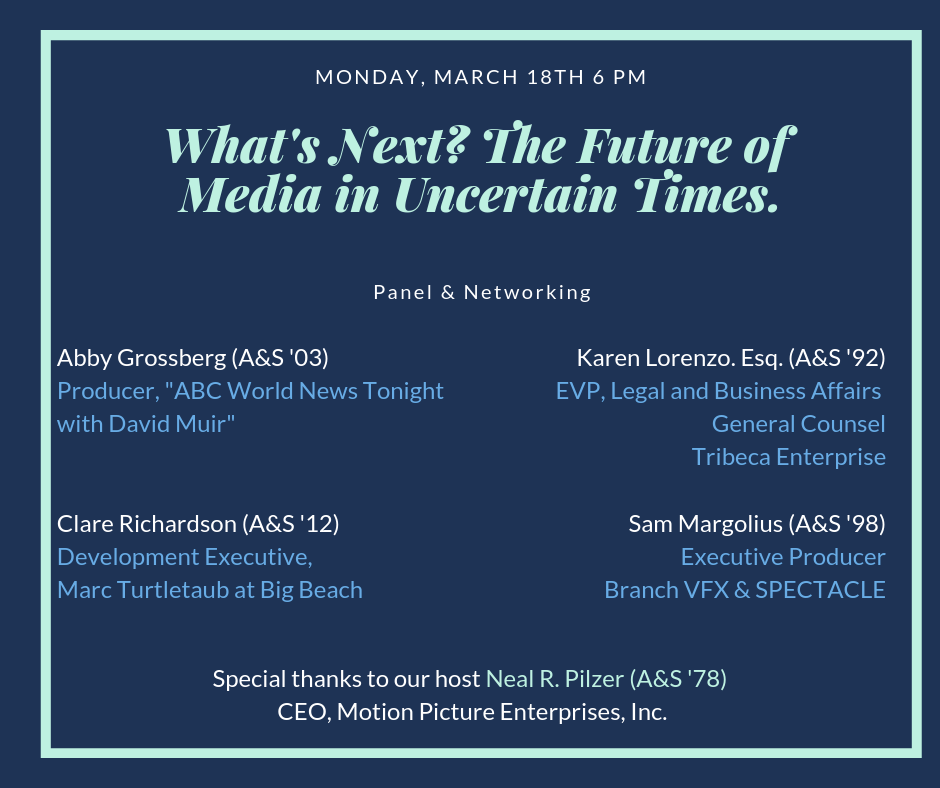 NY Affinities & Film & Media Studies presents
What's Next? The Future of Media in Uncertain Times
As entertainment, news, and all forms of media undergo seismic changes, what are the consequences for those who work in media and those who consume it? Our panel will discuss the ground-level changes they've seen in their own industries and how to navigate them.
Join local alumni and our special guests from Hopkins, Linda DeLibero and Melissa Capello of the Film and Media Studies Center and a group of our current undergraduate students on their spring break career trek! The evening will begin with registration and networking and will be followed by a dynamic moderated discussion and Q&A with alumni working in the industry.
Special thanks to Neal R. Pilzer (A&S '78) for hosting this event.
Panelists
 

Abby Grossberg (A&S '03)

Producer, "ABC World News Tonight with David Muir"

 

 

Abby Grossberg is an award-winning journalist with over a decade of experience writing and producing for top-rated network broadcasts. She is currently a producer at "ABC World News Tonight with David Muir," where she covers breaking news, politics, and finance for the number one evening newscast. Previously, Abby launched two network shows, including "CBS This Morning," where she booked, wrote and produced interviews with high-profile guests including Michael Bloomberg, Howard Schultz, Serena Williams, Tom Hanks and the late Sen. John McCain. She has also served as a media advisor to C-level executives, entertainers, influencers and other on-air experts. 

Karen Lorenzo, ESQ. (A&S '92)

EVP, Legal and Business Affairs as well as general counsel of Tribeca Enterprises

Karen Lorenzo is EVP, Legal and Business Affairs as well as general counsel of Tribeca Enterprises, a multi-platform storytelling company based in New York City. Established in 2003 by Robert De Niro, Jane Rosenthal, and Craig Hatkoff, Tribeca provides artists with unique platforms to expand the audience for their work and broadens consumer access to experience storytelling, independent film and media. Karen is a member of Tribeca's senior management team and is responsible for all legal functions across Tribeca's network of branded entertainment businesses, including the Tribeca Film Festival. Karen also leads the teams responsible for business development and brand licensing at Tribeca and its affiliated entities.  Karen joined Tribeca from CMP Media, a b-to-b publishing and live event company focused on technology and gaming, where she was chief privacy officer and corporate counsel. She began her career as a litigation associate at a boutique entertainment firm in New York, and spent several years as an associate at leading Silicon Valley law firms, where she specialized in handling transactions for emerging company clients focused on the cross-section of media and technology. In addition to serving on the KSAS Advisory Board, she currently serves as one of Johns Hopkins' representatives on the Board to the Maryland Film Festival. Karen holds a B.A. in International Studies (with a concentration in international economics) from Krieger, and a J.D. from NYU School of Law.

 

 

 

Sam Margolius (A&S '98)

Executive Producer

Branch VFX
SPECTACLE

 

 

Sam Margolius is a forward thinking producer and business executive balancing the hybrid spaces of art, entertainment, technology, production, and marketing. He is a Twenty year veteran of the content world with deep experience working with world-class brands, artists, producers and visionary storytellers in both their core production needs as well as the strategy and implementation of new channels of communication.

Sam runs Albany-based Branch VFX which is a STARTUP NY designated company focused on high-level TV and Film projects and is sister company to Emmy-Award winning Shade VFX. He recently post produced Terrence Malick's newest 360/VR experience, "Together" which debuted at SXSW 2018 and then at The TriBeCa Film Festival and is Executive Producer for the Haagen-Dazs, HTC Vive, Google Daydream 360/VR collaboration, "The Extraordinary Honey Bee", which was voiced by Constance Zimmer and debuted at the World Economic Forum 2018 in Davos, Switzerland. Additionally, he produced the 2016 Sports Illustrated VR project for their Swimsuit Edition and one of the first ever VR music videos, "Crown" for hip hop supergroup, Run The Jewels, which released on the New York Times NYTVR app and launched at SXSW 2016.

Raised in the Catskill Mountains for all of his formative years, he holds a deep respect for the vitality of nature, the importance of sarcasm, and the flavor of whiskey.

 

Clare Richardson (A&S '12)

Development Executive for Marc Turtletaub

Big Beach

Clare Richardson currently works as a development executive for Marc Turtletaub at Big Beach, a New York-based production company. Previously she worked in development at Tom McCarthy's production company, Slow Pony Pictures, and before that at BBC America where she helped to develop the series Killing Eve starring Sandra Oh. Originally from Los Angeles, Clare holds a Masters degree in Film Studies from Columbia University and graduated from Johns Hopkins in 2012 as a Film & Media Studies and Writing Seminars double major.
 
 
Our Host
 

Neal R. Pilzer (A&S '78)

CEO
Motion Picture Enterprises, Inc.