New York, NY: Drs. Jane and Alexander - A Play by Edward Einhorn (Arts and Sciences '92)

Sponsored by the Healthcare and the Arts, Entertainment, Media, and Entrepreneurship Affinities

Join us for a new play by Edward Einhorn (Arts & Sciences '92) about his grandfather, Alexander S. Wiener, who discovered the Rh Factor in blood in 1937. The play is told through the lens of interviews with his mother, Jane Einhorn, a Ph.D. psychologist and visual artist who had recently experienced a stroke at the time of the interviews. The play uses a mixture of verbatim/found text and invented dialogue to examine Wiener's legacy, both scientific and familial. How does it change your life to have a world famous father...or grandfather? How does that legacy continue through the generations? 

This will be the Untitled Theater Company No. 61's first production at HERE since The Marriage of Alice B. Toklas by Gertrude Stein in 2017, which received a Critic's Pick from Jesse Green at The New York Times. The performance will feature Alyssa Simon as Jane, who was described as "radiant," when she played Toklas in the earlier production. 

Following the performance, we will gather for a talk with the playwright, Edward Einhorn, and Dr. Pablo Rubenstein, a former colleague of Alexander Wiener's who was involved in the early days of blood typing. They'll discuss Edward's grandfather and the science that came after the discovery. 

All ticket sales are final - ticketed events are non-refundable
*Tickets should not be sold or transferred without JHAA approval.

JHAA Event Cancellation and Refund Policy

MEET THE PLAYWRIGHT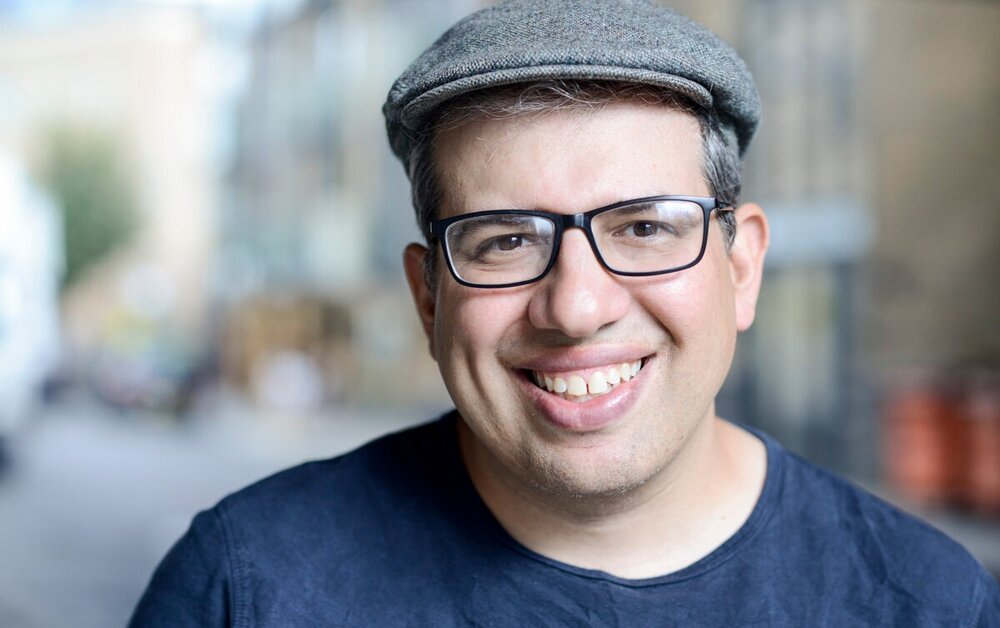 Edward is a playwright, director, translator, librettist, and novelist. His work has been performed in New York venues such as La MaMa, 3LD Art & Technology Center, HERE Arts Center, The New Ohio, St. Ann's Warehouse, the Walter Bruno Theater at Lincoln Center, and the Bohemian National Hall. In London, his work was presented Off-West End at the Jermyn Street Theatre in 2020, and previous work was shown as Peckham Asylum Chapel, Wigmore Hall, and Milton Court at the Barbican. He is the Artistic Director of Untitled Theater Company No. 61: A Theater of Ideas - a New York independent theater company. 

As a curator, he curated The Havel Festival (the complete works of Vaclav Havel, with Havel in attendance; The Ionesco Festival (the complete works of Eugene Ionesco); The NeuroFest (plays on neurological themes); Money Lab (an economic vaudeville); and The Festival of Jewish Theater and Ideas. 

Recent shows include The Marriage of Alice B. Toklas by Gertrude Stein, a comic farce about the lives of Stein and Toklas, which received a Critic's Pick from the co-chief reviewer of The New York Times, Jesse Green; The Neurology of the Soul; The Resistible Rise of JR Brinkley; The Iron Heel; City of Glass; The Velvet Oratorio; The God Projekt; and a stage adaption of Do Androids Dream of Electric Sheep?

The New York Times has called his work, "exquisitely ingenious," "dramatically shrewd," and "almost unbearably funny"; Time Out has called it, "challenging, thought-provoking," "mesmerizing," and "startlingly intense"; and The Village Voice has called it, "hilarious, provocative," and "inspired absurdist comedy." He has received a Sloan Grant, SEED Magazine's Revolutionary Mind Award, The NY Innovative Theater Award for Best Performance Art Production of the Year, NYTheater.com's Person of the Year Award and placement in their Indie Theater Hall of Fame, 2nd Prize from the Arch and Bruce Brown Foundation's Playwriting Competition, a fellowship from the American Opera Projects, and Critic's Picks in Time Out, The Village Voice, and The New York Times. 

Edward has a B.A. in Writing from Johns Hopkins University and a MA in Opera Writing - Librettos from The Guildhall School of Music and Drama.