New York, NY: Practically Speaking: Medical Drug Pricing Reform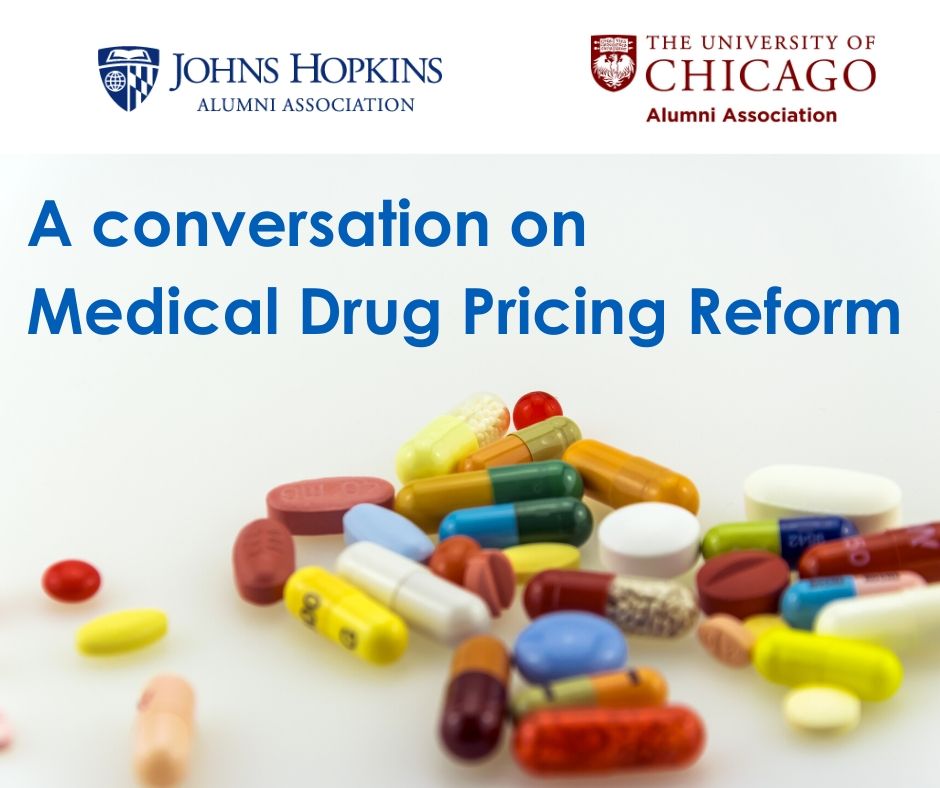 Online registration for this event is now closed. Please contact Vicky Schneider (vschneider@jhu.edu) to inquire about joining this event.
PRACTICALLY SPEAKING: MEDICAL DRUG PRICING REFORM
Sponsored by the Johns Hopkins University Healthcare Affinity and University of Chicago Alumni Club of NYC 
Lowering the cost of medical care is currently a top-down discussion where politicians do not provide a clear explanation of how any of their proposals will work in practice. Join our panel, composed of market participants, medical practitioners, and academics who are directly engaged with the intricacies of the for-profit drug industry, in a discussion focused on medical drug price reform. The programs will highlight:
key industry components most relevant to reforming how drugs are priced
market incentives that drive the decision-makers and interested parties
what negative and positive market trends can be expected from the private sector
Lite fare and beverages will be provided.

Speaker Bios
 
Ge Bai, PhD, CPA is an associate professor of Accounting at Johns Hopkins Carey Business School and associate professor of Health Policy & Management at Johns Hopkins Bloomberg School of Public Health. She is an expert on health care pricing, policy, and management. Dr. Bai has written for the Wall Street Journal and published her studies in leading academic journals such as the New England Journal of Medicine, JAMA, Annals of Internal Medicine, and Health Affairs, Her work has been widely featured in national media and used in government regulations and congressional testimony. Dr. Bai received her doctoral degree in accounting from Michigan State University.
Brian Bizoza, as a Partner on the Pharmaceutical team at Deerfield, provides extensive research and analysis on individual companies operating in the healthcare industry. Brian holds a B.A. in Natural Sciences/Public Health from Johns Hopkins University, and he earned his M.D. from the State University of New York at Syracuse, where he graduated as a member of Alpha Omega Alpha.

Andrew Hack joined Bain Capital in 2019 as Managing Director of Bain Capital Life Sciences. From 2015 to 2019, he was the Chief Financial Officer of Editas Medicine (Nasdaq: EDIT).  Dr. Hack received an MD and Ph.D. in Molecular Genetics and Cell Biology from the University of Chicago, where he was named an inaugural Frank Family Scholar and received awards from the American Heart Association and the American Society for Cell Biology. He graduated with Special Honors from the University of Chicago with an AB in Biology.
Jacqueline Moline, MD, MSc, is Chair, Department of Occupational Medicine, Epidemiology and Prevention at the Zucker School of Medicine at Hofstra/Northwell, and works with Northwell Health leadership to develop initiatives aimed at promoting and engaging health and wellness for Northwell Health's workforce as well as the community at large. She directs the Northwell Health Queens World Trade Center (WTC) Health Program and is also chair of the Health and Wellness Committee for the Fireman's Association of the State of New York.  Dr. Moline received her medical degree from the University of Chicago-Pritzker School of Medicine and a Master of Science degree in community medicine from the Mount Sinai School of Medicine.

Manish Potti is Co-Founder and President of Innogenix Pharma, a generic pharmaceutical R&D and manufacturing company focused on solid oral dosage formulations, based in Long Island, New York. He was previously Director of Business Development at Epic Pharma, a generic pharmaceutical company and CMO. Manish holds a Bachelor of Science in Cellular and Molecular Biology from The Johns Hopkins University, and a Masters Degree in Financial Engineering from New York University.

Dr. Janet Hill Prystowsky is an Associate Clinical Professor at Icahn School of Medicine at Mount Sinai. She is a board-certified dermatologist with over 30 years of experience in dermatology and dermatologic surgery. In 2008 she started her own skincare line and is president of LIVAD Skin Care, LLC.  Dr. Prystowsky received her medical degree from the University of Chicago-Pritzker School of Medicine.
Ipsita Smolinski has over 20 years of diversified healthcare experience, principally in US Healthcare Policy research and consulting. As the Managing Director of Capitol Street and Senior Strategic Advisor to McAllister & Quinn, she provides analysis of key healthcare trends and major developments.  These include healthcare legislation moving on Capitol Hill, policies from CMS, FDA, NIH and other agencies, as well as emerging politics. Her primary focus is forecasting the business implications of health policy through data-driven analysis. Smolinski is an expert on prescription drug, supply chain, generic & biosimilar and medical device reimbursement, bundled payments, Medicare Advantage policies, Medicaid expansion and managed care policies, as well as acute care hospital & post acute payments. Ms. Smolinski holds an MBA and a Masters in Public Health from Columbia University and received her BA from Johns Hopkins University.
Volunteer Alumni Organizing Committee:

Dereje Ambatchew (AB '88) is currently the Co-Chair of the Communications Committee for the University of Chicago Alumni Club of NYC.

Chijioke Okeke (Nursing '17) - Johns Hopkins Healthcare Affinity 

Stephanie Wisner is Vice President of Operations for Io Therapeutics, Inc. and Vice President of Business Development and Operations for Laurel Therapeutics Inc. She is also an Analyst at ARCH Venture Partners, where she partners directly with Managing Directors, Partners, and Associates to perform deep diligence on early-stage scientific technologies, assessing them for potential investments and developing market landscape investment theses. She is a current MBA student at the University of Chicago, Booth School of Business.  Her upcoming book on biotech, "The Business of Science," will be published by New Degree Press in July 2020.

King Yan Yip (Business '12) - Johns Hopkins Healthcare Affinity 
Please join us in a conversation that will frame the issues of drug pricing reform in our market-based system and what is missing from the current public debate on this core subject.