There is an issue with the authentication process of alumni email accounts which has impacted user access.
We are currently working with Microsoft to resolve this issue. In the interim, access your alumni email account using the following link:
https://outlook.com/alumni.jh.edu
.
Thanks for your patience.
Women's Leadership Conference Remarkable Women:The Art of Reinvention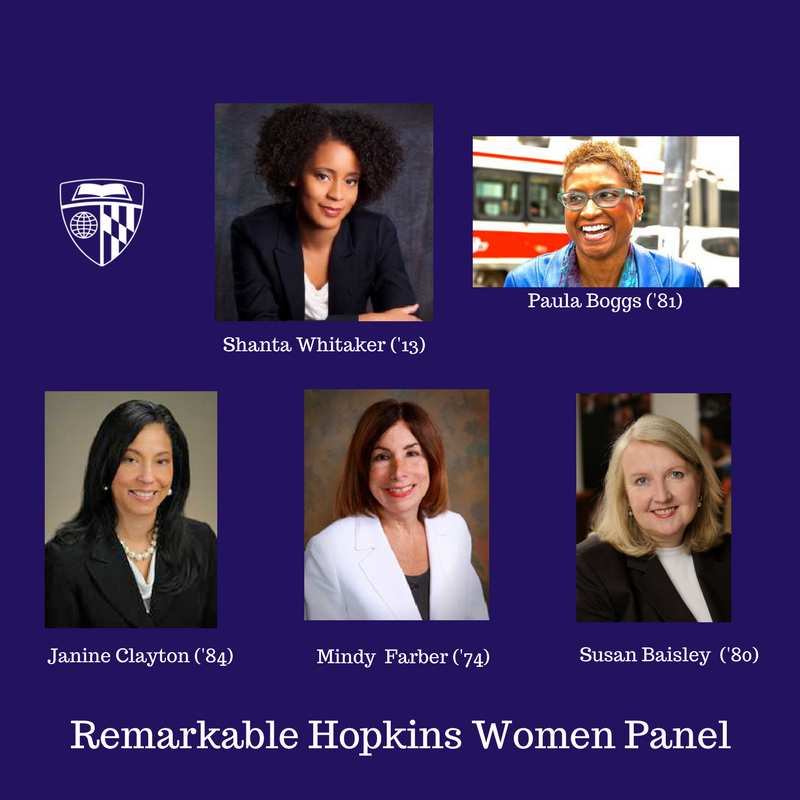 Event Date: Friday, March 31, 2017
Start Time: 8:00am
End Time: 4:00pm
5th Annual
JHU Women in Business Affinity Women's Leadership Conference
Remarkable Women: The Art of Reinvention
Invest & Reinvent  the Brand New "You"
Spend a full day with a community of inspiring women as we explore transformation and transition in our personal and professional lives through panel presentations, workshops, and hand-on activities.
In addition to the educational agenda, take-aways, networking, breakfast, lunch and - as always - lots of food for thought are included. Join us and join the conversation #JHUWIB #NEWYOU
For complete workshop descriptions and presenter profiles please click HERE.
Program
8:00 am
Registration and Networking Breakfast
8:30 am 
Welcome and Opening Remarks
Susan deMuth, Executive Director Johns Hopkins Alumni Relations

8:45 am 

Remarkable Hopkins Women: An Alumnae Fireside Chat

Engage in an interactive discussion with a few of Hopkins' remarkable women. Led by Susan Baisley ('80), Associate Vice President, Constituent Engagement for Johns Hopkins University our panel of alumnae will share stories and reflections on leadership, transitions, success and pursuing a dream.

Panelists:

Paula Boggs, ESQ ('81)
Janine Clayton, MD ('84)
Mindy Farber, ESQ ('74)
Shanta Whitaker, PhD ('13)

9:40 am

Politics & Public Leadership

Kathleen Matthews, Interim Chair of the Maryland Democratic Party, will share the story of her road into politics and public leadership.

10:25 am

Workshop Session I

Choose one of following four workshops:

Making the Leap: Is owning your own business right for you?
Presenter: Faizun Kamal '01, '09

Creative Leadership: Discovering the power of Creativity in Problem Solving
Presenter: Monica Kang '13

Negotiating with the Devil: Essential Strategies & Skills for Successful Negotiation
Presenters: Angela Melton Fray

Body Language & Laser Speak: Streamline Your Words and Body Language to send focused and impactful messages
Presenter: Cindy Petitt

Click HERE to view details on the workshops.

11:30 am

Seated Lunch and Professional Panel:In Pursuit of Your Purpose

During this session you will learn from a panel of women who have successfully identified their life's purpose and have traveled the path from plan to reality. Our panelists will share tips for discovering your purpose and share strategies for overcoming fear and doubt when obstacles rear their ugly heads.

Panelists:

Diana R. Ramsey
Julian B. Kiganda
Kiki Ramsey
Tiffany Davis
Julie Pittman

Click HERE to view panelist bios.

1:10 pm 

Workshop Session II

Choose one of following four workshops:

Innovation and Personal Reinvention: Disrupting Markets by Leveraging New Media, Technology, & Innovation
Presenter: Abenaa Addei (Carey '12)

Put Your Oxygen Mask on First: Avoiding Personal & Professional Manipulations
Presenters: Melanie Nix &Tanya Barnett

Negotiating with the Devil: Essential Strategies & Skills for Successful Negotiation
Presenters: Angela Melton Fray

Body Language & Laser Speak: Streamline Your Words and Body Language to send focused and impactful messages
Presenter: Cindy Petitt

Click HERE to view details on the workshops.

2:25 pm 

Intergenerational Leadership

Learn more about the challenges and opportunities of working in an intergenerational workplace with Demek Adams, Principal-Public Sector for Grant Thornton.  

3:00 pm

A story of transformation: Becoming Ms. Burton

Join Cari Lynn '97 as she shares the story of Ms. Burton, whose journey turned from despair to inspiration through an incredible reinvention.

3:30 
Closing