5th Annual Women in Business Affinity: Presenters
Keynote Panel
Remarkable Hopkins Women: An Alumnae Fireside Chat
Engage in an interactive discussion with a few of Hopkins' remarkable women. Led by Susan Baisley, Associate Vice President, Constituent Engagement for Johns Hopkins University our panel of alumnae will share stories and reflections on leadership, transitions, success and pursuing a dream.  
Susan Baisley '80, Associate Vice President, Constituent Engagement for Johns Hopkins University,  where her portfolio includes Annual Giving, Alumni Relations, Donor and Volunteer Engagement, Development Communications, University Events and Fundraising for the School of Education and the Center for Talented Youth. Prior to joining Johns Hopkins, Susan was a founding partner of Alpha Capital Financial Group, a private equity fund.

Previously, she was a Managing Director and Global Chief Marketing Officer for Citigroup Private Bank, where she was responsible for providing strategic marketing planning as well as marketing execution for business operations in thirty four countries.  Prior to that position, she headed marketing for Goldman Sachs' Private Wealth Management Group. She also headed the marketing department for J.P. Morgan's U.S. Private Bank. In addition, Susan held a number of management positions in that organization, including heading marketing for the European and Middle East Private Bank (based in Geneva) and developing the brand and marketing plan for a mutual fund company, which J.P. Morgan created in partnership with Japan-based Daichi-Kangyo Bank.

Susan holds an MBA from Columbia Business School and a BA in Natural Sciences (biochemistry concentration) from Johns Hopkins University.

 
 

Paula Boggs '81 is the founder of Boggs Media, LLC, a business that manages her music, speaking, and other creative business activities. She is a Philanthropist, Fundraiser, Public Speaker, Lawyer and Musician. Paula served as Executive Vice President, General Counsel and Secretary, Law and Corporate Affairs at Starbucks Corporation from 2002 to 2012. Prior to that, she had a 14-year career in public service, including serving as an Assistant U.S. Attorney, and in various capacities as an attorney for the U.S. Army, the Department of Defense and the White House Office of Legal Counsel. She served eight years as a Regular Officer in the United States Army, and earned Army Airborne wings and a Congressional appointment to the US Naval Academy – among America's first women to do so.

Since leaving Starbucks, Paula Boggs has volunteered for a presidential campaign as a national surrogate, serves on for-profit and non-profit boards, and raises and gives money in support of causes she champions. In 2013, President Obama appointed her to the President's Committee on the Arts and the Humanities.

Paula Boggs is a graduate of the University of California at Berkeley School of Law (Boalt Hall), and earned a bachelor's degree in International Studies (economics, energy policy) from Johns Hopkins University.

 
 
Janine Austin Clayton, MD '84 is Associate Director for Research on Women's Health and Director of the Office of Research on Women's Health (ORWH) at the National Institutes of Health (NIH). Since assuming this role in 2012, Dr. Clayton has strengthened NIH support for research on diseases, disorders, and conditions that affect women. She is the architect of a trans-NIH initiative to require scientists to consider sex as a biological variable across the research spectrum. As co-chair of the NIH Working Group on Women in Biomedical Careers with NIH Director Dr. Francis Collins, Dr. Clayton also leads NIH's efforts to advance women in science careers. Prior to joining ORWH, Dr. Clayton was the Deputy Clinical Director of the National Eye Institute (NEI), and has been an attending physician and clinical investigator in cornea and uveitis at the NEI since 1996. In the course of her research on ocular surface disease, she discovered a novel form of disease associated with premature ovarian insufficiency in young women, which set the stage for her commitment to rigorous, thoughtful exploration of the role of sex and gender in health and disease.
 
 

Mindy G. Farber '74 is a nationally respected employment and labor law attorney based in Bethesda, Maryland. She is a Board Member of the National Center for Labor and Employment Law. Mindy has extensive experience working with both management and employees. In December 2016 Mindy was inducted into the Montgomery County, MD Civil Rights Hall of Fame.

Mindy represents clients in all matters relating to employment and labor law, including sexual harassment, discrimination, compensation, non-compete agreements, academic issues, the Americans With Disabilities Act (ADA), the Family and Medical Leave Act (FMLA), and Federal service regulatory law. In addition, Mindy represents clients in the related areas of constitutional law, business law and civil litigation.Early in her career, Mindy served as an attorney in the Civil Rights Division of the U.S. Department of Labor and U.S. Department of Justice; Vice-President of the Baltimore Women's Law Center; and Partner in the Bethesda Law Firm of Paley, Rothman, Goldstein, Rosenberg & Cooper.

Mindy graduated summa cum laude, valedictorian, from The Johns Hopkins University in Baltimore with a Bachelor of Arts Degree in History.  Mindy graduated from New York University School of Law, earning her Juris Doctor (JD) Degree. In law school, Mindy was awarded the Root Tilden Scholarship for merit and the Labor Law Prize. In addition, she is a member of Phi Beta Kappa and Omicron Delta Kappa.

 
 

Twitter: @swhitphd

Inspired by a desire to help and serve the most vulnerable, Dr. Shanta Whitaker ('13) left the laboratory bench and academia to pursue a career in public health. She obtained a Masters of Public Health from the Johns Hopkins School of Public Health to understand how the social determinants of health affect minority populations. While at Hopkins, she completed a national study focused on educational attainment and diabetes outcomes in Hispanic and Black men. Currently, Dr. Whitaker is a Health Policy Consultant for LMI where she works on Accountable Care Organizations, which are a part of the Affordable Care Act. Previously, Dr. Whitaker served as the senior Medicare disparities analyst for the Delmarva Foundation advising quality improvement organizations on chronic disease health disparities within Medicare. Dr. Whitaker has training, education, and experience in chronic and infectious disease, health disparities, epidemiology, and biostatistics. Dr.Whitaker also holds a Bachelor's degree in Biology from Virginia Union University and a PhD in Microbiology from Yale University.
Morning Plenary
Politics & Public Leadership: How to become more politically engaged in an ever-evolving world
After the 2016 presidential election, many Americans want to make sure their voice is heard. From your community to the Congress, join Kathleen Matthews in discovering the ways that you can get involved in public service and politics. In 2016, former TV news anchor and business leader Kathleen Matthews reinvented herself once again when she ran for Congress. Kathleen will share her journey into politics and "how-tos" for engaging in the political process.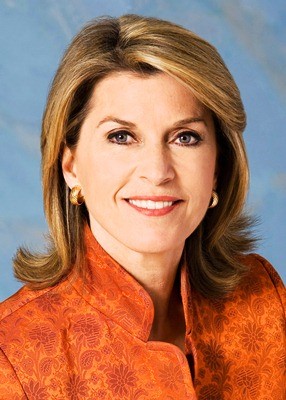 Kathleen Matthews has worked in the nation's capital for 40 years as a journalist, corporate communications and public affairs executive, and political activist. In 2016 she ran as a Democrat for Congress in Maryland's 8th District and remains active in Maryland politics. She serves on the boards of Emerge Maryland and the National Capital Area Council of the Girl Scouts of America.
From 2006-2015, Matthews was the chief communications and public affairs officer for Marriott International,the world's largest hotel company, where she was responsible for the company's global brand public relations, corporate communications, government affairs, social responsibility, and company culture. Committed to diversity and the environment, she created and co-chaired Marriott's Global Green Council and served on the company's Global Diversity and Inclusion Council, where she was a vigorous advocate for equality and opportunity for women and the LGBTQ community.
Prior to her career at Marriott, she was an award winning news anchor and reporter at the ABC-TV affiliate in Washington, DC for 25 years, and hosted the nationally syndicated "Working Woman" television show. Matthews has been awarded nine local Emmys, the Human Rights Campaign's Straight Ally Award, Washington Business Journal's "Woman Who Means Business" award, and Washingtonian of the Year.
She is a 1975 graduate of Stanford University, and a 2004 Fellow at the Institute of Politics at the Kennedy School at Harvard University. She and her husband Chris Matthews have three grown children.
Workshops
AM Sessions Only (offered only in the morning)
 

Creative Leadership: Discovering the power
of Creativity in Problem Solving

Presenter: Monica Kang '13
Founder & CEO, InnovatorsBox

In a rapidly changing world, creative leaders and organizations are highly sought out. For instance, an IBM survey of 1,500 CEOs found that creativity is the most important quality for leaders and organizational growth. We need leaders who can go beyond the norm, find solutions despite limited resources, and can see possibilities in impossible circumstances. Yet, 75% of American professionals feel stuck and lack a creative outlet. If creativity is so crucial to success in the workplace, how can I build a creative mindset? How can creativity really help my team's productivity and employee engagement?

Take a deep dive into the power of creative leadership and how to build a creative mindset. We will ask questions,play, laugh, and reflect. As productivity expert Tim Ferriss says, "To learn how to think outside the box, you have to do more actions outside of the box." Join us to learn how.

---

 

---

 

Making the Leap: Is Business Ownership Right for You?

Presenter: Faizun Kamal '01, '09

FranNet Franchise Specialist of Virginia & Washington DC

Do you find the idea of establishing a business of your own enticing but worry about the risk of forging your own path? If so, join Faizun Kamal (Carey MBA) as she shares her journey from Fortune 15 executive to Franchise Specialist. Using the framework of the franchise industry, Faizun will use her expertise to guide participants through an exploration of franchising as a career opportunity.

Some of the topics you'll explore during this session include: what different franchise opportunities succeed in the DC metro area, uncovering the characteristics of a successful business owner, and identifying if these opportunities align with your career goals.

---

 

---

 

AM & PM Sessions (offered morning & afternoon)
 
 
 

Negotiating with the Devil: Essential Strategies & Skills for Successful Negotiation

Presenters: Angela Melton Fray

Negotiating is a part of everyday life, but in business it is a key component to your success. Poor negotiation can cripple your professional and business growth. While most negotiating strategies seem like common sense, it's not uncommon for women to get caught up in the emotion of the moment and ignore their basic instincts. 

It takes an iron gut, research, street smarts and unblinking discipline to master the art of negotiation. You have to know just a little bit about every category you encounter. The goal of this workshop is to reinvent and take your existing negotiating skills to the next level.

---

 

---

 

Body Language & Laser Speak: Streamline Your Words and Body Language to send focused and impactful messages

Presenter: Cindy Petitt

In this session, Cindy Petitt will guide us in streamlining our communication style using our words and our body language to send focused and concise messages. Learn how your body movement and posture influence the messages you send and practice the use of rapid, effective storytelling to communicate clearly and concisely.

---

 

---

 

PM Sessions Only (only offered in the afternoon)
 
 
 

Innovation and Personal Reinvention: Disrupting Markets by Leveraging New Media, Technology, & Innovation

Presenter: Abenaa Addei '12
Partner Business Development Manager, Microsoft

When establishing professional personal, your virtual presence is as important as your in-person one. In this session, you will learn how to use social selling tools and techniques to boost your business acumen and strengthen your personal brand. Discover the benefits to leveraging social channels, acquire the skills to get started, and takeaway tips and tricks which you can use to reinvigorate your brand.

---

 

---

 

Put Your Oxygen Mask on First: Avoiding Personal & Professional Manipulations

Presenters: Melanie Nix & Tanya Barnett

In this workshop, Tanya and Melanie will provide attendees with different strategies for continuing to refuel, navigating change, and putting themselves and their personal and professional goals first.  

Through their own examples of overcoming personal and professional manipulation, Tanya and Melanie will encourage and empower women to take control of their lives. Participants will leave with tangible tools that they can implement immediately including a list of strategies and when to apply them (job, significant others, family, etc.) and a reading list for future self-development.

 
 

Workshop Presenters
Monica Kang '13, Founder & CEO of InnovatorsBox, loves building bridges, relationships, and communities.

She believes that change is possible when more people are able to understand and integrate into different worlds simultaneously. That integration is possible with creative thinking and an open mind. For Monica, those two worlds are entrepreneurship and public policy.

Prior to InnovatorsBox®, Monica specialized in nuclear nonproliferation as contract support to the U.S. government and a non-resident Kelly Fellow at Pacific Forum CSIS. She has lived and worked abroad at the United Nations in Geneva and Chosun Newspaper in Seoul. She got her M.A. degree in Strategic Studies at SAIS, Johns Hopkins University and her B.A. at Boston University. To satisfy her love for entrepreneurship and creativity, she also sought out to be a StartingBloc Fellow and Mentor, Hive Fellow, Design Thinking in DC member, a Startup Weekend Organizer and Facilitator in DC. She is also in the process of being a certified coach and proud to be part of Coach Diversity Institute based on International Coach Federation standards.

Her love for interactive experience, safe space, and vulnerability reflects deeply in the curriculum she builds at InnovatorsBox. Her joy is to create 'aha' moments for the attendees because the best learnings comes by 'being in the moment.' She is a strong believer of 'learning by doing' and focuses on creating a safe space for deep inner search and discovery.

In her spare time, she loves to travel, read, paint, and teach Korean. You'll often see her with a chai latte and chocolate croissant at a cafe

---

 

---

 

Faizun Kamal '01, '09 is a former Fortune 15 executive with 17+ years of experience in corporate, multinational, nonprofit & Entrepreneurial settings on three continents. As a Franchise Specialist for FranNet, Faizun conducts franchise education workshops throughout Virginia and Washington, DC, and coaches would-be entrepreneurs on how to make the transition from employee to business owner.She has extensive knowledge of the franchise industry and provides individual guidance to people who are interested in investigating active or passive entrepreneurship through a proven business model.

---

 

---

 

Abenaa Addei '12 is a creative business technologist and change agent with strong experience in consultative sales, diverse sets of technology, and partnership building to drive revenue. Abenaa consistently demonstrates grit to penetrate large accounts and deliver results and exhibits the exceptional ability to team with diverse work groups to create strategy and discover synergies, while achieving organizational objectives. 

Abenaa is experienced with various transformational technologies including Cloud (SaaS, PaaS, IaaS) collaboration and productivity tools, marketing technology elements, and desktop/mobile applications and is eager for opportunities to lead, influence change with clients and customers, and transform businesses and people to achieve more.

---

 

---

 

Melanie Nix is the quintessential soul of a survivor whose rousing messages offer a blueprint for regeneration after cancer. Lauded for her masterful presentations, her keynote addresses, trainings, and videos have buoyed countless lives from victim to victor. A voice that must be heard; Melanie is an eloquent storyteller who blends wit with sensitivity. A Resilience Coach, Reconstructionist™ and Health and Wellness Advocate, she has been profiled by several media outlets including NBC Nightly News with Brian Williams and CURE Magazine. She has earned invitations from The White House and The Vice President's Residence where she has shared her experiences on survival, health care and breast cancer.

Melanie, an avid runner, loves music, movies, the serenity of being ocean side and long, restorative naps! A fifth generation breast cancer patient, she is the co-founder of Breast Cancer Comfort Site and serves on numerous health advisory councils and boards. Her health and wellness advocacy includes becoming a post-cancer distance runner. She polished her public speaking and presentation skills during her successful 15+ year corporate career and holds a Master of Business Administration from the Robert H. Smith School of Business – University of Maryland, College Park and a Bachelor of Arts degree from the University of Virginia. Melanie resides in the Washington, DC area with her cherished family, husband, Raymond; son, Carter; and daughter, Kennedy.

---

 

---

 

Tanya Barnett is a speaker and "Real" Wife Coach. She is the author of Being a Wife Just Got Real: Things I Wish I Knew, Before I Said, I Do". She founded the Real Wife Movement™ to equip women with tools for creating strong relationships, marriages and families.

She is also the founder of Forever Free Books, a mobile literacy nonprofit, which delivers free books and story time to low-income children in their neighborhoods and schools.

She is a marathoner, triathlete and a serious book lover. She and her husband, Don, have 3 awesome kids

---

 

---

 

Angela Melton Fray is the Chief Marketing Officer and Co-Founder of Fray Development, Inc. dba Dat Jerk Caribbean Chargrill. Fray is responsible for overseeing the daily operations of this new concept restaurant which includes, but is not limited to structuring the internal operations, business financials and marketing the fast-casual restaurant. Her diverse background in restaurant ownership, television media, radio, outdoor and internet marketing development makes her a prime candidate for implementing the future grow of Dat Jerk Caribbean Chargrill restaurants across the country with owned and operated locations as well as into franchised restaurants.

Throughout the years, Fray has had the enjoyment of motivating and speaking to young people about the opportunities within her industry. She continues to provide time and counseling to encourage young men and women. Fray was one of the co-founders of the Alliance of Jamaican and American Humanitarians Foundation, who provided care packets for the homeless in Los Angeles and medical missions for women's care and dental care in Jamaica. Fray has also been a part of the women's advisory board for Mass Mutual Financial, the Lorraine Jackson Foundation, the LA County Museum Corporate Advisory Committee, the YMCA West Valley Division and Wingstop Southern California Coop.

---

 

---

 

Twitter: @CindyPetitt

Cindy Petitt is the founder and president of Coaching for Positive Action. She has been serving as a thought partner with managers, executives, small business owners, and high potential employees for over twenty-five years.

She is former head of Human Resources and Workforce Effectiveness at a federal financial regulatory agency, and was responsible for overall human resource management programs, diversity management, and organizational development. During her tenure in this position, the organization's reputation as an employer of choice received significant national recognition due in part to the many programs put in place by Workforce Effectiveness. Cindy has held corporate leadership positions in strategic planning and quality improvement, and served as an independent executive coach and consultant. She has implemented corporate programs that provide individual coaching to senior executives and managers and group coaching to high potential women.

She was an examiner for the Malcolm Baldrige National Quality Award and the President's Federal Quality Award, and was an active member of the Corporate Leadership Council, International Benchmarking Clearinghouse, and Financial Services Business Excellence Council/US Conference Board (Co-Chair). She has served on Advisory Boards, and is involved in volunteer activities that support the economic growth and development of her local community.

Cindy is a certified Executive, Business and Life Coach. She has a MS degree in Organizational and Human Resources Development from American University/NTL, and a BS degree in Psychology from Centre College of Kentucky.
Lunch Panel: In Pursuit of Your Purpose
Panelists
Diana R. Ramsey is the author of Butterfly Transition: A Step-by-Step Guide to Transitioning Your Hair While Growing Through Life's Changes, a Speaker and Transition Coach. Diana's dedication to live in her purpose is helping women throughout the world successfully transition.

Written for the woman striving to take better care of her hair, mind, body, and spirit, Diana's story is proof that your transition isn't the end—it's only the beginning of who you were meant to become. Diana first burst onto the scene, bringing an innovative perspective to the natural hair community. This author, speaker, and change agent, has created more than 600 hairstyles and published content on sisterswithbeauty.com to help women wear their natural hair with confidence and style. As a civilian employee in the government sector, Diana has experienced her fair share of uncertainty and fear while navigating life's changes. In the face of depression, it was her hair transition that saved her, showing the intersection between hair and life.

When she's not teaching women how to successfully transition with her Butterfly Transition in 6 Weeks course, she is applying her technical intellect as a Project Manager. She's spoken at Congressional Black Caucus, WHUR 96.3, Blogalicious, and been featured on Great Day Washington and HuffPost Live. Diana holds a Master's degree in Information Technology Management from Webster University, and a Bachelor of Science in Entrepreneurship from Norfolk State University. 

 
 

Julian B. Kiganda Kiganda is a speaker, author, and experienced branding and marketing strategist with almost 20 years of experience. She has helped transform, build, and grow brands for international organizations, Fortune 500 corporations, multi-million dollar nonprofits and small businesses. Her firm's clients have included the African Union, Turner Construction, the African Center for Economic Transformation (Ghana), and the National Urban League. She is also an Advisory Counsel member of Brand Africa (based in Johannesburg). As a board member of Designers Without Borders—a nonprofit organization that delivers technology, instruction, and design consulting to schools and select non-profits in Africa—she designed and implemented a successful two-year online distance mentoring program with University design students in Uganda and design professionals in the United States.

Julian co-authored and published her first highly-acclaimed book with her sister entitled Whose Shoes Are You Wearing? 12 Steps to Uncovering the Woman You Really Want to Be. Since the sold out book launch, Whose Shoes (www.whoseshoesbook.com) has been featured on local and international media, and is transforming lives while attracting a fast-growing following. She founded Bold & Fearless in 2013, an online magazine and lifestyle brand for professional women of Africa and the Diaspora who are passionate about faith, purpose, service and leadership. Julian has taught branding and marketing as an Adjunct Professor of Marketing at Bowie State University in Maryland, and as a guest expert at the first Clearly Mobile Innovation Challenge at Howard University.

 
 

Kiki Ramsey is a professional speaker, author, personal and executive coach. Her transformational strategies help people overcome limiting beliefs caused by fear, and find deeper purpose through harnessing their courage to create the lives they desire. She is the CEO of Kiki Ramsey International and the founder of Get Courageous, a personal development seminar designed to help people transform their lives and career. She is author of Get Courageous Now: A Woman's Guide to Finding Her Passions and Purpose in Life and The Get Courageous Now Journal both offering women a step by step guide to radically breakthrough the mindset of fear. Through Kiki's own transformation she role models living a life of purpose, confidence, and courage.

Kiki has a Master's in Social Work from the University of Georgia and holds a second Master's degree in Positive Psychology from Life University in Atlanta. Her B.A. is in Child Development and Family Studies from Berea College in Kentucky. She is a member is the National Speakers Association and the Harvard Medical School Institute of Coaching.

 
 

Before establishing Washington Accounting Services Inc., Tiffany W. Davis was employed within the accounting industry for over seven years. During those years, Mrs. Davis has worked in several industries such as construction, environmental, non-profit, retail, financial investment, and mortgage and banking. Mrs. Davis has a wide range of experience within the accounting industry both within the for-profit and not-for-profit sectors. In 2009, Mrs. Davis was awarded the Achievement Award by the National Association of the Self-Employed and gifted $30,000.00 for her business accomplishments. In addition, Mrs. Davis was invited to the White House to meet with President Barack Obama in reference to a small business briefing on healthcare and small business tax related issues. Mrs. Davis has appeared in The Wall Street Journal, USA Today, Self-Employed Magazine and in numerous newspaper articles, blogs, and radio shows for her business and tax expertise. In addition, Mrs. Davis participates in various community outreach programs, including preparing and facilitating financial seminars on tax and business planning topics by invitation from several organizations.

Mrs. Davis has obtained her Associate of Science Degree in Accounting from the College of Southern Maryland, a Bachelor's of Science in Accounting with a minor in Business Administration and a Master's of Science in Management with a specialization in Accounting from the University of Maryland University College. With these degrees, she obtained her Public Accountant certification and is authorized and finger printed by the Internal Revenue Service, and is a notary within the state of Maryland.

 
 

Julie Pittman is a Holistic Life coach who helps women and their families to holistically improve the quality of their lives, health and image from the inside out utilizing natural and spiritual resources.

After a successful 31 year career in the beauty and alternative health industry, Julie now coaches other people to achieve the same success. Julie specializes in coaching her clientele to achieve ultimate vibrancy, health and success first in their mind, body and image and then utilize that inner confidence and strength to attract opportunities that lead to success in their outer life and relationships.  It is through this process of successful living from the inside out that her clients achieve a level of personal success that lasts a lifetime and creates the most positive effect on the people and world around them.
Afternoon plenary
Intergenerational Leadership
Presenter: Demek Adams
Demek Adams joined the Grant Thornton in 2008 and has more than 12 years of experience in financial management transformation in the public sector. His specialization includes federal financial accounting and reporting, financial business process reengineering, audit remediation, as well as functional support of financial system implementations/shared services. Prior to being admitted as Principal, Adams served as a Senior Manager leading Grant Thornton's Public Sector Financial Management Transformation practice.

Adams is a Certified Government Financial Manager (CGFM) and a member of the AICPA. He is also a board member of the Data Foundation and the Education Committee co-chair of the Association of Government Accountants (AGA) DC Chapter. Adams earned a bachelor's degree in accountancy and computer information systems from the American University.
Reflection and Closing
A Transformational Story: Becoming Ms. Burton
Presenter via Skype: Cari Lynn '97
Susan Burton's world changed in an instant when her five-year-old son was killed by a van on their street in South Los Angeles. Consumed by grief and without access to professional help, Susan self-medicated, becoming addicted first to cocaine, then crack. As a resident of South L.A., an impoverished black community under siege by the War on Drugs, it was but a matter of time before Susan was arrested. She cycled in and out of prison for fifteen years; never was she offered therapy or treatment for addiction. On her own, she eventually found a private drug rehabilitation facility.

Once clean, Susan dedicated her life to supporting women facing similar struggles. She began by greeting women as they took their first steps of freedom, welcoming them into her home, providing a space of safety and community. Her organization, A New Way of Life, now operates five safe homes in Los Angeles that supply a lifeline to hundreds of formerly incarcerated women and their children—setting them on the track to education and employment rather than returns to prison. Susan is now nationally known as an advocate for restoring basic civil and human rights to those who have served time. Becoming Ms. Burton not only humanizes the deleterious impact of mass incarceration, it also points the way to the kind of structural and policy changes that will offer formerly incarcerated people the possibility of a life of meaning and dignity.