**SOLD OUT** Veterans Affinity Network Presents NYC Fleet Week: USS New York (LPD-21) Tour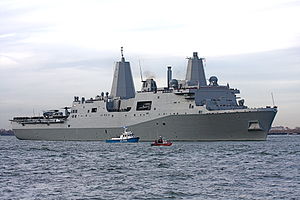 Join fellow Hopkins alumni and friends for a rare opportunity to tour the USS New York (LPD-21) during NYC's Fleet Week. The USS New York is a San Antonio-class amphibious transport dock ship and the fifth U.S. Navy ship to be named after the state of New York. Shortly after September 11, 2001, Governor of New York at the time, George E. Pataki, wrote a letter to Secretary of the Navy, Gordon R. England, requesting that the Navy bestow the name "New York" on a surface warship involved in the Global War on Terrorism in honor of the victims of the September 11th attacks.
A symbolic amount of steel salvaged from the World Trade Center was used in her construction. Weighing in at approximately 25,000 tons, her mission is to deploy 700 or so Marines. On your tour, you'll see helicopters on the flight deck and, if you're lucky, you may see a V-SS Osprey, track landing craft, or a hovercraft in the well deck.
The morning tour will begin promptly at 11:00 am. Once the tour is complete, participants are welcome to enjoy the rest of their day and Memorial Day Weekend in New York City.

Please, report to the pre-arranged tours desk in front of the gate for the tour.