5th Annual President's Day of Service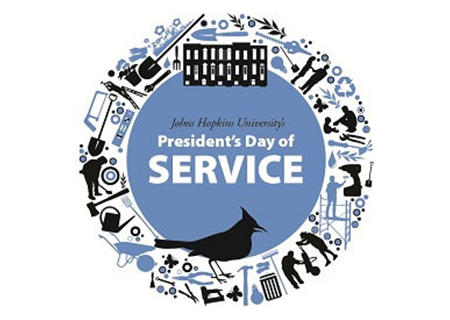 Join over 1,000 JHU students, faculty and staff in making the 5th Annual President's Day of Service a nationwide effort!

Chapters and cities across the country will join together to show their communities why having a Hopkins alumni presence can make a difference. So gather your fellow alumni, friends and family and join in this One Hopkins effort!
List of participating cities –

BALTIMORE
BOSTON

155 North Beacon Street
Brighton, MA 02135
Click here to RSVP
Use this code to register: a0RC000000CpeaL 12:00 pm – 5:00 pm
2049 Dorchester Avenue
Boston, MA 02124
Click here to RSVP
Registration deadline - October 18

LOS ANGELES
College Summit - College Application Session
Assist students filling out and submitting their online college applications using the information provided here. Light snacks will be provided.
9:00 am to 1:00 pm
Crenshaw High School, 5010 11th Avenue, Los Angeles, CA 90043
Click here to RSVP
9:00 am to 1:00 pm
       
NEW YORK
New York Cares Day Fall 2013
Paint a brighter future for New York City's public school students
9:30 am to 3:00 pm
NYC Public School - Location TBD
Click here to RSVP
Let us know you are volunteering on facebook! 
PHILADELPHIA
SEATTLE
Pigeon Point Park (within the West Duwamish Greenbelt)
Remove invasive plants, plant native trees/shrubs and lay mulch.
10:00 am to 2:00 pm
1901 SW Genesee Street
Seattle, WA 98106
Click here to RSVP
SAN FRANCISCO 
San Francisco Food Bank
12:30 to 3:30 pm
900 Pennsylvania Avenue
San Francsico, CA 94107
Click here to RSVP
Let us know you are volunteering on facebook! 
(You will need to create a log-in prior to registering with group) 
WASHINGTON, D.C.
Light the Night with Leukemia & Lymphoma Society
12:00 pm to 5:30 pm
Freedom Plaza
13th Street & Pennsylvania Ave, NW
Washington, DC 20004
Click here to RSVP
For more information, please click here.

If you'd like to organize or host a President's Day of Service in your city please contact Krystle M. Ongaco on how to get started!