We need your Mattin Center memories!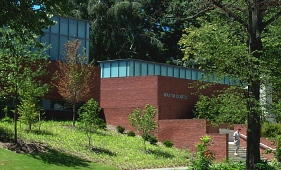 We need stories for an audio collage of oral histories, performances, and interviews that will resonate through speakers placed around the courtyard of the Mattin Center from April 24 – May 2. The stories will celebrate the vibrant activities that took place over the last 20 years of arts and student life at the Mattin Center​.​​​​​​
Will you share yours?
Do you have any stories about the Mattin Center, memories of the arts at Homewood in general, music/theater recordings, or anything you'd like to contribute?
Send a voice memo or audio recording as a link or attachment to digitalmedia@jhu.edu by Monday, April 12 to be included, or send us an email to schedule a longer conversation!
Not sure where to begin? We can help! Here are a few prompts to help you think back:
What are your favorite memories of Mattin Center?

What is a performance you saw or participated in at Mattin Center that moved you?

Did you meet someone important to you through a student organization? What is your story?

What is your favorite corner of Mattin Center? A secret place, or somewhere that holds specific significance for you?

How has participating in the arts affected your experience and memories at JHU?

How did you find your way to JHU, and to the arts or student groups here?

What have you learned from your experience at JHU that you carry with you?
We can't wait to hear what you have to share!