Scientists develop safer, more durable lithium-ion battery that can operate under extreme conditions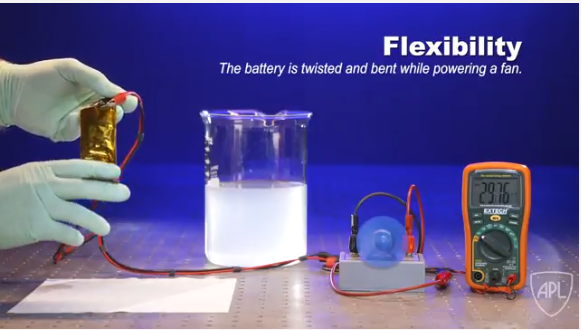 Lithium-ion batteries have become the energy storage method of choice for consumer electronics and military and aerospace systems alike. But potential safety hazards associated with the organic electrolytes that are used in Li-ion battery cells remain an ongoing concern.
Remember those reports of exploding hoverboards a few years ago? The culprit behind those spontaneous electrical combustions were low-quality Li-ion batteries, which contain highly flammable, toxic, and moisture-sensitive electrolytes.
But a team of scientists at the Johns Hopkins Applied Physics Laboratory has partnered with researchers from the University of Maryland and the Army Research Laboratory to develop a new type of flexible lithium-ion battery that is not hazardous and can operate under extreme conditions including cutting, submersion, and ballistic impact.