March 17: Live Webcast: Johns Hopkins experts address latest #COVID19 developments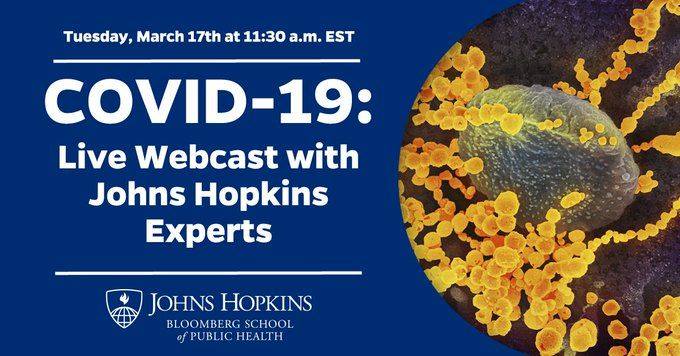 Alumni and Friends,
COVID-19 is now a global pandemic. Businesses are shuttering, classes are canceled, and financial markets are taking significant hits.
This is a critical time for information but also for the support and reassurance that science and evidence can offer. What actions do we know are effective in pandemics? Does social distancing truly make a difference in an outbreak? What have we learned about COVID-19 that can inform how we prepare and respond in our daily lives?
Experts from the Johns Hopkins Bloomberg School of Public Health will answer these questions and more in a 30-minute webcast at 11:30 am ET, Tuesday, March 17, 2020.
Webcast speakers
JOSHUA M. SHARFSTEIN, MD
Vice Dean for Public Health Practice and Community Engagement
Johns Hopkins Bloomberg School of Public Health

CAITLIN RIVERS, PhD
Senior Scholar, Johns Hopkins Center for Health Security
Johns Hopkins Bloomberg School of Public Health

ANDY PEKOSZ, PhD
Professor, Molecular Microbiology and Immunology
Johns Hopkins Bloomberg School of Public Health

Webcast details
Tuesday, March 17, 2020
11:30 am – 12:00 pm ET
Where to watch: JHSPH.edu/COVID-19/Mar-17

You may submit questions before and during the broadcast through the Q&A module on the right side of the livestream's video player.

A recording will be made available on the JHU Coronavirus Resource Center and across Bloomberg School channels.

The Johns Hopkins Bloomberg School of Public Health will host additional webcasts as the coronavirus outbreak continues. Follow us on Twitter, Facebook, LinkedIn, and Instagram to be notified about future broadcasts.

The Bloomberg School also produces Public Health On Call, a podcast with an immediate focus on the coronavirus outbreak. Subscribe now.

Johns Hopkins University's clinicians and researchers specializing in global public health, infectious disease, and emergency preparedness have been at the forefront of the international response to the coronavirus outbreak by advancing the understanding of the virus, informing the public, and briefing policymakers in order to guide the response, improve care, and save lives.

As we have in moments of international health challenge for more than 100 years—from the 1918 flu pandemic to the 2014 Ebola outbreak—Johns Hopkins is marshaling its ideas and people to ensure the safety and continued health of millions around the world.