New Orleans, LA - Veterans Affinity Network: D-Day 75th Anniversary New Orleans Trek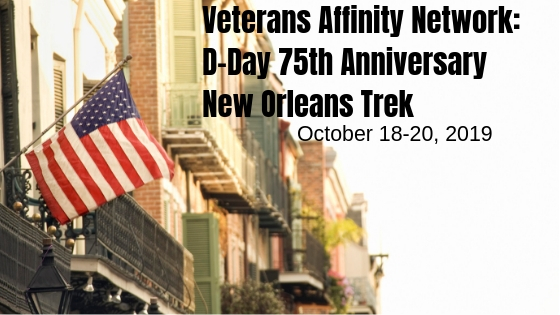 Sponsored by the Veterans Affinity Network
Join us as we commemorate the 75th anniversary of D-Day - a day now known as the greatest amphibious landing in history - with a trip to New Orleans featuring a visit to the National WWII Museum. This is an opportunity for Hopkins Veterans, alumni, and friends to enjoy the "Big Easy" together while exploring history and experiencing all that New Orleans has to offer. 

Begin your adventure with the enchanting backdrop of the French Quarter as we gather at a welcome reception sponsored by the Johns Hopkins Alumni Association at the DoubleTree Hotel from 6:30 - 8:30 pm. On Saturday, we'll take a private tour of the National WWII Museum, a museum that tells the story of the American experience in the war that changed the world - why it was fought, how it was won, and what it means today - so that all generations will understand the price of freedom and be inspired by what they learn. Our experience includes the 4D movie, Beyond All Boundaries, and a dynamic presentation by an Institute historian. A boxed lunch is included and will be enjoyed together as a group in the Museum. You'll have the afternoon to explore New Orleans on your own!

On Sunday, we'll meet down in the French Quarter in the heart of Jackson Square, where we'll share a dining experience like no other, celebrating the fine Creole cuisine and culture of New Orleans with brunch at Muriel's. While dining at Muriel's, we'll be enveloped by the rich history of the Vieux Carre while celebrating the life of today as we wrap up an exciting weekend in New Orleans.
WHAT'S INCLUDED
Friday Evening Reception
Shuttles (WWII Museum & Muriel's)
WWII Tour
Saturday Lunch at the WWII Museum
Sunday Brunch at Muriel's
Accommodations (optional)
LODGING
Choose the hotel of your choice or the DoubleTree Hilton New Orleans, where a block of rooms have been reserved. The DoubleTree by Hilton New Orleans is located at the base of historic Canal Street, across from Harrah's casino, in the heart of New Orleans. Opposite the French Quarter and on the edge of the bustling Central Business District, this area includes the famous Bourbon Street, Jackson Square, and Royal Street. 

ITINERARY
FRIDAY, OCTOBER 18, 2019
6:30 pm - Welcome Reception at the DoubleTree Hilton New Orleans
SATURDAY, OCTOBER 19, 2019
10:00 am - Shuttle from DoubleTree Hilton New Orleans to The National WWII Museum
10:30 am - The National WWII Museum Tour & Lunch
2:00 pm - Shuttle from The National WII Museum to the DoubleTree Hilton New Orleans
SUNDAY, OCTOBER 20, 2019
10:15 am - Shuttle from DoubleTree Hilton New Orleans to brunch at Muriel's Jackson Square
10:30 am - Brunch at Muriel's Jackson Square
1:00 pm - Shuttle from Muriel's Jackson Square to DoubleTree Hilton New Orleans