Virtual Networking|Global Health NOW: Climate Change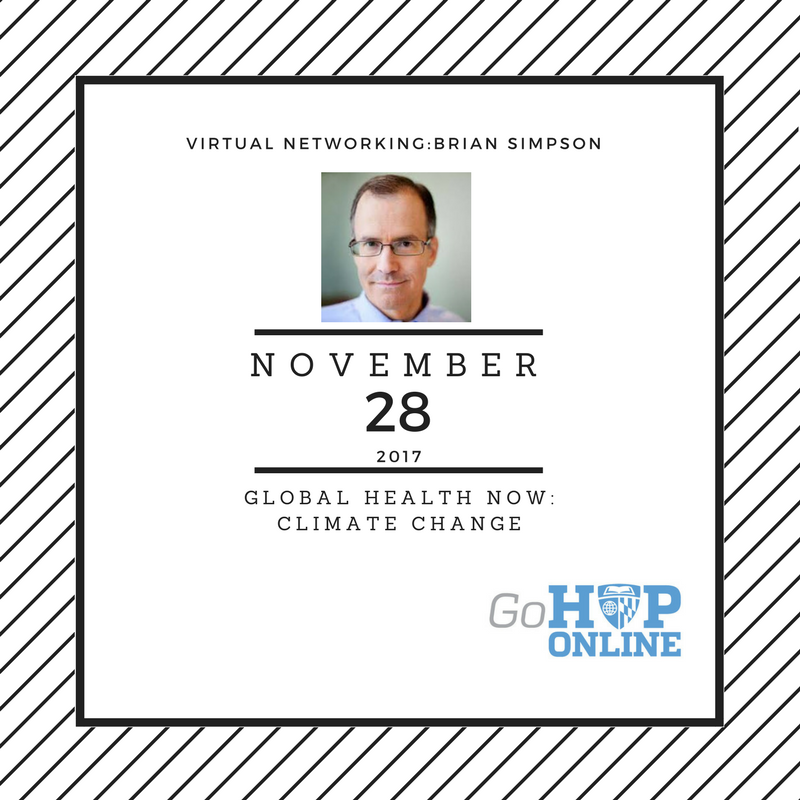 Event Date: Tuesday, November 28, 2017
Start Time: 8:30pm
End Time: 9:30pm
Join us for a highly valuable and interactive discussion about networking for career and professional development. We begin with a short presentation by our featured speaker (10 - 15 minutes) followed by Q&A and virtual networking.

In this session, each alumni will have the opportunity to briefly answer three questions in an innovative format designed to facilitate networking in a webinar setting. There will also be an interactive discussion following a brief overview about the goals of the Networking Webinars and alums are encouraged to share their views and interests.
Brian Simpson (A&S '97, BSPH '13) will share his experience launching Global Health NOW and the first GHN Live event on November 30th which will focus on Climate Change. GHN is a daily news source in Global Health which highlights the day's most important articles about research, trends and events to summarize in the e-newsletter and on the website. The email is sent every weekday morning, and the website is updated shortly thereafter.
Our Presenter | Brian Simpson (A&S '97, BSPH '13)
With more than 20 years of writing and editing experience, Brian oversees the writers in the Department of Marketing and Communications. Brian is also editor of Johns Hopkins Public Health, the award-winning magazine that chronicles public health issues and the School's research. Prior to joining Hopkins, Brian worked as a newspaper reporter in Florida, an editor and writer in Texas, a technical writer in Moldova and a freelance writer in Baltimore. In 2013, Brian earned a Master of Public Health degree from the Bloomberg School. He earned a Bachelor of Arts in English and a bachelor of journalism from the University of Texas at Austin, a Master of Arts in writing and Masters of Public Health from Johns Hopkins University.