Bay Area Alumni | Spaceflight Technology Innovation & Commercialization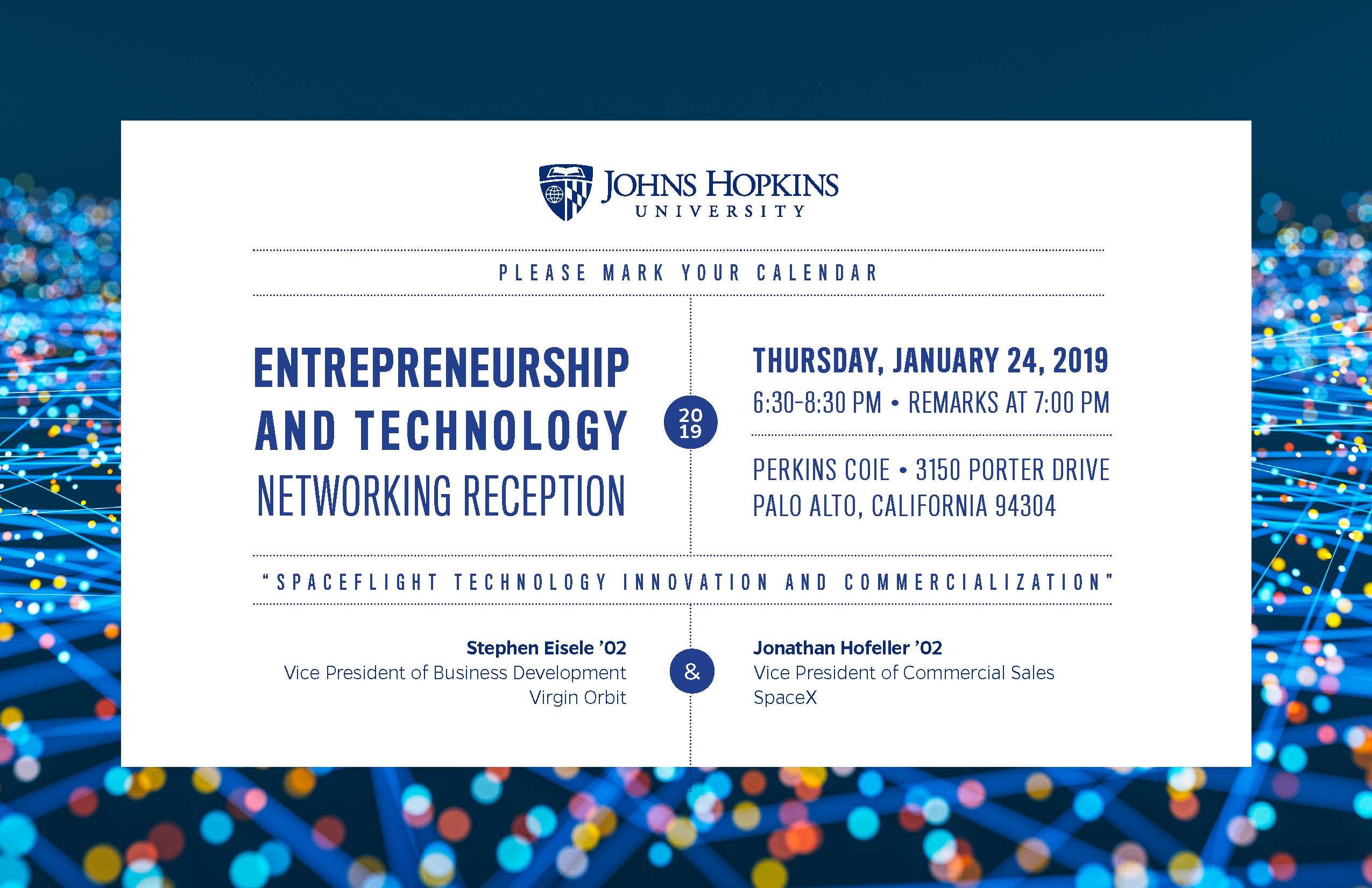 Enjoy an evening of networking with fellow Hopkins alumni in the Bay Area with a focus on tech, entrepreneurship, and innovation. In attendance will be the first cohort of Johns Hopkins undergraduate students studying tech and entrepreneurship in the Bay Area for intersession. Also featuring a panel moderated by the Whiting School of Engineering Benjamin T. Rome Dean, Ed Schlesinger with alumni Stephen Eisele (A&S '02), Vice President of Business Development for Virgin Orbit and Jonathan Hofeller (Engineering '02), Vice President of Commercial Sales for SpaceX to talk about spaceflight exploration from a start-up and technology lens as they share their journey as friends and colleagues that started at Homewood and took them (literally) to the stars.
If you're a federal employee affected by the government shutdown, please email a copy of your ID to alumevents@jhu.edu confirming which local event you'd like to attend, and we'll do our best to accommodate.
Special thanks to Adrian Rich for welcoming us into his space for this event.
Featured Speakers
 

Stephen Eisele is the Vice President Marketing and Entertainment for Space Services Holdings, Inc. and its subsidiaries.

Steve previously served as Head of Sales and Marketing for Excalibur Almaz (EA), an international space exploration company created to provide routine, affordable access to and from space. He also worked as the Marketing Coordinator for the X PRIZE Foundation's Lunar Lander Challenge in 2007. 

Prior to working with Excalibur Almaz and the X PRIZE Foundation, Steve worked as a Senior Analyst for DFI International (now Avascent Group) in Washington, DC, managing and researching numerous projects for Fortune 100 aerospace and defense firms.

Steve holds a BA in International Studies from the Johns Hopkins University and an MA in International Economics and Strategic Studies from the Johns Hopkins School of Advanced International Studies (SAIS) where he received the William C.Foster Award for "sound scholarship and a record of distinguished service and leadership." He also holds a Master's Certificate from the International Space University in Space Business.

 
 

Jonathan Hofeller is the Vice President of Commercial Sales, SpaceX

Jonathan is SpaceX's Vice President of Commercial Sales, with primary responsibility for commercial business development efforts across the globe. He is also responsible for developing SpaceX's approach to meet the growing demand of the secondary and small payload market. Mr. Hofeller joined SpaceX in 2007 and previously headed the company's business development efforts in North America, Middle East and Asia—successfully expanding SpaceX's customer base to include several new customers and regions.

Prior to joining SpaceX, Mr. Hofeller worked at The Raytheon Company as a Senior Mechanical Engineer and designer on several optical satellite programs.

Mr. Hofeller received his Bachelor of Science in Mechanical Engineering from the Johns Hopkins University, a Master's of Science in Mechanical Engineering from the University of Southern California, and a degree in Technology Commercialization from USC's Marshall School of Business. He is also a graduate of the International Space University's Space Studies Program.