NY Affinity | Snake Oils and Sovereign Cures: The Fine Art of Rare Books in the History of Medicine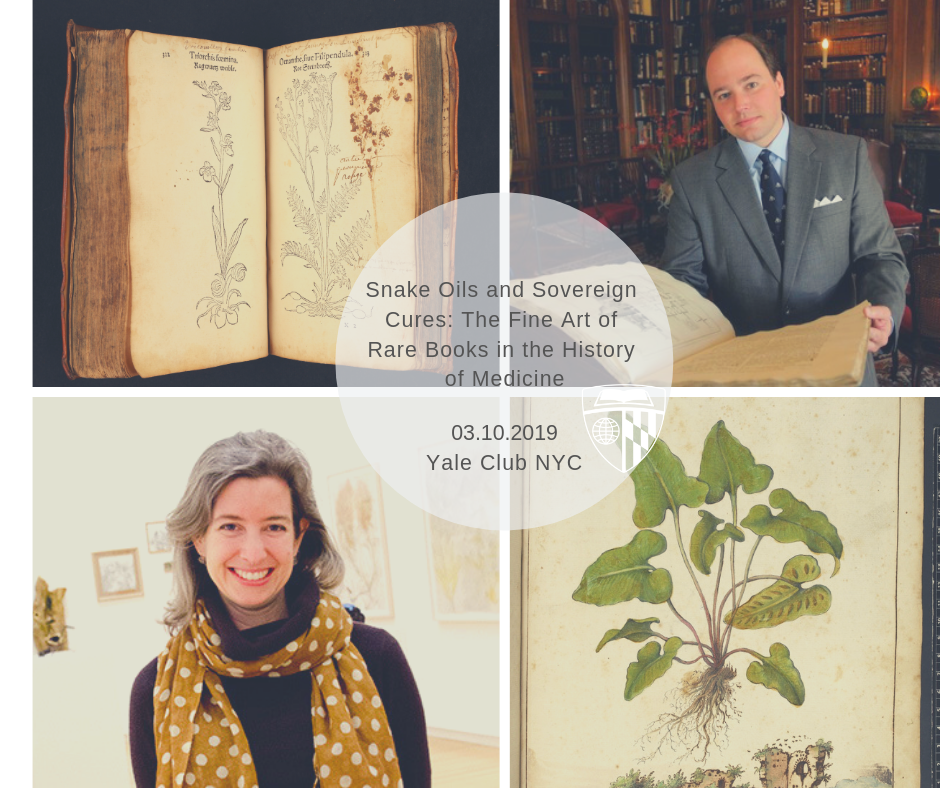 ONLINE REGISTRATION FOR THIS EVENT IS CLOSED. Contact Vicky Schneider (vschneider@jhu.edu) if you would like to attend.
Join the NY Affinity Programs | Music, Art, and Medicine Series featuring an examination of rare books and their relationship with medicine in the Renaissance.
Professors April Oettinger (Director of the Marcie Sweren Wogan Institute for the Study of the Book and the Humanities Center at Goucher College) and Earle Havens (Nancy H. Hall Curator of Rare Books & Manuscripts for the Sheridan Libraries at Johns Hopkins University) will explore illustrated Renaissance books on medicine and the arts of healing from the rare book and manuscript collections of Johns Hopkins University. This joint-presentation will focus on the essential role played by consummate book illustrators and masterful nature painters in delivering the promise of the healing power of plants, minerals, and exotica ("materia medica") in shaping the early, artful science of medicine and the natural world in Renaissance art.  
Speakers
| | |
| --- | --- |
| | Earle Havens (PhD, Yale University) is Nancy H. Hall Curator of Rare Books and Manuscripts, and Director of the recently endowed Virginia Fox Stern Center for the History of the Book in the Renaissance, of the Sheridan Libraries of Johns Hopkins University. His field of expertise is the history of the book and the material culture of knowledge in Renaissance Europe. His most recent book publication, co-edited with Walter Stephens (Johns Hopkins University), is Literary Forgery in Early Modern Europe, 1450-1800 (JHU Press, 2018). In 2018 he was a Member of the School of Historical Studies at the Institute for Advanced Studies at Princeton and, in January 2019, completed as Principal Investigator (with co-PIs Anthony Grafton of Princeton University, and Matthew Symonds of University College London) "The Archaeology of Reading in Early Modern Europe"—a five-year digital research collaboration involving the digitization, transcription, translation, encoding, and making searchable manuscript marginalia in 16th-century printed books, funded by the Andrew W. Mellon Foundation. |
|   |   |
| | April Oettinger is the Director of Marcie Sweren Wogan Institute for the Study of the Book Since and the Humanities Center at Goucher College. Since completing her Ph.D. at the University of Virginia, she has taught at the University of Delaware, the University of Hartford, and for the Colgate University Study Abroad Program in Venice. Her recent publications, which have appeared in scholarly journals including Artibus et Historiae, The Journal of Word and Image, and Source, treat topics including the art of 16th-century Venetian painter Lorenzo Lotto, the 1499 edition of the Hypnerotomachia Poliphili, and Michelangelo's snowman, among the artist's most famous 'lost' masterpieces. She is co-editor, along with Karen Hope Goodchild and Leopoldine Prosperetti, of Green Worlds in Early Modern Italy. Art and the Verdant Earth, forthcoming in May 2019 from Amsterdam University Press. She has been the recipient of a Fulbright Foundation Fellowship and the Dame Francis Yates Fellowship at the Warburg Institute, and more recently, grants from the Delmas Foundation, the Renaissance Society of America, the American Philosophical Society, the National Endowment of the Humanities, and a Paul Mellon fellowship from the Center for Advanced Study in the Visual Arts at the National Gallery have supported her current book project, Animating Nature. Lorenzo Lotto and the Sublime Turn in 16th-Century Venetian Landscape Art, 1500-1550. |
|   |   |