JHU Women in Business Affinity: Fall Day of Action 2014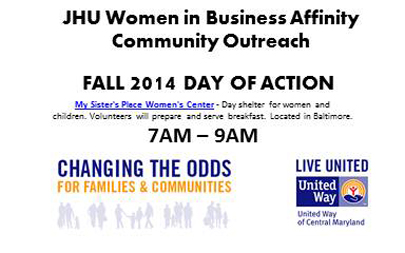 JHU Women in Business Affinity

Since their inception, the JHU Women in Business (WIB) Affinity has helped others through community outreach. On Wednesday, October 15, 2014, we need 10 volunteers to prepare and serve breakfast at My Sister's Place Women's Center in Baltimore; a day shelter for women and children. Our service project is from 7 - 9am, so not only can you participate, you can still make it to work just a little late but with a smile on your face knowing you helped someone else that day. Please respond directly to Ridia Anderson, Assitant Director of Affinity Engagement at rander65@jhu.edu or 410-516-7172.

JHU WIB encourages all JHU alumni to participate in the United Way's Fall Day of Action. If this specific timing does not work for you, there are plenty of other opportunities to choose. Simply register directly through the UW website. We know some JHU WIB committee members are taking the dinner shift at the Franciscan Center in Baltimore from 5-7:30pm. C'mon down and meet them there!

Please take a moment to let us know what you did and how it went - photos would be terrific. We will post them on our JHU WIB Affinity page.