Baltimore Women of Hopkins | Tai Chi in the Sculpture Garden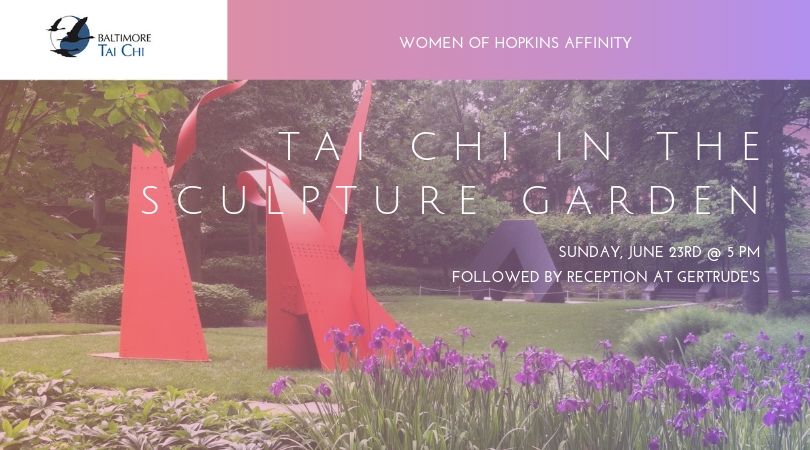 Join us for an evening of meditation and practice in the sculpture garden at the Baltimore Museum of Art and stay to mingle as you enjoy food and beverage on Gertrude's patio. 
Tai Chi is an ancient Chinese martial art practiced for health and relaxation. Its slow movements help to reduce stress, improve circulation, and increase our overall sense of well-being. People of all ages and abilities can practice Tai Chi to increase energy and vitality. 
 
In this session, Fiona will share a brief history of Tai Chi and some background on the many health benefits of Tai Chi. She will then lead us through some simple Tai Chi and qigong exercises, so come along ready to take part and to de-stress! Please wear loose/comfortable clothing and we will be in stocking feet (or you may wear a flat-soled shoe if that is more comfortable for you). Tai Chi is done standing up and all the movements are very gentle and flowing, and should not place stress on the body. However, if you have any concerns about your ability to participate, Fiona will be happy to speak with you beforehand.
 

Fiona Newton is Assistant Vice President for Development and Alumni Relations at Johns Hopkins by day and, in her spare time, teaches Tai Chi with Baltimore Tai Chi. Fiona has 16 years of experience as a teacher of Tai Chi and qigong, and first started practicing tai chi in 1997. Baltimore Tai Chi offers courses and workshops for the general public, veterans, seniors and professionals who handle critical incidents, and are frequently asked to conduct Tai Chi, qigong, and 'better balance' sessions at conferences and corporate wellness days.

For more information see http://baltimoretaichi.com 
Johns Hopkins Alumni, students, friends, and guests of all ages and gender identities are welcome.
Menu
Wine and Beer: Strawberry Rosé Punch, Sparkling wine, red & white wine, and Union Beers
Soft Beverages: Assorted Sodas, Iced Tea and Lemonade
Hors d 'Oeuvres: Crab Cakes, Shepard's Pie Croquettes, Firecracker dumplings, Zuchettes, Bee Hoss Buffalo Cauliflower, Smoked Mozzarella Risotto Balls, Artichoke Tapenade on Cucumber Round, and Cheese & Fruit Display