Affinity: Cordish Private Ventures|Dixon PE Partners: Family Office + Private Equity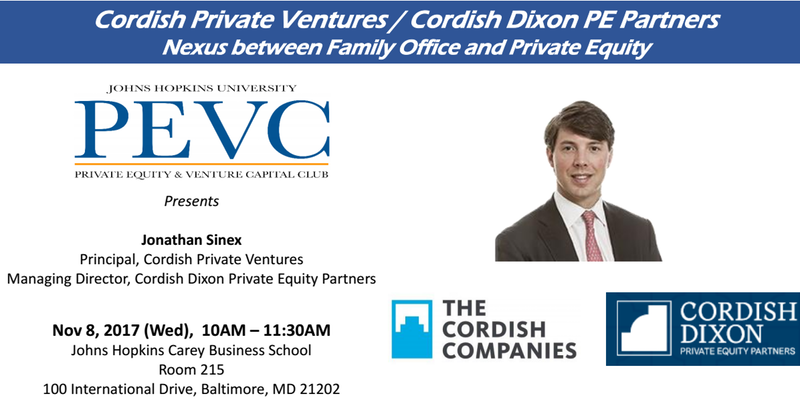 JHU PE VC Club and JHU DC/Baltimore Alumni Finance Affinity Group are honoured to host Mr Jonathan Sinex, Principal at Cordish Private Ventures and Managing Director of Cordish Dixon Private Equity Partners at the Carey Business School.
Mr Sinex will lead a discussion around family offices and private equity, provide an overview of the Cordish Companies and their investment division, Cordish Private Ventures, and then discuss the private equity joint venture with Dixon.
About Cordish Private Ventures & Cordish Dixon Private Equity Partners
Founded in 1998, Cordish Private Ventures ("CPV") is the private investment arm of The Cordish Companies and Cordish Family. CPV seeks superior risk-adjusted returns with a long-term investment horizon by investing in private funds run by exceptional managers, and by investing directly in private operating businesses in partnership with talented management teams. CPV's primary focus is on investing in "small cap" private equity opportunities. Within its targeted segment, CPV seeks to (i) partner with experienced managers by making commitments to, or purchasing secondary interests in, private equity funds, (ii) co-invest alongside its partner funds and other leading sponsors, and (iii) selectively make control equity investments in US operating businesses.

In 2012, CPV partnered with Dixon Advisory & Superannuation Services Limited of Australia and created a unique investment vehicle to leverage its expertise. The joint venture, which operates under the trade name of Cordish Dixon Private Equity Partners, has a mandate to continue CPV's successful strategy of investing in U.S.-based "small cap" managers and operating companies. CPV's Chairman, Jonathan Cordish, also Chairs the Advisory Board of Cordish Dixon Private Equity Partners. Cordish family member and CPV Managing Partner Jonathan Sinex manages this joint venture full-time. Cordish Dixon has built an outstanding track record and network in its area of focus.

About the Speaker

Jonathan Sinex is a Principal at Cordish Private Ventures, the investment division of The Cordish Companies, and a Managing Director of Cordish Dixon Private Equity Partners. Established in 2012, Cordish Dixon is
joint venture between two family businesses that focuses on U.S. based small and lower-middle market founder and family-owned businesses seeking growth capital. Since inception, Jonathan has been responsible for sourcing, evaluating and managing all private equity opportunities for the Cordish Dixon partnership. Prior to joining the Cordish Company, Jonathan was an investment banker at Bear Stearns and a private equity investor at Goldman Sachs and Devonwood Investors.

Jonathan has a B.A. from Middlebury College and a MBA with highest honors from the University of Virginia's Darden School of Business.