Virtual Networking | Cybersecurity & Defense: Starting your business in a dynamic landscape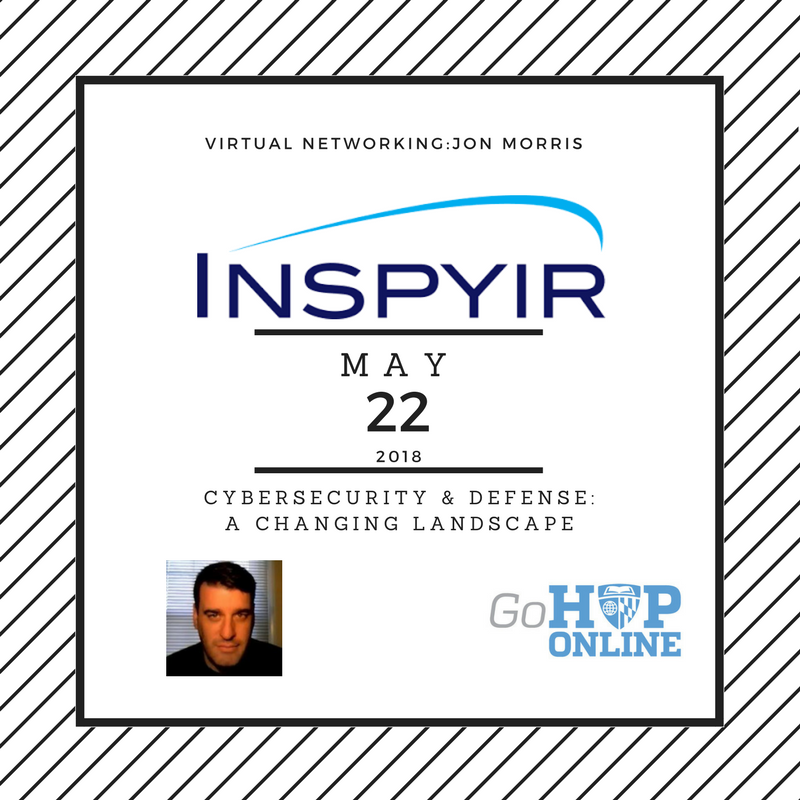 Event Date: Tuesday, May 22, 2018
Start Time: 8:30pm
End Time: 9:30pm
Join us for a highly valuable and interactive discussion about networking for career and professional development. We begin with a short presentation by our featured speaker (10 - 15 minutes) followed by Q&A and virtual networking.  

Jon Morris will share his experience with founding his business, maintaining the company, and his vision for the future of it. Starting with identifying the right founding partner and finding your niche in the marketplace, Jon will step us through the Who, What, When, Where, Why, and How of creating a successful business. 

Inspyir serves clients in both the public and commercial markets in areas of systems engineering, technology deployment, multi-domain security, talent acquisition & augmentation, and financial management. For more information about inspyir, visit inspyir.com. 

In this session, each alumni will have the opportunity to briefly answer three questions in an innovative format designed to facilitate networking in a webinar setting. There will also be an interactive discussion following a brief overview about the goals of the Networking Webinars and alums are encouraged to share their views and interests.  
Our Presenter | Jon Morris

Jon Morris works at Inspyir LLC, a company that specializes in cyber defense and intelligence, and has 20 years of experience in the development and management of security-focused technology solutions and programs. Beginning his career with Citicorp and BT where he developed solutions for Advanced Intelligent Networks, he moved to the KPMG technology practice and then the Noblis Center for National Security and Intelligence (CNSI), where he developed solutions for customers in the Intel, Defense and LEA markets. In 2009, Jon joined an international security practice in Abu Dhabi, UAE where he supported Cyber, Spatial Data Infrastructure (SDI) and advanced security initiatives for counter-terrorism programs. Prior to joining Inspyir LLC, Jon served as the Chief Information Officer for a start-up developing identity management and validation services.  Jon holds an undergraduate degree from Arizona State University and a Master's of Science from Johns Hopkins University.