6th Annual Women in Business Affinity: Presenters

Keynote Address
Jennifer Walsmith, Vice President, Integrated National Systems (INS)
Northrop Grumman Corporation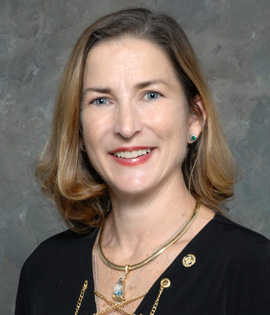 Jennifer Walsmith serves as vice president, Integrated National Systems (INS), Northrop Grumman Corporation, a leading global defense company providing innovative, trusted, and resilient solutions, to meet customers' needs worldwide in the backdrop of an ever-changing threats landscape. Northrop Grumman brings a unique commitment to diversity of thought and talent which is leading the way to the future. With more than 30 years of program management and software development experience, Ms. Walsmith most recently served as the Senior Acquisition Executive for the National Security Agency (NSA) whose two core missions are Information Assurance and SIGNALS Intelligence. She was a key player in the U.S. Comprehensive National Cyber Initiative (CNCI) delivering NSA's cyber solutions for the last decade. She was a member of the USD (AT&L) Senior Integration Group and ODNI Acquisition Council working cross community solutions and partnerships.
---
Morning Workshops
Executive Leadership: The "C" Circle: Leading with Passion, Powered by Resilience
** This session is designed for participants who currently or previously held C-Level or Executive Leadership Positions
In 2018 we still find that only 6%of women make it to the C Suite, and if and when they do, the challenges are different than they are for men.  As women in leadership roles, how can we lead with strength while being true to who we are, build networks that support one another, and help to change the landscape at the top for other women. Join Jennifer Walsmith as we discuss these issues and more in this candid conversation for C-Level Executives.
Unconventional Career Paths: The Road Less Traveled : A Panel
Panelists: Victoria Schwaner, Bryan McMillan (Carey '00, '02), Faizun Kamal (A&S '01, Carey '09), Lindsey Hutzler (A&S '12)
Facilitator: Karina Lipsman (Engineering '12),
Are you thinking about a professional change or maybe you have an interest and passion you are exploring that might become something more? Join a discussion focused on the twists, turns and evolution of career paths. Explore why and how that left turn along the way might just be the best transition you could make. Panelists will lead an interactive conversation and share stories of their own left turns and how you might make a left turn of your own.
Salary Negotiation: Are you getting what you're worth?
Presenters: Stacey Lee, Associate Professor, Johns Hopkins Carey Business School
Salary negotiation is an important way to increase your salary earnings when getting a new job, promotion, or performance review. Though most companies are willing to negotiate salary, many employees never even try. During this session, we'll review preparation strategies, best practices, and additional resources so you can confidently negotiate a compensation package that reflects your worth.
United State of Women: The Future is Female
Presenters: United State of Women Panel
The United State of Women is at the forefront of being a megaphone for gender equality issues. From equal pay to electing more women into public office, the United State of Women convenes women from all over the country to discuss strategic ways to move the movement forward. This panel will discuss how those who identify as women are the future of this country and how we are able to network together to create change!
 
---
Mindful Leadership: Creating a Culture of Health & Happiness

Caitlin Magidson, LCPC, NCC, Assistant Director & Career Coach, Johns Hopkins Carey Business School
Go, go, go! In a 24/7 connected world, it can be difficult to slow down, practice self-care, and stay emotionally connected to ourselves and others. As a way to embrace living in the moment and increase creativity and connection at work, a movement of mindfulness has made its way into business. Let's take a breather and talk about why companies like Target, Aetna, and General Mills are investing in mindfulness training for leadership. By the end of this session you will have a better understanding of the positive impact mindfulness can have in your life, and experience mindfulness exercises that will leave you feeling refreshed and grounded. Takeaways include a list of the latest apps and mindfulness resources to create a mindful practice in your life beyond the conference.

---
Afternoon Workshops
Effective and Civil Communication in a Distracted Landscape
Presenters: Louise Schiavone, Senior Lecturer, Johns Hopkins Carey Business School
Conveying your message effectively requires a wide range of skills. These include preparation,focus, creativity, cultural literacy, actual literacy, and civility. Louise Schiavone looks at the challenges and tools.
Creative Leadership: Transforming Your Career by Rethinking Creativity 
Presenters: Monica Kang (SAIS '13), CEO Innovators Box
In a rapidly changing world, creative leaders and organizations are highly sought out. For instance, an IBM survey of 1,500 CEOs found that creativity is the most important quality for leaders and organizational growth. We need leaders who can go beyond the norm, find solutions despite limited resources, and can see possibilities in impossible circumstances. Yet, 75% of American professionals feel stuck and lack a creative outlet. If creativity is so crucial to success in the workplace, how can I build a creative mindset? How can creativity really help my team's productivity and employee engagement? In this interactive workshop by InnovatorsBox, we will take a deep dive into the power of rethinking creativity and how to build a creative mindset through daily creative exercises as a professional. Creativity is not just an ideation tool. It is a way of living. We will ask questions, reflect, play and discuss to learn how to unlock your creative mindset for good. Get ready to rekindle your creativity!
Diversity Discussion: A deep dive into the diversity topics initiated during the USOW and Diversity lunch panel on gender equity, transgender health, imposter syndrome, and more.
Panelists:
James Page, Vice President and Chief Diversity Officer, Johns Hopkins Medicine
Jeannine Heynes, Director of Women and Gender Resources, Homewood
Mario Macis, Associate Professor, Johns Hopkins Carey Business School
Phuong Tran, A&S 2004, Alumni Council, Sr. Systems Analyst, University of Maryland Medical Systems

Facilitator: Niyati Shah, SAIS 2010, Senior Gender Advisor & Team Leader, USAID
It's Showtime!: How Women Can Increase their WOW factor using Social Media
Presenter: Sherron Washington, CEO P3Solution
Technology has a major influence on our ever-changing societal landscape. Now more than ever, women are emerging and being recognized as significant contributors that help, lead, shape and transform this digital world. So, it is vital for women to make a bold digital presence in order for them to make a larger impact in today's society. Social media provides that opportunity for women to show-up and show-off their star power, by providing a space that allows them to amplify their voice, exhibit their genius and connect with a vast network of extraordinary people to build a sensational online presence. This interactive session will demonstrate how to use social media platforms to select, present, and magnify your influence. - Explore which platforms are best to present star-quality - Examine how to effectively position yourself on social media - Learn how to build an out-going and authentic social media presence - Discover best practices for using social media to increase your impact
---
Afternoon Wellness Session
Taking Charge of Your Mental Health
Presenters:
Jennifer Payne, MD, Director of the Women's Mood Disorders Center
Lauren M. Osborne, MD, Assistant Director of the Women's Mood Disorders Center
Taking care of your mental health is important for everyone. Because women are twice as likely as men to suffer from major depression, women need to be aware of how to support their mental wellness. Drs. Jennifer Payne and Lauren Osborne from the JH Women's Mood Disorders Center will share important information on specifics of caring for your mental health throughout your lifetime, including a discussion of their groundbreaking research on post-partum depression.
---
Networking Reception
Sponsored by Nasty Women Wines
The reception begins immediately following the close of the conference.
---
Presenter Bios


Listed in Alphabetical Order
Jordan Brooks

Before taking the helm as the Managing Director and Chief Operating Officer of United State of Women, Jordan Brooks served as the Deputy Executive Director of the White House Council on Women and Girls under President Obama. She has worked on a multitude of international and domestic programs and policies including the Lili Ledbetter Fair Pay Act, the White House Task Force to Protect Students from Sexual Assault, the women's health provisions of the Affordable Care Act, and the Advancing Equity for Women and Girls of Color program, and the Galvanize program.
 

Jeannine Heynes, Director of Women and Gender Resources, Johns Hopkins University

Jeannine Heynes currently serves as the Director of Women and Gender Resources at Johns Hopkins University. Her work focuses on the advancement of women students' personal, academic and professional achievements, while supporting all students on matters related to gender equity and inclusion. As part of Diversity and Inclusion at Hopkins, Jeannine places a high priority on the intersectional programming she does with her colleagues in the Office of Multicultural Affairs, Campus Ministries and LGBTQ Life, helping students consider their own identities while developing an understanding of allyship and social justice. Prior to her work at Hopkins, Jeannine served as Director of The Center for Gender and Relationships at Warren Wilson College in North Carolina, overseeing sexual health education, LGBTQ Life, and feminist initiatives. As Coordinator of Gender Programming at Carnegie Mellon, Jeannine led sexual assault prevention education and Title IX compliance. Jeannine earned her Ph.D. in Women and Gender Studies at the University of Manchester, UK, where she taught courses on Gender and Education, Feminist Theology, and Race in America.

Lindsey Hutzler (A&S 2012), Director of Product Strategy & Business Development, Progressus, Inc.

Lindsey Hutzler is the director of Product Strategy & Business Development for Progressus, Inc., in which she oversees the lifecycle of new products from working with artists in the initial stages to patenting the final innovation with a legal team. Her first design, the Booboo Box®, has been patented in five countries. Her expertise is in emergent markets, sourcing compliance, and infringement research. She is a member of Johns Hopkins – Women in Business Affinity and the IHA – Government Affairs Committee, in which she lobbies for current fiscal and healthcare issues affecting the industry, including tax reform and Proposition 65.

Renée J. Johnson, Training Director at the United State of Women

Renée J. Johnson currently serves as the Training Director at the United State of Women, where she provides women across the country with opportunities for personal, professional, and political advancement. With her background in political service, Renée is passionate about getting more women of color into politics and policy.

Prior to joining the United State of Women, Renée worked for the District of Columbia as the Director of Legislation and Policy in the Department of Human Services and as a Legislative Assistant and Press Secretary to the Chairman of the District of Columbia Council, Phil Mendelson. Previously, Johnson served on Capitol Hill for Congressman Bobby L. Rush (D-IL), Senator Roland W. Burris, and the Assistant Majority Leader of the United States Senate, Richard J. Durbin. Hailing from Waukegan, Illinois, Renée graduated from Southern Illinois University Carbondale (SIUC) with a BA in Political Science and a Master's in Science, and went on to attend the University of Maryland Business and Law Schools.
 

Faizun Kamal(A&S '01, Carey '09), Franchise Coach

@faizun_kamal

 Faizun Kamal

As a Franchise Coach at The Franchise Consulting Company, Faizun conducts franchise education workshops and coaches would-be entrepreneurs on how to make the transition from employee to business owner. She has extensive knowledge of the franchise industry and provides individual guidance to people who are interested in investigating active or passive entrepreneurship through a proven business model. A former Fortune 15 Executive, Faizun has 18+ years of experience in corporate, multinational, nonprofit & entrepreneurial settings on three continents. She is an expert in public policy development, corporate responsibility, social enterprise & crisis communications. Skilled in contextual intelligence, she has created new business opportunities by leveraging strategic alliances. Conversant in multiple languages, she has been described as the "consummate connector". Coming from an unusual mix of work background (World Bank, Johns Hopkins University, Verizon) and life experiences (growing up in Asia and Africa), Faizun is able to see patterns in seemingly unconnected things and forge connections in the most unlikely places. Deeply intuitive, she has forged alliances and brought together stakeholders who had never worked together before. As an acclaimed social entrepreneur, she has founded a company where doing good and doing well blend seamlessly to change lives. Faizun received her BA in Women's Studies and Environmental Studies from Mount Holyoke College. She holds a Master's degree in Public Policy as well as a Master's in Business Administration from the Johns Hopkins University. She is also a graduate of Stanford University's acclaimed Social Entrepreneurship Program.


 
Monica Kang (SAIS '13), Founder & CEO , InnovatorsBox

 innovatorsbox.com

@monicahkang

 Monica Kang

Monica Kang is a creative educator who is transforming today's workforce through the power of creativity. As the Founder and CEO of InnovatorsBox®, Monica teaches creativity in a tangible, practical, and relatable way regardless of industry or job title. She has worked with clients worldwide including Fortune 500 companies, higher education, government, and nonprofits. Monica's work has been awarded across numerous platforms, including The White House, Ashoka Changemakers, National Minority Supplier Development Council (NMSDC), and Women's Business Enterprise National Council (WBENC). Driven by her lifelong love of knowledge, she is also an adjunct professor at BAU International University where she teaches entrepreneurship and leadership. Prior to InnovatorsBox®, Monica was a nuclear nonproliferation policy expert in international affairs. She holds an M.A. from SAIS Johns Hopkins University in Strategic Studies and International Economics and a B.A. from Boston University.


 
Stacey Lee, JD, Associate Professor Johns Hopkins Carey Business School
 Stacey B Lee

Stacey B. Lee, J.D. Stacey Lee is an associate professor at the Johns Hopkins Carey Business School. She also holds a joint appointment at the Bloomberg School of Public Health. Stacey teaches graduate courses in negotiations, business law, and healthcare law. She was recently selected to join the Fulbright Specialist roster for her expertise in negotiations and health care law. Stacey has designed content specific negotiation curricula for a variety of industries and organizations including hospitals, medical schools, executive leadership and development programs, trade organizations and women's professional groups and societies. Year after year Stacey has received the Excellence in Teaching Award at both Bloomberg and Carey for her courses. Before entering academia, Stacey practiced law for over ten years. She began as a securities litigator and later became in-house counsel for two of the country's largest healthcare corporations.


 

Karina A. Lipsman (Engineering '12), Managing Partner, M&L Global Consultancy

Karina A. Lipsman is an energetic and creative international strategist with experience supporting the launch of multiple global initiatives in over 15 countries.  Ms. Lipsman's depth covers the global defense and security market, development and coordination of international missions and in-country market consults. Raised in Eastern Europe and immigrating to the United States for her secondary education, Ms. Lipsman assimilates quickly in broad cultures and establishes trusting relationships throughout the world.


 
Norma Lopez

Norma Flores López is the Governance and Development/Collaboration Manager at East Coast 

Migrant Head Start Project and serves as the chair of the Child Labor Coalition's Domestic 

Issues Committee. She has long been an active advocate for migrant farmworker children's rights and continues to raise awareness on issues affecting farmworkers and creating meaningful engagement with the farmworker community in her current role. Prior to joining ECMHSP, Norma was the director of the Children in the Fields Campaign at the Association of Farmworker Opportunity Programs. Previous prior work also includes managing national and local clients at public relations firms.  Norma holds a Master's of Public Policy from George Mason University in Fairfax, Virginia. She graduated from the University of Texas Pan-American in Edinburg, Texas, with a bachelor's degree in comunications and studied abroad at the Universidad de Salamanca in Spain.


 
Mario Macis, Associate Professor, Johns Hopkins University

 Mario Macis

@mmacis

Mario Macis is an Associate Professor of economics at Johns Hopkins University, Carey Business School, Academic Program Director of the MS in Health Care Management, Associate Faculty in the Armstrong Institute at Johns Hopkins Medicine, faculty research fellow at the National Bureau of Economic Research (NBER), research fellow at the Institute for the Study of Labor (IZA), and research affiliate at Ideas42 Behavioral Science Lab. My research focuses on incentives, pro-social behavior, ethics and economics, gender gaps, global health. I have been a consultant for the World Bank, the International Labor Organization, the National Marrow Donor Program, and the United Nations Development Programme.


 
Caitlin Magidson, LCPC, NCC, Assistant Director & Career Coach, Johns Hopkins Carey Business School

 caitlinmagidson.com

@caitlinmagidson

 Caitlin Magidson

Caitlin Magidson is a Licensed Professional Counselor, National Certified Counselor, and Career Coach at the Johns Hopkins Carey Business School. She also provides both career coaching and counseling services in her Maryland-based private practice. Caitlin facilitates career retreats and incorporates mindfulness into her work as she approaches career conversations from a holistic perspective. Active in professional organizations she sits on the board of the Mid-Atlantic Career Counseling Association, and has presented at both local and national conferences. Caitlin holds an MS in Mental Health Counseling from the Johns Hopkins University, BA in Corporate Communications from Elon University, and is a Certified Career Management Coach through The Academies.


 

Bryan M. McMillan (Carey 2000, 2002), Business Unit Manager

@bmmcmillan64

 Bryan McMillan

Bryan M. McMillan is a senior leader within Northrop Grumman with a proven record of establishing operational capabilities and profitable ventures in over 15 countries.  Mr. McMillan's expertise covers international trade development, export/import compliance, cross-cultural personnel management & support, enterprise risk management and long-term strategic upgrades. Mr. McMillan was born and raised in Europe and later immigrated to the United States.  This experience has afforded him the exceptional ability to understand cross-cultural nuances on multiple continents.


 
Lauren Osborne, Assistant Professor, Psychiatry & Behavioral Science; Assistant Director, Johns Hopkins Women's Mood Disorders Center

Lauren M. Osborne is Assistant Professor of Psychiatry and Behavioral Sciences, Assistant Director of the Women's Mood Disorders Center, and Fellowship Director in Reproductive Psychiatry at the Johns Hopkins University School of Medicine.  She  holds an M.D. from Weill Cornell Medical College and completed her psychiatry residency and an NIH T32 research fellowship at Columbia University/New York State Psychiatric Institute.  Dr. Osborne is an expert on the diagnosis and treatment of mood and anxiety disorders during pregnancy, the postpartum, the premenstrual period, and perimenopause.  She conducts research on the biological pathways that contribute to perinatal mental illness, with a focus on the immune system, and her work is supported by the Brain and Behavior Foundation and the NIMH.  Throughout her training, she received numerous awards for her research, including the American Women Psychiatrists' Award and the APA Junior Investigators' Research Colloquium Award, and has been honored here at Hopkins with the Best Abstract Award from the Women's Health Research Group.  Dr. Osborne is the founder and chair of the National Task Force on Women's Reproductive Mental Health, a nationwide group of perinatal psychiatrists working together to create a national, standardized curriculum for the education of future psychiatrists.  She also serves as a member of the board of the Perinatal Mental Health Society.
 

James Page, Jr. MBA, Vice President and Chief Diversity Officer for Johns Hopkins Medicine

In this role, he is responsible for diversity-based initiatives for the medical center, the medical school and the greater hospital network. Prior to this role, James served for four years as the Assistant Vice President and Chief Diversity Officer at Cincinnati Children's Hospital Medical Center, one of the nation's top pediatric medical centers. In this role he was responsible for helping to shape a culture focused on delivering extraordinary culturally and linguistically competent care to patients from over 85 countries.


 
Jennifer Payne, Founder & Director, Johns Hopkins Women's Mood Disorders Center

Dr. Payne received her B.S. in biology at Davidson College in Davidson, NC and her M.D. from Washington University Medical School in St. Louis, MO where she received the Spencer T. Olin Tuition Fellowship. During medical school she was the recipient of the prestigious Howard Hughes Medical Institute Fellowship and spent a year at the NIH performing basic laboratory research. She completed her residency in psychiatry at the Johns Hopkins Hospital where she served as chief resident during her last year. Dr. Payne then completed a fellowship in mood disorders through the Mood and Anxiety Disorders Program at the NIMH. Dr. Payne joined the Johns Hopkins faculty as an Assistant Professor in 2003 and was promoted to Associate Professor in 2011.  Dr. Payne is the founder and Director of the Women's Mood Disorders Center and, in addition to providing outstanding clinical care for women with mood disorders, conducts research into the genetic, biological, and environmental factors involved in postpartum depression. She and her colleagues have recently identified epigenetic biomarkers of postpartum depression and are working hard to replicate this work with NIH funding. She has been awarded a number of honors including the Passano Physician-Scientist Award, the NARSAD Young Investigator Award and has been named a Distinguished Fellow by the American Psychiatric Association. Dr. Payne also serves as the Deputy Representative of the Women's Caucasus to the American Psychiatric Association Assembly and served on the Maryland State Perinatal Mental Health Task Force resulting in state legislation improving resources available for perinatal women and their doctors.
 

| | |
| --- | --- |
| | Louise Schiavone, MS, Senior Lecturer, Johns Hopkins Carey Business School |

Louise L. Schiavone is a member of the full--‐time faculty and Senior Lecturer at the Johns Hopkins Carey Business School, Baltimore, Maryland. Schiavone teaches "Business Communication" and "Business Leadership and Human Values" to graduate level students at the Baltimore and Washington D.C. campuses. She has received the Dean's Award for Faculty Excellence. A career journalist, and TEDx   speaker, Schiavone was educated at Columbia University in New York City, where she earned an MS in Journalism. She has covered Congress, the White House, as well as news at the Pentagon, Treasury, tate, Transportation, Energy, and Housing Departments, as well as national presidential campaigns, the mortgage meltdown and financial crisis, food safety challenges, and natural disasters.

An on-air veteran of CNN, ABC News, and the Associated Press, Schiavone is currently a newscast anchor at NPR and the SiriusXM "P.O.T.U.S." Channel. She also writes for print media, most recently National Geographic's "The Plate." Schiavone is currently co-producing a video documentary about marine life biodiversity in the Scottish Highlands, "The DEEP Oyster Experiment." 

Victoria Schwaner, UX Designer

 victoriaschwaner.com

 Victoria Schwaner

Victoria Schwaner transitioned her career after college from international politics to the tech industry, where the pace and creative spirit matched her own. She's worked at both powerhouses, LivingSocial and Atlantic Media, advocating for consumers and managing logistics. In a quest to dig deeper, Victoria enrolled in a full-time User Experience Design Immersive course at General Assembly. Upon graduation, she was hired as a Teaching Assistant at GA and she continues to mentor and teach the design process using UX concepts to students. Victoria's full-time gig serves as the lead UX Designer at Perceptronics Solutions. She earned a B.Soc.Sc. from the University of Ottawa with Honors in International Politics, French, and a minor in Italian.
 

Courtney Seard

Courtney Seard has worked with a diverse range of companies and individuals. From professional athletes, entertainers in film and music, to corporate giants like Microsoft and Zappos, no client is too big or small. Courtney is an expert in many fields, including Accelerated Business & Career Development, Life Transformation, Communication, Financial Freedom, and Health and Wellness. From a treacherous childhood, to a near fatal biking accident, the story of her life is astounding and inspiring; illustrating how hard work and determination can always overcome great obstacles. With more than 15 years of experience and training in the most innovative brain sciences and strategies available today, Courtney is a Motivational Speaker, Certified Master Coach, Certified Trainer of Neuro-Linguistic Programming (NLP), Certified Hypnosis Trainer, Certified Master Practitioner of Time Line TherapyTM and Strategic Business Consultant.


 

Niyati Shah (SAIS 2011), Senior Gender Advisor

@awakenvision

 Niyati Shah

Niyati is a Senior Gender Advisor and Team Leader in the Global Health Bureau at USAID in the Office of Maternal, Newborn, Child Health and Nutrition and the Office of Infectious Diseases. She provides leadership, guidance, and input on gender considerations at headquarters and in overseas Missions, with implementing partners, and cooperating agencies. Prior to working at USAID, Niyati consulted on poverty reduction and financial inclusion at the World Bank. She has also developed, managed, and delivered leadership, implicit bias and gender-based violence training and workshops both domestically and internationally. Niyati began working on gender equality and gender-based violence over 20 years ago; some of her accomplishments include establishing and managing a rape crisis center, developing inclusion and diversity curriculum & training, and advocating for reproductive justice and access. She has worked globally in the areas of social inclusion, gender equality and trauma with a focus on Asia and Sub-Saharan Africa. Niyati also has a background in film and storytelling and has been a mind-body practitioner for over 20 years.
 

Phuong Tran (A&S 2004, Alumni Council)

Phuong Tran is a senior systems analyst at the University of Maryland Medical System for the Epic EMR System. He has worked in healthcare IT for 10 years, nine of them as a woman. When he transitioned from female to male, he became an "accidental" activist for the transgender community, first by pushing the University of Maryland Medical System to change their employee health insurance policy to cover transgender healthcare. He continues his leadership role in the community by being a facilitator for the Baltimore Transmasculine Alliance. Phuong is also a contributor to the Transgender Health Research Collaborative at Johns Hopkins and has been invited to speak to medical students and residents at the Johns Hopkins University's and the University of Maryland's Schools of Medicine about transgender health. Initially by necessity, gender and gender roles has become a forefront interest of Phuong's, as he navigates societal expectations and perceptions and moves from one point in the gender spectrum to another. Phuong is also an alumni leader in the JHU Pride, AEME, and Healthcare Affinity groups. In his spare time, he creates graphite/colored pencil drawings and dabbles in digital photography.


 

Sherron Washington, CEO


 thep3solution.com

Sherron Washington, M.A. is the founder and CEO of The P3 Solution a full-service marketing and communication (marcomm) firm that specializes in providing simple strategy, design and social media marketing solutions for SME's, associations and entrepreneurs.  She has built her firm around the principle of "marketing simple," which instruct clients to embrace simplified methods to promoting their business. She has imparted her marketing wisdom and expertise for nearly 20 years and has been deemed by many as "The Marketing Whisperer" due to her uncanny ability to assist clients in developing innovative, results driven, yet simple solutions for their business.  Sherron holds a Bachelor of Arts and a Master of Arts in Communication from Trinity University in Washington, DC.