Universal Healthcare and the US: a discussion of rights, responsibilities, and impact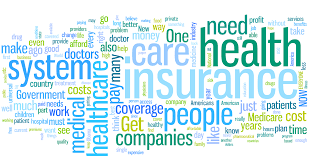 What is the likelihood the United States will join many of the world's industrialized countries adopt universal healthcare (UHC)? 
During the past several years, growing movements have called on countries to meet the United Nation's UHC goal: to provide "financial risk protection, access to quality essential health care services, and access to safe, effective, quality, and affordable essential medicines and vaccines for all."
In The Atlantic, Feb. 17, 2017, "Several polls show that universal coverage is gaining traction among Democratic and Republican voters." A January Pew Research Center survey showed that 60 percent of Americans believe that government "should be responsible for ensuring health-care coverage for all Americans--the highest mark in nearly a decade."
"It has been the goal of Democrats since Franklin D. Roosevelt to create a universal health care system guaranteeing health care to all people."  Democratic candidate Bernie Sanders posted, perhaps one of the most active, vocal proponents of UHC in our country.
Against this backdrop, a select panel of Johns Hopkins faculty and alumni with backgrounds in ethics, philosophy, law, public health, and biotechnology will bring their respective viewpoints to answer-- should we, could we, adopt UHC here in the U.S.?
Panelists
 


Kevin Frick, PhD (Moderator)

Kevin D. Frick, PhD, is a Professor and Vice Dean for Education at the Johns Hopkins Carey Business School. Prior to this position, he was at the Johns Hopkins Bloomberg School of Public Health for more than 16 years.  He is a health economist who specializes in measuring the economic impact of disease and the assessment of the cost-effectiveness of interventions to treat or prevent disease.  He is also interested in behavioral and social sciences and how social factors can be modified to influence health behaviors. Professor Frick has extensive experience working on issues related to vision health—working in both ophthalmology and optometry.  He has over 200 publications.

As Vice Dean for Education, Dr. Frick oversees the administration of all the school's academic programs, and monitors admissions, registration, career development, student services, advising institutional research and data analytics, and global collaborations.  He was instrumental in successfully spearheading the school's accreditation process.  He has helped to restructure some of the academic programs and is actively involved with online education development efforts. He currently teaches Frameworks for Analyzing Health Care Markets in the MS Health Care Management program and holds a joint faculty appointment with the Bloomberg School of Public Health.

 
 

M. Gregg Bloche, MD, JD
Gregg Bloche, MD, JD is Professor of Law at Georgetown University, Adjunct Professor at Johns Hopkins University's Bloomberg School of Public Health, and Visiting Fellow at The Brookings Institution and the Harvard Program on Ethics and Health.

He received a Guggenheim Fellowship for 2005-06 to examine the roles of medicine in the public sphere. Bloche teaches and writes on U.S. and international health law and policy. His recent work has appeared in numerous academic and professional publications, including the California and Stanford Law Reviews, New England Journal of Medicine, Journal of the American Medical Association, and Health Affairs. He has also done commentaries for the New York Times, Washington Post, Los Angeles Times, National Public Radio's Morning Edition, and other media outlets.

Bloche received a Robert Wood Johnson Foundation Investigator Award in Health Policy Research for 1997-2001 for his work on the legal and regulatory governance of managed care, and he is a member of the editorial boards of several journals, including Health Affairs and the Journal of Health Economics, Policy, & Law. He has served on the Institute of Medicine's Committee on Understanding and Eliminating Racial and Ethnic Disparities in Health Care, the Committee on Scientific Freedom and Responsibility of the American Association for the Advancement of Science, and the board of directors of Physicians for Human Rights. He has been a consultant to South Africa's Truth and Reconciliation Commission (on human rights in the health sector), the Federal Judicial Center, the National Institutes of Health, the World Health Organization, several House and Senate committees, and other private and public bodies.Dr. Bloche received his M.D. and J.D. from Yale University and his B.A. from Columbia University.

 
 


Gerard Anderson, PhD

 

Gerard F. Anderson, PhD is a professor of health policy and management and professor of international health at the Johns Hopkins University Bloomberg School Public Health, professor of medicine at the Johns Hopkins University School of Medicine, director of the Johns Hopkins Center for Hospital Finance and Management. His work encompasess studies of chronic conditions, comparative insurance systems in developing countries, medical education, health care payment reform, and technology diffusion.

He has directed reviews of health systems for the World Bank and USAID in multiple countries. He has authored two books on health care payment policy, published over 250 peer reviewed articles, testified in Congress over 40 times as an individual witness, and serves on multiple editorial committees.

Prior to his arrival at Johns Hopkins, Dr. Anderson held various positions in the Office of the Secretary, U.S. Department of Health and Human Services, where he helped to develop Medicare prospective payment legislation.

 
 


Joff Masukawa, MS

A&S '86
SAIS '87

Joff Masukawa, MS is President of Diligentia, LLC, a founder-led life sciences consultancy that develops commercial business strategies and tactical commercialization requirements for manufacturers of Rare Orphan and Specialty Drugs, Cell and Gene Therapy, and other novel emerging medical innovations. Diligentia can also lead strategy implementation for small organizations, and offers complete government affairs capability.

Joff has held leadership roles spanning commercial and corporate functions, including market access, government relations and public affairs, patient and provider services, and sales and marketing at Shire, Genzyme, Visible Genetics, Gentiva and Labcorp. He has led and executed numerous launch strategies for first-in-class products and services, and is an expert at enabling optimal legislative, regulatory and market access environments to support business objectives. He began as a clinical sales representative for Merck.

Prior to founding Diligentia, Joff was Vice President and Global Head of Government Relations and Public Affairs at Shire, where he designed and led strategies to build the company's brand, industry leadership and engagement with government representatives and agencies, patient advocacy groups, payors, industry associations and other key external stakeholders.

Joff is an adjunct instructor at the George Washington School of Medicine and Health Sciences in the Department of Clinical Research and Leadership. He also serves on the Board of Directors of Caregiver Action Network, The Center for Healthcare Innovation, and ICORD, the International Conference on Rare Diseases and Orphan Drugs.

He holds a BA in international studies from Johns Hopkins University, and completed his graduate work in international affairs at the Johns Hopkins School of International Studies and in strategic communications at Columbia University.

 
 


Brett McCone, MS

A&S '96
Public Health '98

Brett McCone, MS works closely with Maryland Health Services Cost Review Commission (HSCRC) staff and hospital leaders to develop fair and effective hospital rate setting policies, serving as an advocate for MHA's member hospitals. Brett works closely with MHA's Policy & Data Analytics and Government Relations at the intersection of data, rate setting and financial policy matters. Prior to joining MHA, Brett was a Managing Director in KPMG LLP's Healthcare Advisory Services practice, where he spent the first sixteen years of his career. At KPMG, Brett served some of the firm's largest healthcare clients in the mid-Atlantic region in reimbursement, financial planning, internal audit and risk assessments, ICD-10 preparedness and other healthcare financial management areas. A longtime member of the Maryland Chapter of the Healthcare Financial Management Association, Brett is Chapter Vice President and Program Chair for the 2015-2016 year. Brett holds a BA and Masters of Health Administration from The Johns Hopkins University, and is a member of its Alumni Council, the governing body of the University's Alumni Association.