SOBA Reunion Activities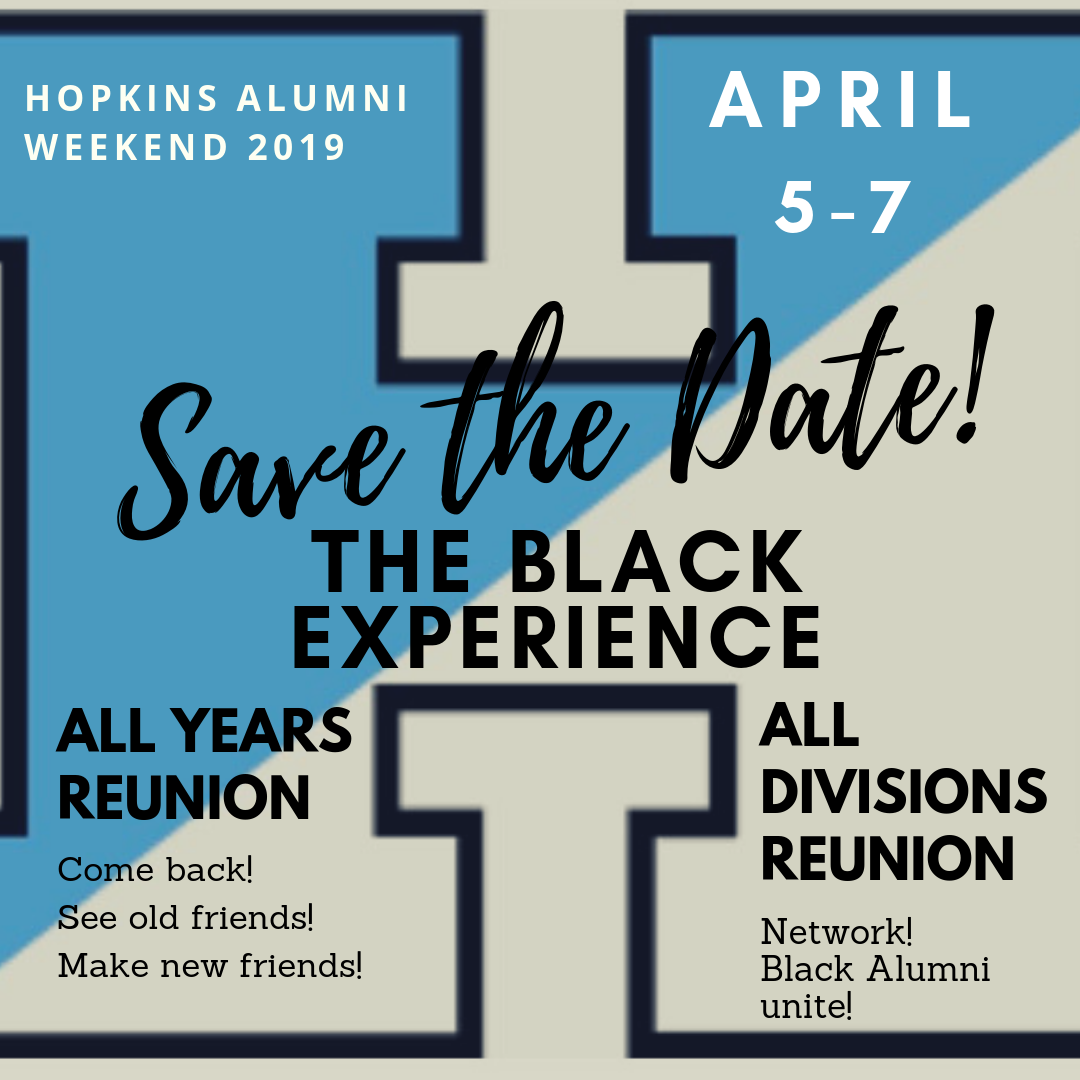 Thursday, April 4, 2019
JHU FORUMS ON RACE IN AMERICA: Bridging the Political Divide Through Proactive Discourse, A Conversion with Wilma Martinez & Michael Steele
6 pm - Mason Hall Auditorium
In the four years since the launch of the Race in America series, political and societal divides have intensified across the country and globally. Join us for a discussion with Vilma Martinez, former U.S. Ambassador to Argentina and President of the Mexican American Legal Defense and Education Fund and Michael Steele, A&S '81, former Chairperson of the Republican National Committee and Lieutenant Governor of Maryland as they explore ways to bridge those divides, regardless of political affiliation. 6:00 pm: Reception, 7:00 pm: Candid Conversation.
---
Friday, April 5, 2019
Networking Reception & Multicultural Gathering
6 pm -9 pm - Hodson Hall Lobby
Hosted by Society of Black Alumni (SOBA), Center for Africana Studies (CAS), and the Office of Multicultural Affairs (OMA)
Join alumni and current students, faculty, staff, and friends for an evening of networking, updates and insights about the University and SOBA. All alumni and friends are welcome! Refreshments will be served.
Society of Black Alumni - Happy Hour & Mixer
9 pm -1 am - Motor House 120 W. North Avenue
---
Saturday, April 6, 2019
Society of Black Alumni Spring Meeting
10:30 am - Gilman 219
Please join SOBA volunteer leaders for a discussion and working meeting about future opportunities for building and growing the SOBA community.
Society of Black Alumni BBQ
1:30 pm - AMR BBQ Pit
Join alumni and current students for a BBQ gathering—network, visit and make new connections. All alumni and students are welcome to attend.
The Hullabalooza
9 pm – 12:30 am - Tent on Decker Quad
The party where your yearbook comes back to life!
Society of Black Alumni - Late Night Networking Gathering
9 pm - Alizee Lounge, Inn at the Colonnade, 4 West University Parkway
---
Sunday, April 7, 2019
Society of Black Alumni Inspirational Service
10 AM - Johns Hopkins Interfaith Center
Share in the spiritual fellowship of the Hopkins community for a Sunday service. Post service anyone interested and able, can cap off the weekend with an informal Dutch Treat brunch at the Red Star restaurant at 33rd and St. Paul.