Sold Out! AEME Affinity NY | Marketing & Media: Alumni Panel & Networking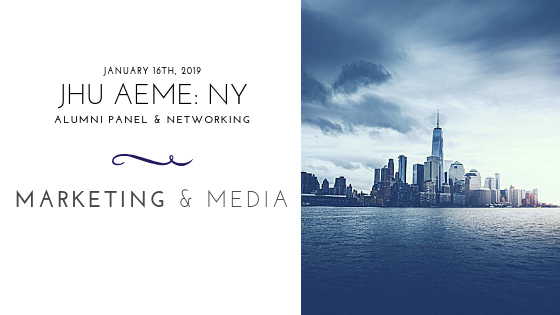 This event is at capacity. To be added to a waitlist, please email alumevents@jhu.edu
The Arts, Entertainment, Media and Entrepreneurship (AEME) Affinity hosts the highly anticipated and ever-popular annual January Intersession Alumni Panel and Reception. Join the conversation as our alumni panelists share their personal experiences, challenges and victories, and network with other local alumni and our special guests, current Hopkins students. The evening will begin with registration and a reception, followed by a dynamic moderated discussion and Q&A. As the world changes, so do these stories--and they are always fascinating! This event is open to all Hopkins alumni who work or have an interest in the AEME arena, who want to connect with fellow alumni and current students.
Lite Fare and Beverages will be provided.
Panelists: 
Emma Brodie, A&S '11 - Moderator

Emma Brodie is a Brooklyn based writer, editor, and packager. With over a decade of media experience, she has written content for newspapers, magazines, television stations, literary agencies, and major trade publishers. Emma spent 5 years at Penguin Random House, where she wrote over 20 giftbooks and games, and published authors including Awkwafina, Anna Drezen, and Jo Firestone. Currently a Senior Editor at HarperCollins, Emma acquires non-fiction for the William Morrow imprint and a variety of illustrated gift books and products for the Morrow Gift imprint, which she founded in 2018.

 

Scott Rogowsky, A&S'07

To the tens of millions of people who have joined the live, daily HQ Trivia broadcasts since the show's launch in August 2017, Scott is affectionately called "Quiz Daddy" and admired for his quick wit and improvisational panache as host of the viral app sensation. His work earned him recognition as one of Time Magazine's Most Influential People on the Internet and one of its 2018 Faces of the Year. When he's not in front of the HQ camera, Scott is on stage at comedy clubs and college campuses performing stand-up or hosting Running Late, his self-produced talk show on which he has interviewed over 400 celebrity guests since 2011 including Jon Hamm, Paul Rudd, Steve Buscemi, Sarah Silverman, John Oliver, "Weird Al" Yankovic, Amy Sedaris, Nick Kroll, Paul Dano, Matt Groening, Kevin Nealon, Reggie Watts, Dick Cavett, Jim Gaffigan, Dan Rather, Janeane Garofalo, Abbi Jacobson & Ilana Glazer, and Desus & Mero.

Dory Schoeck, A&S '09

Dory Schoeck is an Account Managing Director at mcgarrybowen, an advertising agency. She is passionate about helping her clients solve their business challenges and providing global 360° brand management. 9 years into her career, she's worked across B2C and B2B clients spanning toothbrushes to industrial polymers. Prior to joining mcgarrybowen in 2017, she was at Ogilvy and Colangelo.

Dory earned a degree in International Studies and a minor in Entrepreneurship & Management from Johns Hopkins University. During her time on campus, she was a member of the women's tennis team, designed and sold advertisements for the on-campus newspaper, and was a teaching assistant for an International Marketing course. She remains active with the Johns Hopkins University community by leading an NYC alumni chapter and participating in campus marketing events.

 

Tanmay Manohar, Engineering '10

Tanmay is Senior Director of People Analytics at Viacom and is responsible for building out the people analytics function. His mandate is to generate insights, implement predictive analytics initiatives, and drive action from business stakeholders on the full talent management stack, from pre-hire to separation. He was previously Director of Data Strategy within the Data Strategy Center of Excellence at Viacom.

In addition to evangelizing the standardized use of data science capabilities across the org, he also worked with the Velocity Creative & Integrated Marketing teams to create two new patent-pending social data products that solve marketing problems--like figuring out who the best social influencers are to cast in integrated marketing campaigns! His educational experience includes an MBA from the Yale School of Management (2016) with a functional focus in marketing strategy and social psychology and an industry focus in the media and entertainment space, as well as a B.S. with General and Departmental Honors from Johns Hopkins University (2010) with a double major in Biomedical Engineering and Applied Math & Statistics and a minor in Entrepreneurship & Management. Between his undergraduate and graduate degrees, Tanmay spent four years in Management & Technology Consulting at Accenture

 

 

Lucie Fink, A&S '14

Lucie Fink is a 26-year-old video producer, lifestyle host, stop-motion artist and social media personality. Lucie graduated Phi Beta Kappa in 2014 with a degree in creative writing and a concentration in media. She has made numerous appearances on NBC's Today Show as a Millennial spokesperson, discussing a wide range of topics relevant to her generation. After graduation, she worked at Ogilvy & Mather as an Associate Producer in their branded entertainment division. At Refinery29, she created and hosts the hit YouTube series "Try Living with Lucie" (TLWL) where she takes on social experiments 5 days at a time, documenting her experience vlog-style. The series won 2 bronze Telly Awards in 2017 (Best Lifestyle Content & Best Web series) and was nominated for a Webby Award in 2018 (Best Personality / Host). In addition to TLWL, Lucie has created a plethora of other video formats for Refinery29 that she hosts and produces: "Lucie for Hire" (where she tries out other people's jobs for a day), original pieces for Snapchat Discover, Facebook Live and more. Her content has been syndicated across various platforms including Comcast, Delta's In-Flight Entertainment, & Gloss TV.