Hopkins in Hollywood LIVE: An Alumni Panel and Intersession Gathering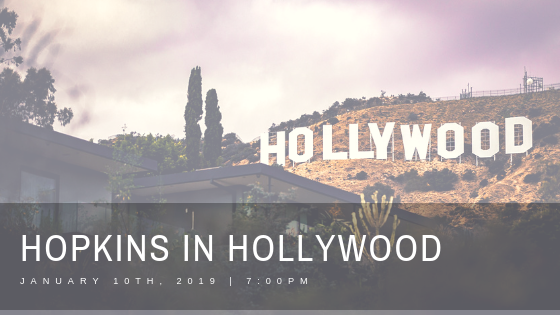 Hopkins in Hollywood (AEME LA) and Film & Media Studies
"Hopkins in Hollywood LIVE: An Alumni Panel and Intersession Gathering"
Join the Hopkins in Hollywood conversation with other local alumni and our special guests from Hopkins, Linda DeLibero, Melissa Capello of the Film and Media Studies Center and a group of our current undergraduate Film and Media Studies students. The evening will begin with registration and networking and will be followed by a dynamic moderated discussion and Q&A with alumni working in the industry.
Panelists:
Mark Swift A&S '93,

With almost 20 years experience as a working screenwriter, Mark Swift (along with his writing partner Damian Shannon) has written in nearly every genre for every studio. In addition to writing "Baywatch" (2017) starring Dwayne 'The Rock' Johnson and Zac Efron, they also wrote the box office hits "Friday the 13th" (2009) and "Freddy vs. Jason" (2003) and were the first writers on the animated hit "Shark Tale" (2004). They are currently working on a live-action prequel to the Disney animated classic Aladdin entitled "Genie", the sci-fi action war movie "Starship Troopers" for Sony based on the novel by Robert Heinlein, and they are writing and producing "Tom Swift" for Paramount Pictures based on the beloved book series which began in 1910. They have also written a number of projects currently in development, including "Bermuda Triangle" with Sam Raimi attached to direct for Skydance productions,"Vikings" for Disney, and the 1950s noir "Hawaiian Dick" for director Frank Coraci.

Andrea Massaro A&S '15

Andrea Massaro is an aspiring producer based in Los Angeles. She currently works in film/television at Plan B Entertainment and has formerly worked at Warner Bros Pictures and 2.0 Entertainment. As an independent producer, she most recently released the web series "One True Loves" in mid-2018, which was co-produced by fellow Hopkins alumni and honored as a NoBudge official selection. Her producing thesis film, "These Things Take Time," won the Jury Award for Best Domestic Short at Outflix Film Festival and is currently making its way through the festival circuit. She also co-produced "Mississippi Requiem" starring James Franco and Topher Grace which premiered at the Nashville Film Festival earlier this year. She graduated from UCLA's Producers Program with an M.F.A. in 2017 and from Johns Hopkins University with a B.A. in Film & Media Studies and Writing Seminars in 2015.

Paul Harris Boardman, A&S '89

Paul Harris Boardman wrote and produced The Exorcism of Emily Rose, starring Laura Linney and Jennifer Carpenter, and the indie film Devil's Knot, starring Reese Witherspoon and Colin Firth.  Paul wrote and executive produced Deliver Us From Evil, and produced The Day the Earth Stood Still starring Keanu Reeves.  Paul also wrote Hellraiser: Inferno and Urban Legends: Final Cut, and has worked as a script doctor on various films.  In TV, Paul wrote the pilot Thunderstruck for AMC; sold a college drama pilot to MTV; and wrote a miniseries based on Stephen King's The Tommyknockers for NBC.  Currently, Paul has several features in development, and he is the writer-creator and executive producer of the supernatural thriller Archive 81 for Netflix.
 

Ryan Cunningham A&S '15

A Southern California native, Ryan graduated from Johns Hopkins University in 2015 with a Bachelor of Arts degree in Writing Seminars and Film & Media Studies. While attending Johns Hopkins, he was captain of the varsity swim team and worked at AMC Networks and Haven Entertainment. Since graduation, he has worked at Marc Platt Productions and United Talent Agency. Ryan currently works at Paramount in the Motion Picture Group.

Ruthie Aslan A&S '03

Ruthie Aslan is a TV editor whose credits include Community (NBC/Yahoo), Rick & Morty (Adult Swim), Arrested Development (Netflix), and The Goldbergs (ABC). She recently edited the pilot for Lake Bell's Bless This Mess which was just picked up by ABC for the spring season, and is currently on The Russo Brothers' Deadly Class which premieres January 16th on Syfy.