"The Future of Women in the Workplace: A Panel Discussion"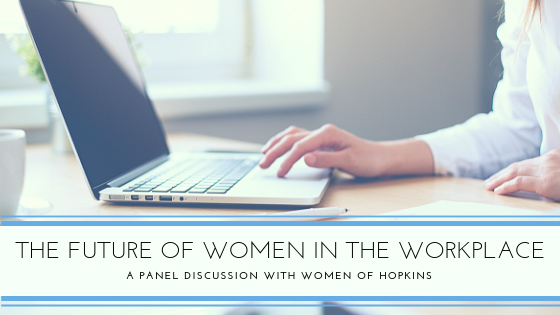 Women of Hopkins - Hopkins Boston
Join our alumnae panelists, representing a variety of industries and functions, and other alumni for a networking reception and dynamic discussion about "The Future of Women in the Workplace"
We are at an inflection point. With the increased media attention and discussions around women in the workplace, the world is listening. This opportunity provides us with a choice, do we act now to continue to drive the advancement of women in the workforce or do we sit back and watch the potential for progress slip away.
 
Cecilia Lenk, Engineering '76, Ph.D. '78

Cecilia is an entrepreneur and angel investor with over 20 years of senior management experience in technology and healthcare. She is currently CEO of ValueSetters, a publicly traded, boutique advisory firm. Her team of entrepreneurs, angel investors, and industry specialists work with companies at all stages to provide assistance with capital raising, strategy, and technology consulting.

Cecilia was formerly Vice President of Technology and Digital Design at Decision Resources Inc., where she oversaw the design and development of new digital products for biopharma clients and directed innovative new technology strategies for this global company. Prior to joining Decision Resources, Cecilia founded a technology firm that built a patented platform for online research. She has also headed large-scale technology projects in collaboration with leading organizations, including National Geographic Society, National Science Foundation, National Institutes of Health, and Harvard University and served three terms as a Town Councilor in Watertown, MA. Cecilia has a Ph.D. in Biology from Harvard University and a BA from Johns Hopkins University, Whiting School of Engineering. She is active in the Hopkins community having served as Treasurer of the JHU Alumni Council and Chair of the Hopkins Engineering Alumni.

 
 

 

 

 

Tara Morrill, Arts & Sciences '03

Tara (Feehan) Morrill '03 is a Senior Brand Manager at Procter & Gamble/Gillette who leads the North America business for Male Disposables, Male Shave Preps and Grooming Expansion. In this role, Tara serves as the general manager for this $400+ million market segment in addition to leading all marketing activities for her portfolio. 

Tara has had multiple roles within the Shave Business throughout her 9 year career at P&G including leading Gillette's efforts for the London 2012 Olympic Games, spearheading new product launches such as Gillette's FlexBall Razor and Gillette's 2in1 Shave Gel, and partnering with large retailers such as Walmart to launch responsive marketing strategies to grow both in-store and online shave product sales. Marketing campaigns Tara has developed over the years have received both a Silver Effie Award and a Silver Telly Award.

Tara has degrees from Johns Hopkins University (A&S '03) and Indiana University (MBA '10), where she was a Forte Fellow. Prior to her career at P&G / Gillette, Tara spent time in the Public Relations Industry specializing in Crisis Management & Corporate Restructuring as well as the eCommerce/Retail Industry where she spent a majority of her pre-MBA career advancing to an Associate Buyer at macys.com.

Outside of P&G/Gillette, Tara is passionate about the Hopkins Community. She co-leads the JHU Alumni Chapter in Boston, of which she has been actively involved since 2010. In her spare time, you can find Tara at one of her favorite fitness studios in Boston including Barry's Bootcamp, Flywheel and exhale or preparing for a half-marathon (her favorite so far was the Disney Princess Half Marathon). Tara lives in South Boston with her husband and their toddler, who is eagerly awaiting the arrival of his baby sister this spring.

 

 

 

 
 
 

Myechia Minter - Jordan, MD, MBA '07

In 2013, Dr. Myechia Minter-Jordan became President and CEO of The Dimock Center, the largest employer in Roxbury, Massachusetts and the second-largest health center in Boston. The Dimock Center is considered a national model of comprehensive health and human services with an emphasis on the integration of clinical and behavioral health practices and reaches more than 19,000 people annually through comprehensive health and human services. Dr. Jordan is a graduate of Brown University School of Medicine and Johns Hopkins University Carey School of Business, with an MBA in Health Services. After graduation, she joined Johns Hopkins Medical Center as an Attending Physician and Instructor of Medicine and subsequently as Director of Medical Consultation Services at Johns Hopkins Bayview Medical Center. She is also the recipient of an honorary Doctor of Public Service degree from Northeastern University.

In 2007, Dr. Jordan became Chief Medical Officer for The Dimock Center. In her role, she aggressively pursued opportunities that expanded the organization's resources and expertise. An innovative physician administrator, Dr. Jordan was responsible for the successful transition to the Electronic Medical Record system, established Dimock's first Institutional Review Board to pave the way for research using human subjects, and in 2012 led the effort to secure a $4.9 million federal grant from HRSA (Health Resource Services Administration) to expand and transform the health center facility into a medical home.

As CEO, Dr. Jordan has played a leadership role in developing the Harvard Primary Care Center Initiative that partners academic hospitals and community health centers to transform them into patient-centered medical homes. Through her work with the Harvard Catalyst Clinical and Translational Science Center, she also created an infrastructure for clinical research at Dimock, which will ensure that patients are meaningfully engaged in the creation and approval of research initiatives. Dr. Jordan's collaborative approach has led to significant partnerships linking Dimock to world-class institutions such as The Harvard Medical School, Beth Israel Deaconess Medical Center and Partners HealthCare. Widely respected for her expertise and insight, Dr. Jordan has published articles in The New England Journal of Medicine and other sources. In 2018, she was recognized in Boston Magazine's list of the Top 100 Most Influential People in Boston and was the awardee of the prestigious Eli J. Segal Award, presented by The Alliance For Business Leadership.

In 2015 she was appointed to the Commonwealth of Massachusetts Health Planning Council Advisory Committee and the Boston Public Health Commission. In 2016, Dr. Jordan chaired the Massachusetts Special Commission to Study the Incorporation of Safe and Effective Pain Treatment and Prescribing Practices into the Professional Training of Students that may Prescribe Controlled Substances. In 2018, she was appointed as Vice-Chair of the Board of the RIZE Fund, a new statewide collaboration of substance use treatment providers, legislative leaders, and funders that promotes and expands strong models to combat the opioid epidemic. In addition, she serves on the Boards of the Yawkey Foundations, Harvard Pilgrim Health Care and The Boston Foundation. She also serves on the President's Council of Massachusetts General Hospital and the advisory boards of the Boston Children's Museum, the YMCA and WBUR. Dr. Jordan lives in West Roxbury with her husband and two daughters.

 
 

 

 

 

Rebecca Li, Ph.D., Engineering '94

Rebecca Li, Ph.D., is the Executive Director of Vivli and on the faculty at the Center for Bioethics at the Harvard Medical School.  Previous to her current role she was the Executive Director of the MRCT Center of Brigham and Women's Hospital and Harvard for over 5 years and remains a Senior Advisor at the Center.  The MRCT Center is a neutral convening organization that works to define actionable policy solutions for the clinical trial enterprise. She has over 20 years of experience spanning the entire drug development process with experience in Biotech, Pharma and CRO environments. She completed a Fellowship in 2013 in the Division of Medical Ethics at Harvard Medical School.  Dr. Li also served as the VP of Clinical Research at the New England Research Institutes for 6 years. She was also previously employed at Wyeth Research as the Associate Director in Translational Clinical Research. She earned her Ph.D. in Chemical and Biomolecular Engineering from Johns Hopkins University.