Fireside Chat: A Diversity, Equity and Inclusion Discussion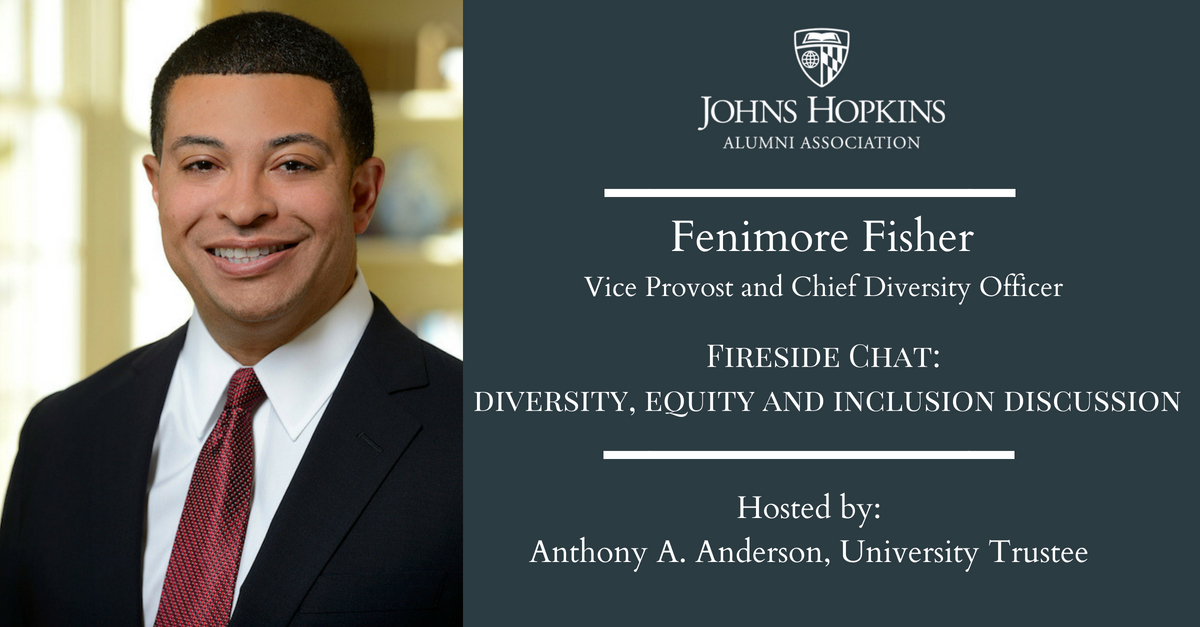 Event Date: Thursday, June 28, 2018
Start Time: 6:00pm
End Time: 9:00pm
The Johns Hopkins Alumni Association along with University Board of Trustee member and distinguished alumnus, Anthony A. Anderson, are pleased to invite you to join a dynamic discussion.
Alumni are invited to engage with Fenimore in an intimate dialog concerning an overview of the university's overall diversity and inclusion efforts, key learnings one year after the Roadmap, areas of improvement, community feedback and future areas of focus.
The gathering serves as an opportunity to establish an stronger sense of awareness across alumni, regionally. It is meant to serve as an opportunity to better inform our alumni of strategic efforts focused on our students, faculty, staff and Baltimore community.
In October of 2017 the university hired Fenimore Fisher to serve as the first Vice Provost and Chief Diversity Officer, leading the Office of Diversity and Inclusion. In March of 2018 the university published its first progress update report concerning the implementation of the Roadmap on Diversity and Inclusion.
The university's Roadmap on Diversity and Inclusion was published in 2016. Diversity of people, thought, and experience and the inclusion of all members of the Johns Hopkins community are vital to the fulfillment of our university's purpose of critical inquiry and discovery, and implicate virtually every component of our academic, research, and service missions.
Food and drink will be provided with registration.
Registration opens on Thursday, June 7th.  RSVP now to save your spot.