Alumni College in Santa Fe
Culture, Cuisine and Conversation in America's Southwest
with History Professor Ron Walters.    

SOLD OUT, PLEASE CALL TO BE ADDED TO WAITLIST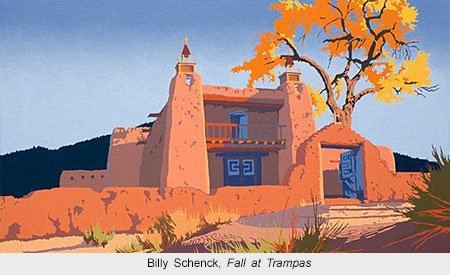 October 10-14, 2013
Very rarely do culture, history, nature and a profound sense of place intertwine as intimately as they do in Santa Fe. More than just a crossroads of cultures, the "City Different" on the western slopes of the Sangre de Cristo Mountains embraces a shimmering paradox of influences — from the Native American and Spanish cultures, to the infamous outlaws of the Wild West, to the great literary and artistic figures who were drawn to the town. October is a beautiful time to be in Santa Fe and appreciate its cultural richness. If you've ever wanted to explore this area or wish to return for another memorable experience, be sure to join us. Reserve now – space is limited.
Educational Program
The centerpiece of the Alumni College in Santa Fe is an extraordinary educational offering hosted by Ron Walters, history professor at Johns Hopkins and an expert in the social and cultural history of the United States. The topics he'll explore are informed by the region we are visiting:
Death Comes for the Archbishop, Willa Cather (recommended reading)
Before the Anglos Came: The Spanish and Indian Southwest
Kit Carson, Hero and Anti-Hero
Greenwich Village West: Georgia O'Keeffe, D.H. Lawrence and the Taos Art Colony

What's Included
Four lectures
One cooking demonstration with renowned chef
Guided walking tour of Santa Fe and all day guided tour of Taos
Entrance fees to museums as listed on itinerary and to Balloon Fiesta
Exclusive gallery visit with artist
Two lunches, two dinners (one with wine)
Transportation as described for tours and Balloon Fiesta
Lodging
Choose the hotel of your liking or the Hilton Santa Fe Historic Plaza, where a block of rooms has been reserved at the rate of $189 per night until August 10. (After that date, it will be space available.) Please contact them directly with questions and make your reservations here.

Hilton (use this link to view hotel info only - do not use for reservations)
100 Sandoval St.,
Santa Fe, NM 87501
505-989-5309
Because this weekend coincides with the end of the International Hot Air Balloon Fiesta in Albuquerque, we strongly advise early registration as well as early hotel booking and travel arrangements. There are regular flights into Santa Fe as well as Albuquerque.
Price
$725 per person
Cancellation policy
A minimum number of participants is needed to operate the program.  There has been a strong interest in this program already, so reserve early.  As always, we strongly recommend that you consider obtaining travel insurance.