Alumni College: Food and Wine in the Hudson Valley
With wine enthusiast Jonathan Palevsky, Peab '86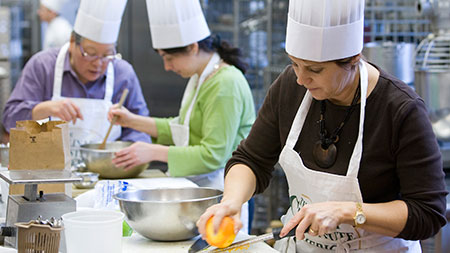 May 18-19, 2013

Price: $420 per person

Immerse yourself in a day at the Culinary Institute of America with fellow Johns Hopkins foodies. Join a lecture on local cuisine. Experience team building exercises. Take part in hands-on cooking and dining. Learn about wines from our enthusiast. Enjoy a tasting and tour at the Millbrook Winery and the Sprout Creek Farm.

Space is limited to two kitchens, each with 16 participants. Group one will use the Taste of Hudson Valley spring menu; group two will use the Entertaining and Dinner Parties menu.
What's Included
Lectures and instruction
1 dinner, 2 lunches
Tour and tasting at Millbrook Winery
and Sprout Creek Farm
Transportation on Sunday

Lodging
A block of rooms has been reserved at the Holiday Inn Express at the rate of $112 per night. Please contact them directly to make your reservations and be sure to book with Oliver Silva and mention that you are coming to the CIA in order to get the quoted rate.

Holiday Inn Express
(located minutes from the CIA, with free shuttle service to the CIA) 

2750 South Road
Poughkeepsie, NY 12601
Contact: Oliver Silva at 845-473-1151

Space is limited.

Cancellation policy