SOLD OUT AEME Affinity | Media, PR and More in the Big Apple 2018!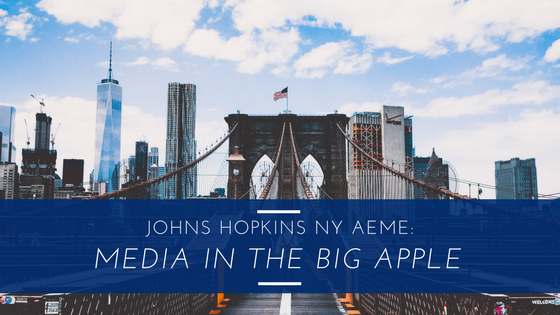 SOLD OUT
Arts Entertainment Media and Entrepreneurship (AEME) Affinity: NY
The Arts, Entertainment, Media and Entrepreneurship (AEME) Affinity hosts the highly anticipated and ever-popular annual January Intersession Alumni Panel and Reception. Join the conversation as our alumni panelists share their personal experiences, challenges and victories, and network with other local alumni and our special guests, current Hopkins students. The evening will begin with registration and a reception, followed by a dynamic moderated discussion and Q&A. As the world changes, so do these stories--and they are always fascinating!
This event is open to all Hopkins alumni who work or have an interest in the AEME arena, who want to connect with fellow alumni and current students.
This year's event will be graciously hosted by Oath, formerly AOL/Yahoo, in their Broadway Headquarters.
Panelists
 

Pooja Makhijani '00

Pooja Makhijani is the editor of Under Her Skin: How Girls Experience Race in America (Seal Press), an anthology of essays by women that explores the complex ways in which race shapes American lives and families. She is also the author of Mama's Saris (Little Brown Books for Young Readers), a picture book. Her bylines have appeared in The New York Times, The Village Voice, The Washington Post, NPR, The Atlantic, WSJ.com, Teen Vogue, VICE, Pacific Standard, Bon Appétit, Saveur, BuzzFeed, CityLab, and espnW among others. Her essays and short fiction have been published in a number of children's literary magazines, including Cicada, Kahani, and New Moon.

Full time, Makhijani is a communications manager at Princeton University, where she manages internal and external communications and media relations, and writes and edits print and electronic publications. Prior to working in higher education, Makhijani was an education content specialist at Sesame Workshop, the nonprofit behind Sesame Street, where she developed curricula and content across media in the United States, India, Bangladesh, and Tanzania. Prior to Sesame Workshop, Makhijani was an Associate Editor at Weekly Reader, a classroom news magazine reaching 11 million elementary school children. Makhijani has also worked in Children's and Educational Programming at Thirteen/WNET, as well as at HarperCollins and Hachette Book Group USA (formerly Time Warner Book Group).

Makhijani holds a B.S. in Engineering from Johns Hopkins University, an M.F.A. in Creative Writing from Sarah Lawrence College, and is currently a M.Ed. candidate at Rutgers University Graduate School of Education.

 

 

 

 

 

Matt Gross '96

Since graduating from Hopkins in 1996 (BA, Writing Seminars), Matt Gross has wandered the world, working as a writer, editor, and digital strategist for a wide range of publications, from the Viet Nam News to the New York Times (where he was the Frugal Traveler columnist), from Bloomberg Pursuits to Bon Appétit, and from Roads & Kingdoms to Realtor.com. His travel memoir, The Turk Who Loved Apples, was published in 2013 by Da Capo Press. Currently, Matt is the digital director at Runner's World. He lives in Brooklyn with his wife, Jean Liu (BA '96), and their two daughters.

 

 

 

Clara Artschwager '07

Upon wrapping up her times at Hopkins, Clara entered the field of marketing and communications. In the last 10 years, she's held a myriad of positions in the space, from leading marketing efforts within large companies, to starting her own consulting agency that specialized in helping start ups leverage digital and social media marketing to grow their business. She currently serves as the VP of Strategic Partnerships and Communications for Aaptiv, the leading audio fitness app. She played an instrumental role in securing over 180,000 paying subscribers in less than 18 months and taking the staff from a mere five to over 80 employees, making Aaptiv the fastest growing mobile fitness business. In her current day-to-day she leads business development to drive customer acquisition and new revenue streams for the brand, as well as secure meaningful media coverage. Outside of her work, she can be found exploring all there is to eat in her beloved home of Brooklyn or entertaining friends at home

 

 

 

Deepa Gandhi '07

Deepa is co-founder and COO of Dagne Dover, a handbag company that perfects the combination of functionality and design. Deepa manages all day-to-day operations from supply chain management and sourcing and production, to investor relations and customer experience. Deepa has vast experience in fashion and finance, previously working for Club Monaco and Lehman Brothers. Her analytical skills and industry insight contribute to her success in driving Dagne Dover's exponential growth since the company's beginning. Deepa is a graduate of Johns Hopkins University and received her MBA from The Wharton School. In 2015, she was selected for Forbes' 30 under 30 list.

 

 

 

Chris Douglas '14

As a Product Analyst at Facebook, Chris works on the cross-channel measurement product team. He uses data to drive new product enhancements and quantify product health and engagement. Before joining Facebook, he worked on problems like network pricing and yield management on the Platform Strategy and Analytics team at AOL Advertising. During his time at Homewood, Chris studied economics, minored in music and entrepreneurship, and played on the varsity soccer team.