Hopkins in Hollywood LIVE: An Alumni Panel and Reception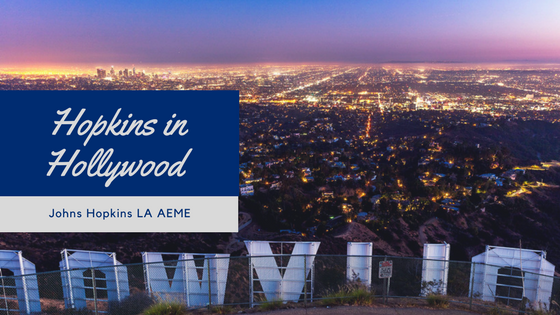 Hopkins in Hollywood LIVE: An Alumni Panel and Reception
Join the Hop in Hollywood conversation with other local alumni and our special guests from Hopkins, Linda DeLibero, Melissa Capello of the Film and Media Studies Center and a group of our current undergraduate Film and Media Studies students. The evening will begin with registration and networking and will be followed by a dynamic moderated discussion and Q&A with alumni working in the industry.
Panelists
 

 

Luke Kelly-Clyne '10

Luke is the showrunner and Executive Producer on Pop TV's newest half-hour sketch comedy series, "Hot Date." He's also the Creator and Executive Producer of "I Want My Phone Back," a comedy game show on Comcast's Watchable streaming platform that Paste Magazine recently named one of the best digital series of 2016, recently acquired by Facebook. Until assuming his role as Executive Producer and Head of Development at CollegeHumor's TV production arm, Big Breakfast, Luke served as a staff Writer/Director/Performer, and Head of Native Video at CollegeHumor where he ran creative on several of the digital brand's most popular branded and Original series. Before joining CollegeHumor in 2013, he was also a Freelance Contributing Writer to Weekend Update on "Saturday Night Live." Tracking Board placed Luke on its 2015 Young and Hungry List, naming him one of "100 Writers on the Verge." He authors the long-running weekly Splitsider column, "This Week in Web Videos" and hosts the HeadGum podcast, "I'm Still Right."

 

 

Tory Tunnell '98  

Tory Tunnell's Safehouse Pictures has an overall film and television deal with Warner Bros film and television. Tunnell co-founded Safehouse in 2005 and the company is known for making splashy entertainment with big unique worlds, great characters, and relevant themes. Tunnell most recently produced ROBIN HOOD with Otto Bathurst directing and starring Taron Egerton, Jamie Foxx, Jamie Dornan, Eve Hewson and Ben Mendelsohn. She produced KING ARTHUR starring Charlie Hunnam and Jude Law which was released in May through Warners and her comedy MY BLIND BROTHER was the highest selling film out of SXSW and starred Jenny Slate, Nick Kroll and Adam Scott. Tunnell have a number of films around town including PUFF THE MAGIC DRAGON with Mike Mitchell (TROLLS/ LEGO) directing, BATTLE OF BRITAIN at Fox with Ridley Scott directing, rom/com WINK at Warners, COUNT at Warners Bros with Will Eubank directing, etc. In TV, Safehouse's UNDERGROUND was a critical hit for its first and second season and became the flagship show for WGN, they are about to open a writers room for KISS AND CRY for Pop which will be straight to series, and have MIRACLES in development at CBS with Dr. Oz, among many others.

 

 

Emma Needell '12

Emma Needell is a writer/director based in Los Angeles, CA but wistful for her Colorado hometown. She studied film & film production at the Johns Hopkins University and FAMU in the Czech Republic. She broke into the professional world of screenwriting with her feature script THE WATER MAN, which landed on the 2015 Blacklist and is currently coming out of turnaround at Disney, with Oprah Winfrey's Harpo Films and David Oyelowo producing. Her current projects include a dark comedy screenplay with Anonymous Content producing and a big adventure-fantasy screenplay with Netflix.

 

 

 

 

Ian Honeyman '01

Film composer Ian Honeyman has written music for dozens of feature films, short films and TV shows. He was trained formally at Peabody Conservatory, where he studied composition with renowned Chinese composer Chen Yi and British composer Nicholas Maw, but soon became interested in the creative possibilities in film scores. He relocated to Santa Monica to begin working on film scores, and began writing for the scores to films such as Poseidon directed by Wolfgang Petersen, Miami Vice directed by Michael Mann, 16 Blocks directed by Richard Donnar, Constantine, Ultraviolet, TMNT and many others. On his own, Ian has scored feature films such as Redline, the Disney film Lilly the Witch: the Dragon and the Magic Book, directed by Academy Award winner Stefan Ruzowitsky, which spent two weeks as the top box office earner in Germany, and Operation Endgame, which starred Ving Rhames, Maggie Q, Ellen Barkin and Zach Galifianakis. Outside of feature films he has scored several shorts, including Vartan, LLP, which premiered at Tribeca Film Festival and won "Best Drama" at LA Shorts Fest 2007, and Charlie Thistle, which won "Best Short" at Sedona International Film Festival 2009, as well as other awards. Ian has also recently completed the scores for Triple Dog, the second film in the widely successful Lilly the Witch series: Lilly The Witch: The Journey to Mandolan, director Jason Connery's feature films 51 and The Philly Kid, the score to which won an Award Of Merit at the Global Music Awards, and Jock of the Bushveld, starring Donald Sutherland, Helen Hunt and Bryan Adams, which recently spent two weeks as the top box office earner in South Africa. Ian's latest film is An Interview With God, which will be released theatrically in 2018 and stars Academy Award winner David Strathairn. Ian lives in Marina Del Rey, California with his wife Joanna and dog Maddy.