Be a fan in the stands and support student athletes!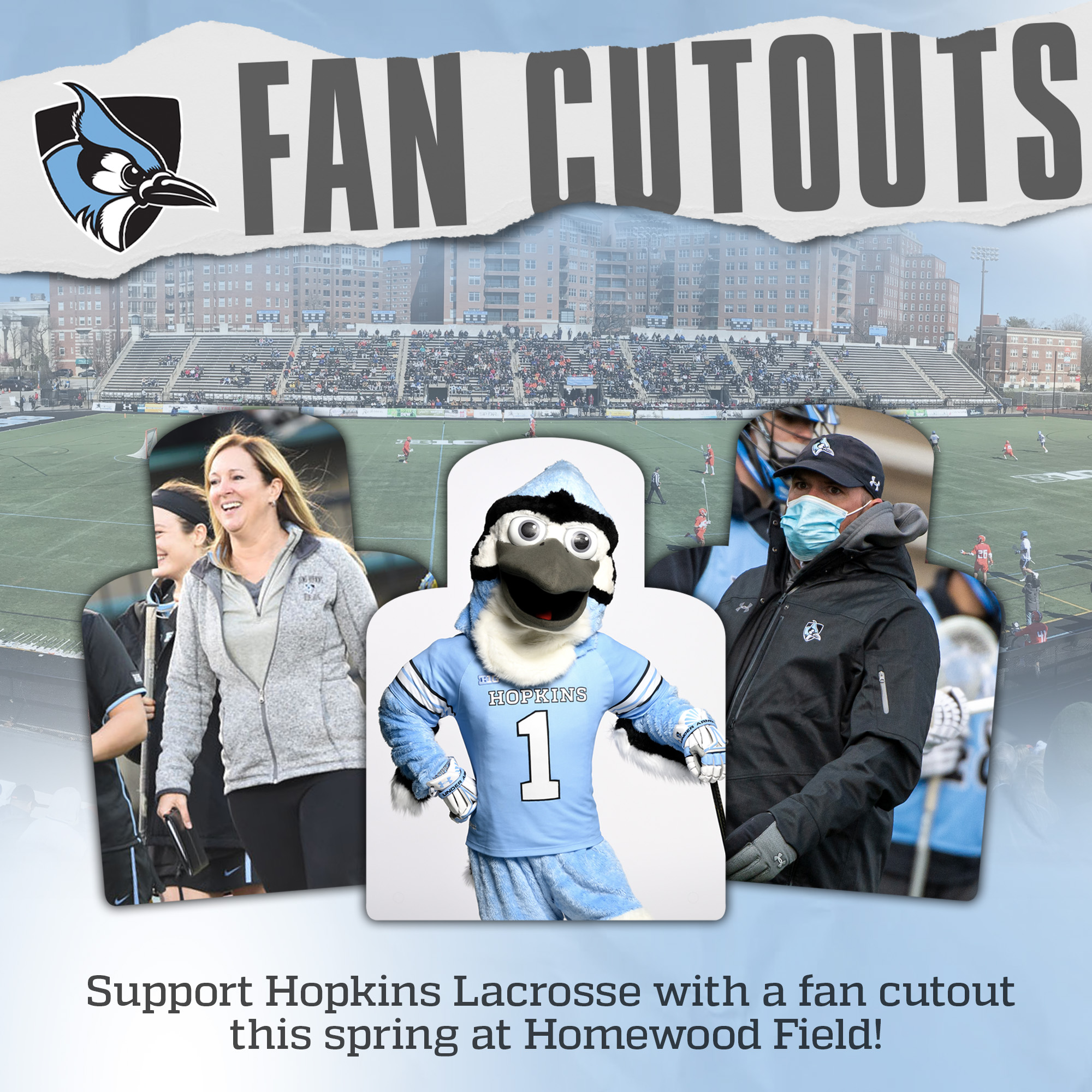 Spring's here!
Like you, we're looking forward to seeing our Blue Jays compete on Homewood Field! But since we can't gather in-person to cheer them on, we're excited to offer the chance to make your presence and support felt by our players through our Fans in the Stands program!  
Purchase a fan cutout for you and your family to "cheer in the stands" at all the remaining men's and women's lacrosse games at Homewood Field this season. Your $50 purchase  includes a $25 tax-deductible donation that will directly support the Hopkins Athletics programs!
Once your purchase is complete, email Jake Lee at jlee638@jhu.edu with a picture of yourself, a pet, or any fan that you would like featured on the cutout. All rules and details are listed below.
We can't wait to see our proud supporters "cheering" in the stands this spring!
 
Cutout Guidelines: 
Included with your purchase:
1.    One (1) personalized Fan Cutout – placed in the stadium for all men's and women's lacrosse games in 2021
2.    After the conclusion of the season, a member of the JHU Lacrosse program will write a personalized "thank you" on each Fan Cutout, and they will be made available for fans to pick-up.
The ideal photos should be:
•    of one person
•    taken from six feet away
•    vertical photo
•    centered on the person
Note that we are unable to create cutouts that include the following:
•    No selfies or low quality images
•    Commercial advertisements, including slogans, websites and phone numbers
•    Social media handles and hashtags
•    Offensive or negative references to any team
•    Names of any players
•    Statements or endorsements of political candidates
•    Third party logos/branding
Please note that we can't guarantee the condition of your cutout after exposure to weather and the outdoor elements.
Fans will be able to purchase this package at any point throughout the season.

Orders must be placed by Monday of each week in order to be placed at Homewood Field in time for that upcoming weekend's game(s).

We can't guarantee that your cutout will be visible from the broadcast.

JHU Athletics reserves the right to refuse any photos.

Photos that portray obscene, lewd, explicit, discriminatory, derogatory, violent, offensive, infringing or otherwise inappropriate content are strictly prohibited and will be rejected.