Step Up 2017-2018 Upcoming Events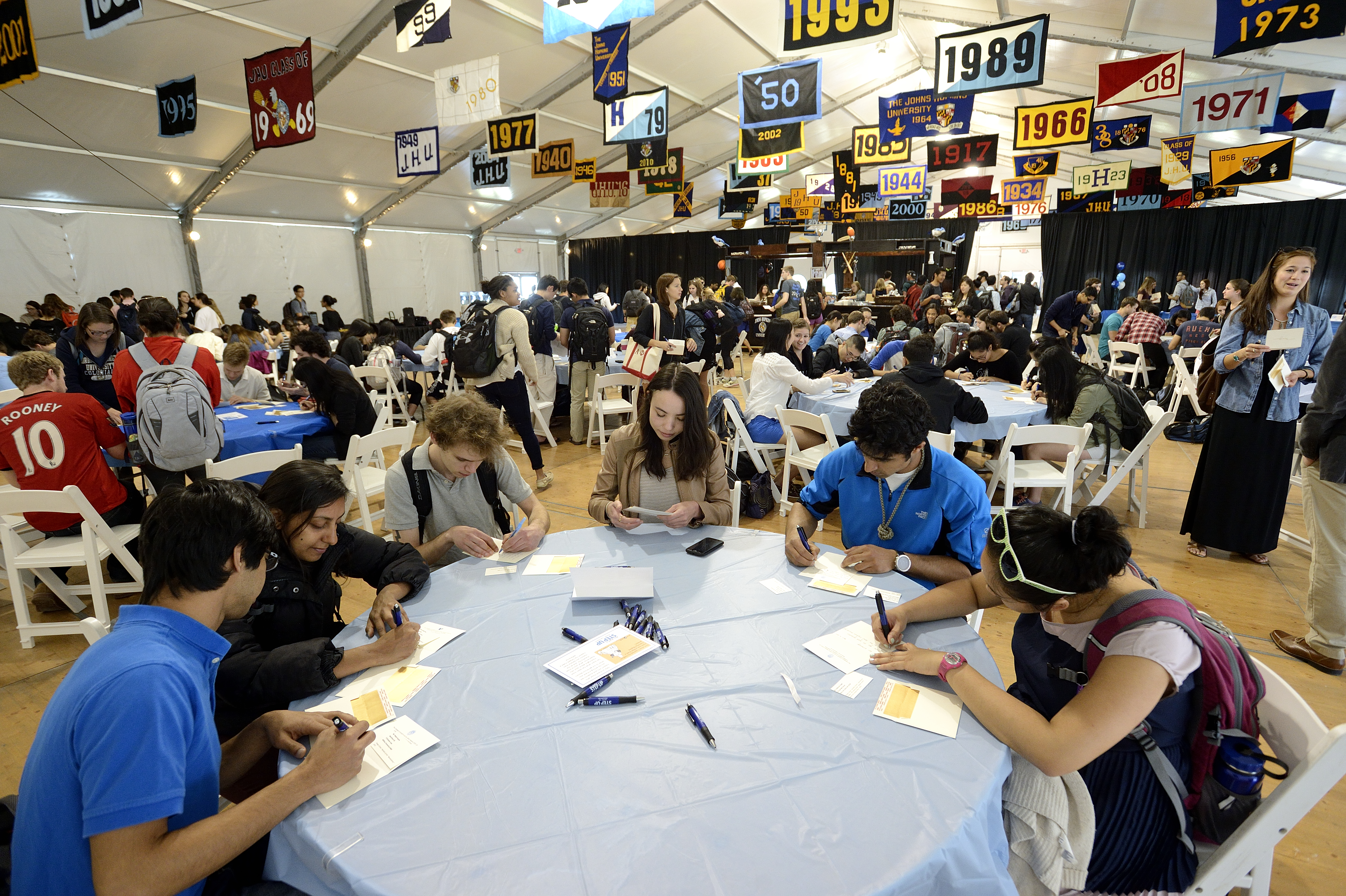 Monday, April 23rd: Thanks for Tanks
12-2pm, Keyser Quad
Rain Plan: Combine with Tuesday
Students will receive a limited Step Up tank top in appreciation for writing a thank you note to a member of the Hopkins faculty or staff who have had a substantial impact on their experience at Hopkins.  These thank you messages will then be passed along directly to these staff/faculty members. 
Tuesday, April 24th: Totes for Tots
1pm – 3 PM, The Beach 
Rain Location: Levering Cafe
In partnership with the Johns Hopkins Children's Center (JHCC), this event will celebrate the many hours of community service contributed by our student body on campus, in the Baltimore community, and around the world. The Totes for Tots service project will invite students to participate in a service initiative to create 150 family centered comfort bags and 100 teen centered comfort bags for patients and their families at the Johns Hopkins Children's Center.  These 250 kits are enough to supply the JHCC for a full year.  As a celebration of their participation in service to Hopkins, students who make a kit will receive a locally made treat from Taharka Brothers (who is even making a special blue Hopkins flavor just for this event).
This event is sponsored in part by the Johns Hopkins Alumni Association.
Wednesday, April 25th: Senior Class Gift Event
10am – 1pm, The Breezeway
Senior Class Gift is in charge of Step Up for Wednesday and will be having students come tie ribbons to campus as a physical representation of their ties to Hopkins. Students will also enjoy lemonade and iced tea on what will hopefully be a beautiful day!
Thursday, April 26th: Thankful Thursday
12pm-2 PM, Reunion Tent on Decker Quad
During this popular event, students will write personalized thank you notes to young alumni annual donors and will receive a burrito lunch. This event will be held in the reunion tent on Decker Quad to further associate the event with alumni and their generous contributions.
Friday, April 27th: Quad Fest on the Beach & Alumni Weekend Student Events
Promo Event – 11am – 1pm, The Beach
Rain Location: Levering Cafe
To kick off the weekend's festivities and help students enjoy the increasingly popular Quad Fest on the Beach and other events throughout Alumni Weekend, Step Up is providing a limited edition Beach Blanket!  Be sure to stop by to snag one and learn more about the endless ways to connect with alumni and the greater Hopkins community throughout his annual weekend of celebration!
QUAD FEST ON THE BEACH – 6 – 9:30 pm, The Beach
Quad Fest on the Beach features local food trucks, drinks, music, and more.  Don't miss out!
Saturday, April 28th:  Homecoming Rally & Pre-Game BBQ
11 AM -2 PM, Freshman Quad
Rain Location: FFC
Enjoy a classic pre-game BBQ before the big game! The dining hall will be closing down and inviting students and alumni to have a BBQ meal out in the sun as we get ready to take on MD.
This event is sponsored by the Parents Fund.