Blue Jay Gear
New "Old School" Blue Jay Gear for Alumni and Their Canine Companions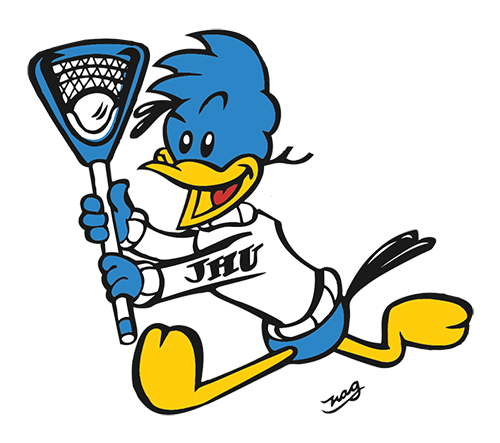 Alumnus Neil A. Grauer (A&S '69) created the now-iconic Blue Jay cartoon character for the Johns Hopkins News-Letter in 1966. Since then it has been an inspiration and de facto mascot for Hopkins athletics. To celebrate that half-century milestone, you and your best tail-wagging friend can sport the NAG Blue Jay in 2016 and be the most fashionable walkers in your neighborhood and at lacrosse games.
Supplies are limited and exclusive.
Can't find your size?  For special orders, email alumni@jhu.edu. Please allow two weeks for special order delivery.
Free shipping for orders within the Continental U.S.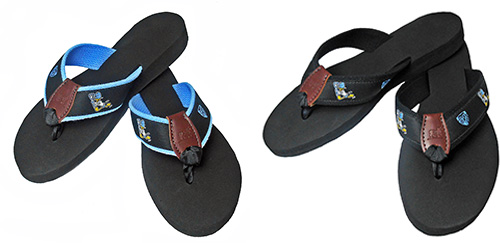 Men's and Women's Hop Flops
This casual alumni wardrobe essential has a comfortable rubber foot bed, leather thong and our exclusive Blue Jay with Hopkins shield  ribbon. Backed with 100% cotton webbing in Hopkins blue for the ladies and black for the men, these unique flip flops are made in the USA.
Available in whole sizes -- we suggest if you are a half size that you order up to the next whole size.
Price includes shipping in continental U.S.
$48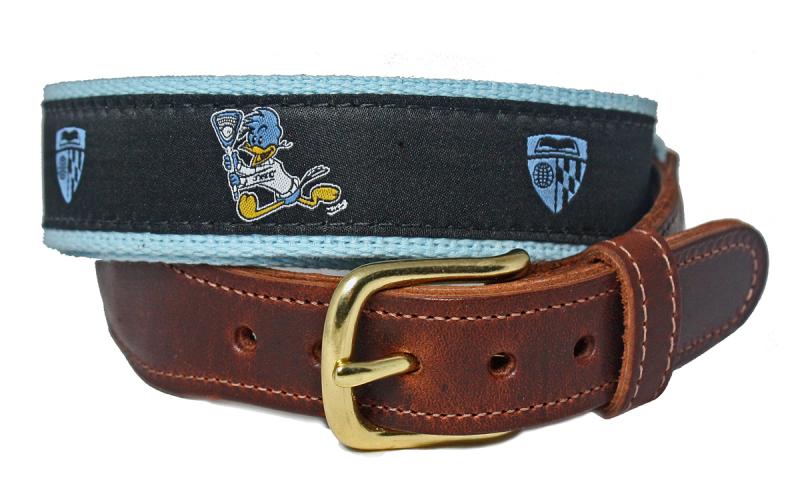 Men's Belt
The Blue Jay Belt – Blue Jay cartoon figure and Hopkins logo on a light blue background.
Made from 100% cotton natural webbing with fully stitched, oil tanned leather tabs and solid brass buckles. The perfect complement to slacks, khakis, even your favorite pair of jeans.
It comes in even sizes, 30″ to 44″. WE SUGGEST YOU ORDER ONE SIZE UP.
$35
Women's D-Ring Belt
For Lady Blue Jay fans.  Our fun "Old School" Blue Jay D-Ring belt is a perfect way to add a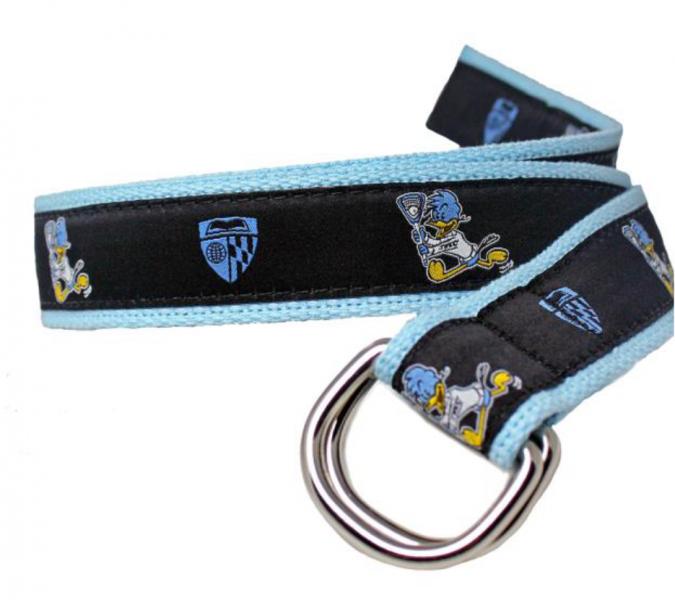 splash of color to your ensemble.  Featuring the Blue Jay and the Hopkins logo, this belt is offered with a natural webbing and ribbon in eye-catching blue and black colors.1 ¼" wide with double nickel D-Ring closure and tip.
In sizes XS (24-27"), S (27-30") and M (30-34")
$30
Dog Leash (not shown)
The Blue Jay Dog Leash lets your pooch strut in style while spreading the word about one of Hopkins' favorite sports.
This 6-foot, durable lead incorporates high quality 1¼" nylon webbing and a ribbon with a repeating pattern of the Blue Jay and the Hopkins logo on a light blue background.  The "Old School" Blue Jay Leash – practical, tough and oh-so-stylish!
$26
Dog Collar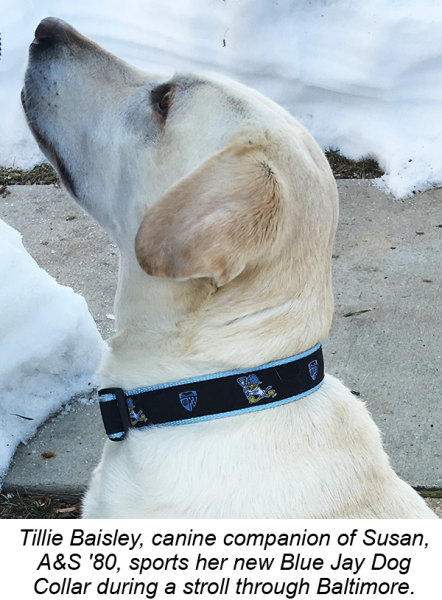 The Blue Jay Dog Collar is a dramatic way for you and your furry best friend to proclaim your love of JHU and its iconic "Old School" mascot.
Constructed of high quality, durable nylon light blue webbing, the collar features a 1¼" ribbon with the Blue Jay and the Hopkins logo.  The collar also includes a steel D-ring to firmly anchor the collar to your lead.
The collars are easily adjusted for length, and are available in S (15-25 lb.), M (25-50 lb.), L (50-75 lb.) and XL (75+ lb.).
$26
Key Fob
Our "Old School" Blue Jay Key Fob is the perfect way to show your Hopkins spirit while making sure that your key ring really stands out.
Constructed of high quality 1 ¼" natural webbing, the key fob features a repeating pattern of our Blue Jay and the Hopkins logo on a light blue background.
These key fobs are the perfect accessory for you or for your favorite JHU fan.
$11