Alumni Weekend Goes Virtual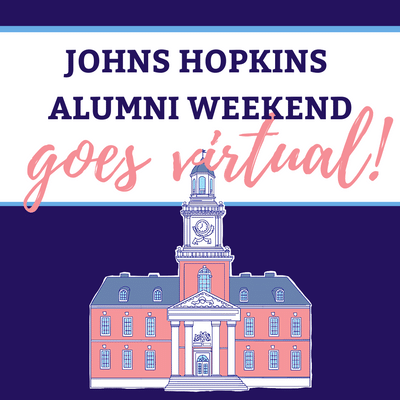 <updated 05/29/2020>
Thanks to everyone who attended Alumni Weekend Goes Virtual, May 15 - 17, 2020!
We hope you had fun, and felt a piece of Homewood in your home.
Unable to attend? Miss an event? Want to watch a session again? Check out our schedule of events below, and then watch the recordings on our YouTube channel. 

We can't wait to welcome you back to campus when it's safe for us to do so, but in the meantime, it was great to "see" you at Alumni Weekend Goes Virtual, and don't forget to join us for our other virtual events, our virtual book club, and more.
Virtual Alumni Weekend
Schedule of Events
Thursday, May 14
8:00 – 10:00 pm
Virtual Hullabalooza
Facebook Live
DJ Kopec will kick Alumni Weekend off with a legendary virtual dance party, a virtual Hullabalooza! As the official DJ of Under Armour, Baltimore Magazine, and the Baltimore Ravens Cheerleaders, he is known to get the party started right! Tune in via Facebook Live to enjoy the tunes and dance along!

Friday, May 15
12:00 – 12:45 pm 
SNF Agora Webcast - "Will COVID-19 Change Globalization as We Know It?" 
The rise of new powers and an increase in dissatisfaction among core states already meant that the global liberal order was under challenge. Now the coronavirus pandemic is heightening tensions among the great powers, exposing weaknesses in liberal institutions and creating new demands for international solidarity. As part of our "SNF Agora Conversations: The Politics and Policy of COVID-19," join us as we explore the question: Will the order crumble, or emerge stronger? 
 
Guests: 
• Naazneen H. Barma, associate professor in the Department of National Security Affairs at the Naval Postgraduate School
• Hal Brands, Henry A. Kissinger Distinguished Professor of Global Affairs at the Johns Hopkins School of Advanced International Studies
• Henry Farrell, moderator, professor of political science and international affairs at George Washington University, 2019 winner of the Friedrich Schiedel Prize for Politics and Technology, and Editor in Chief of the Monkey Cage blog at the Washington Post 
Additional information about the webcast, can be found here:
https://snfagora.jhu.edu/event/will-covid-19-end-globalization-as-we-know-it/
 
1:30 – 2:30 pm
JHU Press Author Meet & Greet with Kathleen Waters Sander
As we commemorate the centennial of the 19th Amendment in 2020, author Kathleen Waters Sander joins us for an Alumni Weekend discussion of her highly-regarded biography of Mary Elizabeth Garrett, recently published by JHU Press in paperback edition with a new foreword by Senator Barbara Mikulski. 
1:30 – 2:30 pm
Hoptalk: Supernovae and the Discovery of the Accelerating Universe
Adam Riess, Bloomberg Distinguished Professor; Thomas J. Barber Professor in Space Studies
In 1929 Edwin Hubble discovered that our Universe is expanding. Eighty years later, the Space Telescope which bears his name is being used to study an even more surprising phenomenon, that the expansion is speeding up. The origin of this effect is not known, but is broadly attributed to a type of "dark energy" first posited to exist by Albert Einstein and now dominating the mass-energy budget of the Universe. Adam Riess will describe how his team discovered the acceleration of the Universe and why understanding the nature of dark energy presents one of the greatest remaining challenges in astrophysics and cosmology.
Adam Riess is a Bloomberg and Thomas J. Barber Professor at the Krieger School of Arts and Sciences, a distinguished astronomer at the Space Telescope Science Institute and a member of the National Academy of Sciences. He received his bachelor's degree in Physics from the Massachusetts Institute of Technology in 1992 and his Ph.D. from Harvard University in 1996. In 2011, he was named a co-winner of the Nobel Prize in Physics and was awarded the Albert Einstein Medal for his leadership in the High-z Supernova Search Team's discovery that the expansion rate of the universe is accelerating. His accomplishments have been recognized with a number of other awards including a Breakthrough Prize in Fundamental Physics (2014), MacArthur Fellowship in 2008, the Gruber Foundation Cosmology Prize in 2007 (shared) and the Shaw Prize in Astronomy in 2006.  
3:00 – 4:00 pm
Hop Talk: The AI-Driven Future
Anton Dahbura, Eng '81
Anton Dahbura, Eng' 81, Co-Director of the Johns Hopkins University Institute for Assured Autonomy, will lead us through a discussion of artificial intelligence and the future.
4:45 – 5:15 pm
Deans' Welcome to Virtual Alumni Weekend
Join Beverly Wendland, James B. Knapp Dean, Zanvyl School of Krieger School of Arts & Sciences and T.E. "Ed" Schlesinger, Benjamin T. Rome Dean, Whiting School of Engineering as they welcome you to Johns Hopkins first Virtual Alumni Weekend
5:00 – 5:30 pm
Cocktail Demonstration and Happy Hour
Learn the recipes of special Blue Jay cocktails with Danielle. As Bar Manager at Papi's in Hampden, Danielle knows just what we need to make the perfect Hopkins-style cocktail. Prepare your own home bar and make the drinks along, or just watch to spark your own cocktail ideas! Then enjoy the rest of the hour with your drink of choice! 
Curbside pick-up is available at both Papi's locations for both food and cocktails! Please contact: 
Papi's Tacos of Fells Point | 1703 Aliceanna St, Baltimore, MD 21231 | (410) 299-8480 
Papi's Tacos of Hampden | 3820 Falls Rd, Baltimore, MD 21211 | (443) 449-5796
TRADITIONAL MARGARITA 
1oz lime juice (approx 1 lime) 
1.5oz triple sec -1.5oz tequila 
0.5oz agave 
TRADITIONAL PALOMA 
1oz fresh squeezed grapefruit juice 
1oz club soda 
1.5oz tequila 
squeeze for lime & pinch of kosher salt 
3) JAY76 
1.5oz pear vodka
0.5oz elderflower liqueur
Splash blue curaçao
Champagne float
4) BLUE JAY BEST –
1.5oz vodka 
1oz Blue Curacao 
2oz cranberry juice 
1oz sprite 
simple syrup 
1oz sour mix 
gold/yellow cake sprinkles 
7:00 – 8:30 pm
Reunion Classes Trivia Night!
JHU Alumni Ari Halpern (A&S '96) of SuperScript Trivia is hosting all reunion celebrators for a fun night of friendly competition! Teams will be assigned and winning prizes will be up for grabs!
7:30 – 9:00 pm
Peabody Watch Party
Peabody Symphony Orchestra. Marin Alsop, conductor. Antonín Dvořák: Symphony No.9 in E minor "From the New World" Watch online!

Saturday, May 16
11:00 – 11:30 am
Coffee with the President 
Join Johns Hopkins University President, Ron Daniels virtually for a cup of coffee.
12:00 pm – 12:30 pm
Family Activity Demonstration 
Sheridan Libraries
Learn how to make 20th century toys with 21st century materials! The Sheridan Libraries recently acquired a set of instructional cards from the 1930's that show how to make toys from common and inexpensive household objects and we would like to share them with you. View the Matchbox Ship diagram here.
12:30 – 1:30 pm
Crab Cake Demonstration
Chef John Shields
Chef John Shields is the co-owner and proprietor of Gertrude's Restaurant and the Baltimore Museum of Art, and the author of "The New Chesapeake Kitchen," published by the Johns Hopkins University Press in 2018. We are thrilled for him to host this culinary adventure of making Gertie's Crab Cake from the 20th Anniversary Edition of Chesapeake Bay Cooking. Purchase either of his books at the links below. Use code HJAY to receive 25% off at check out. 
https://jhupbooks.press.jhu.edu/title/new-chesapeake-kitchen
https://jhupbooks.press.jhu.edu/title/chesapeake-bay-cooking-john-shields
Cook along with Chef John Shields!
Here is your list of ingredients to reference:
1 egg
2 tablespoons mayonnaise
1 teaspoon dry mustard
½ teaspoon freshly ground black pepper
1 teaspoon Chesapeake seasoning
2 teaspoons Worcestershire sauce
Dash of Tabasco sauce
1 pound backfin crabmeat, picked over
1/3 cup saltine cracker crumbs
Vegetable oil, for frying (optional)
Olive oil, for sautéing (optional)
Tartar sauce and lemon wedges, for accompaniment
Purchase either of John Shields' cookbooks at the links below. Use code HJAY to receive 25% off at check out.  
https://jhupbooks.press.jhu.edu/title/new-chesapeake-kitchen 
https://jhupbooks.press.jhu.edu/title/chesapeake-bay-cooking-john-shields
If you'd like to order crab cakes to enjoy as you join this session, visit any of the links below for carry-out if you're local or to ship directly to your door! Jimmy's Seafood is offering free shipping when you select 2-day shipping and enter the code HopkinsReunion and Pappa's has donated gift cards that will be raffled off during the demonstration!

https://jimmysfamousseafood.com
https://pappasparkville.com
http://pappasrestaurantcockeysville.com
http://www.pappasrestaurantglenburnie.com
Thank you to our sponsor, Pappas Restaurant & Sports Bar!

1:30 – 2:00 pm
Q&A with Peter Milliman
"Meet the Coach" for a Q&A. Ernie Larossa, Associate Athletic Director, will host an interview with the new JHU Lacrosse Coach, Peter Milliman
1:30 – 2:30 pm
Hoptalk: A Pandemic meets an Epidemic: Treating Opioid Addiction in Era of COVID19 
Brendan Saloner, Associate Professor, Bloomberg School of Public Health
The opioid crisis claimed the lives of half a million Americans in the last two decades and is now the largest cause of injury death in the U.S. Overcoming the opioid crisis requires providing more patients with medication treatment and improved access to services. The COVID-19 pandemic threatens to undermine recent progress to improve care for patients. This presentation will provide an overview of the needs and challenges of patients with opioid use disorder during the COVID-19 pandemic and describe some promising policies and practices to support patients.

2:00 – 4:00 pm
Lacrosse from the Vault
Flash back to lacrosse games from yester-year! Relive the dramatic, come-from-behind 9-8 victory against Duke in the 2005 NCAA Division I Men's Lacrosse Championship, Johns Hopkins crowned an unforgettable season of perfection and earned the Blue Jays their eighth national NCAA title and first since 1987.#OpenTheVault

3:00 – 4:00 pm  
Hop Talk: Cybersecurity in a COVID-19 World
Brady Faby '15 and Itai Tevet
Join Johns Hopkins University and cybersecurity firm, Intezer for this webinar exploring COVID-19's global effects on the cyber landscape. Hear about the striking similarities between biological viruses and computer viruses from JHU Alumni, Brady Faby 15', and Intezer CEO, Itai Tevet. Are we capable of producing a "genetic" vaccine to replace today's traditional cybersecurity approaches? Recent advancements in biology have led us closer to producing a lifelong vaccine for the Flu, which just over 100 years ago caused the deadliest pandemic in history. Immunologists are looking at the genetic makeup of a virus to prevent the spread of infection rather than chasing specific variants. Can the same approach be applied to cybersecurity to prevent the infection of computer viruses?
Throughout the afternoon and evening
Reunion Milestone Virtual Toast and Gatherings
3:30 – 5:00 pm  
Class of 1975 Reunion
BYOB and take a walk down memory lane with your special guests and guides, Professor Emeritus Dr. Matthew Crenson and Senior JHU Archivist James Stimpert! Reconnect with your classmates, reminisce on your formative years, and celebrate your college experiences!
4:00 – 5:00 pm  
Class of 2015 Virtual Reunion
4:00 – 5:30 pm  
Class of 1985 Virtual Reunion
Reunion planning committee member, David Biderman, will host the Class of 1985 in a virtual get-together!
5:00 – 6:30 pm  
Class of 1970 Virtual Reunion
Bring your own cocktail and join your classmates and friends for a virtual cocktail party to celebrate your 50th Reunion.  Matt Crenson, your speaker, will give you and your classmates a sneak peak of of what's to come during your in-person gathering next spring.  
5:00 – 6:30 pm  
Class of 2010 Virtual Reunion
Re-live the antics of your freshman dorm, network with peers in similar industries, and reconnect with classmates from your student organization.
6:00 – 7:30 pm  
Class of 1980 Virtual Reunion
Join reunion planning committee members Michael Federico and Len Lucchi as they host the Class of 1980 in a virtual catch up! 
6:00 – 10:00 pm  
Class of 1990 Virtual Reunion – Slot 1
Coordinate with your classmates and friends to drop in and catch up whenever is convenient for you! Another time slot is offered on Sunday, May 17 from 3pm - 6pm EST. 
7:00 – 10:00 pm  
Class of 2000 Virtual Reunion Gathering

8:00 – 11:00 pm  
Class of 1995 Virtual Reunion Gathering
8:00 – 10:00 pm
Class of 2005 Virtual Reunion - Mixer & Trivia Game
Reunion committee co-chairs, Arielle Goren and Julie Ho, will moderate the Class of 2005's virtual get-together to include a 30 minute breakout chat session & a 90 minute Trivia Game hosted by Volo City.
7:30 – 9:00 pm
Alumni Trivia Night!
Charm City Trivia is hosting all alumni for a fun night of friendly competition! Teams will be assigned and winning prizes will be up for grabs!

Sunday, May 17
11:00 am – 12:00 pm
Wellness - Yoga and Meditation
Linda McGill

12:00 – 1:00 pm
Hop Talk: COVID-19 Effect on Waste & Recycling
David Biderman, '85
The COVID-19 pandemic has caused many changes in the United States. One of them is a significant increase in the amount of waste and recyclables generated at homes throughout the country.  This has put pressure on local collection programs, some of whom have made operational adjustments to deal with the increased amount of material at the curb. David Biderman, '85, is the Executive Director of the Solid Waste Association of North America,  the largest waste association in the country. David will discuss the impact of COVID-19 on solid waste and recycling systems and employees, and provide guidance on what you can do to protect your sanitation worker.  Get ready to talk some trash!
1:30 pm – 2:00 pm
Family Activity – The Egg Drop Challenge!

Whiting School of Engineering Reunion Challenge! Using simple household items to create a contraption to protect an egg from cracking during a drop.

1:30 – 2:30 pm
Hopkins Retrospective

Hopkins Retrospective will host a conversation on LGBTQ history at Hopkins, with a panel of members from the community and related organizations. Join us for this virtual discussion and look at a piece of Hopkins history. 
1:30 pm – 3:00 pm
Life Design Lab: Design Thinking Workshop
As part of Alumni Weekend, the Life Design Lab invites all members of the Hopkins community to participate in a workshop on reframing. A strategy that falls within the design thinking process, reframing dysfunctional beliefs is particularly powerful in times of uncertainty, like the current climate of Covid-19.  Alumni, students, and all participants will have the opportunity to learn about the Life Design Lab, design thinking, and how to identify and address dysfunctional beliefs through the reframing process.  By the end of the workshop, all participants will have had the opportunity to work with other Blue Jays to develop actionable strategies that are beneficial to their particular life journey.
2:00 – 3:00 pm
Berger Cookie Demonstration
Chef Alexis Daniels
Join Chef Alexis Daniels from Baltimore Chef Shop to learn how to make Baltimore's favorite cookie - the Berger Cookie! You are welcome to watch for fun, or if you want to bake along, scan the ingredient list below to make sure you have everything you need. 
Local folks: Ingredient Kits can be picked-up curbside at Baltimore Bake Shop for $21.99 Please contact: 807 W 36th Street, Baltimore Maryland 21211 | 443-869-5121 | kitchen@BaltimoreChefShop.com 
Ingredient List: 
½ teaspoon salt 
1 ½ cups confectioners' sugar 
1 teaspoon baking powder 
½ cup sugar 
1 ½ cups flour 
2 cups semisweet chocolate chips 
1 ½ tablespoon light corn syrup 
1 teaspoon vanilla extract 
1/3 cup milk 
1 egg 
1 stick (½ cup) butter 
¾ cup heavy cream 
2:00 pm – 4:00 pm
Student Trivia
Registration for this event only can be found here: https://events.jhu.edu/event/AWGVStudentTrivia
3:00 pm – 6:00 pm
Class of 1990 Reunion – Slot 2
Coordinate with your classmates and friends to drop in and catch up whenever is convenient for you! Another time slot is offered on Saturday, May 16 from 6pm - 10pm EST. 
Alumni Weekend Goes Virtual is a private event, parts of which will be photographed/recorded for use by the University. Program is subject to change.